Omega Dubai Desert Classic
It must be a Ryder Cup year because Sergio Garcia is already playing well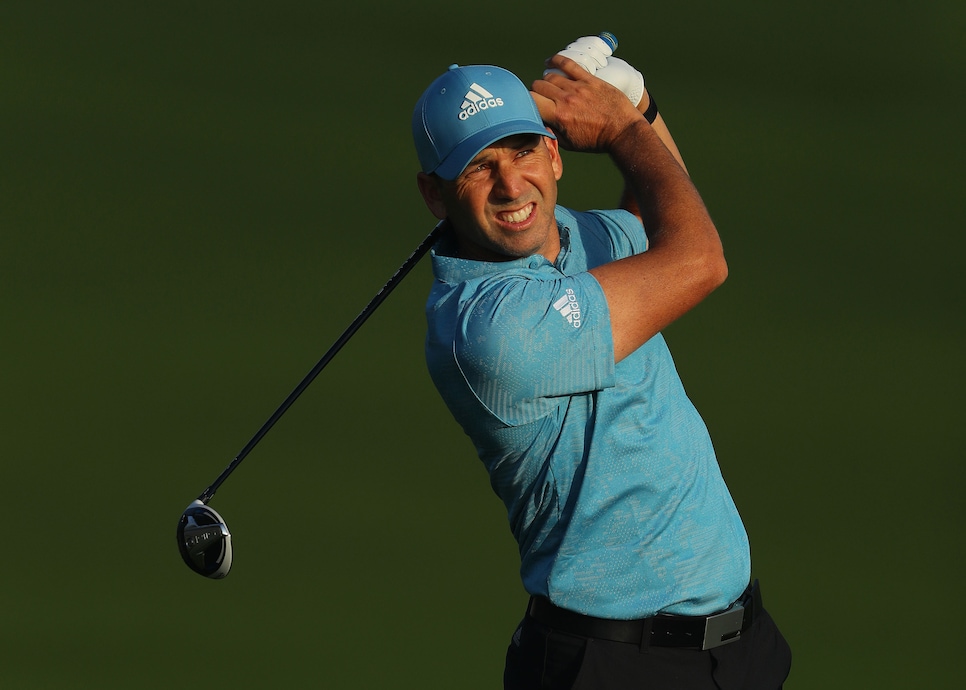 Sergio Garcia has plenty of good memories from the Omega Dubai Desert Classic, having won it in 2017 and made the cut as a 15-year-old in 1995.
Warren Little
It must be a Ryder Cup year. Because Sergio Garcia is already playing well. Fresh from a two-week PGA Tour stint in Hawaii during which he shot par or better in all eight of his competitive rounds and was a cumulative 28 under par, the Spaniard's 66 tied for the lead early on Thursday at the Omega Dubai Desert Classic. The all-time leading points scorer in the biennial contest between Europe and the United States, the 41-year-old's six-under-par opening effort around the Majlis course at the Emirates Golf Club was bogey-free and matched the best score of the morning wave alongside South Africa's Justin Harding.
All of which is not so surprising. Winner of this event in 2017—three months before he donned the green jacket at the Masters—this was Garcia's 11th round of 67 or better in the longest-standing Middle East tournament. And it was in the 1995 edition that the then 15-year-old made the cut for the first time on the European Tour. So there are plenty of good memories for the man who has 15 other wins on his home circuit.
"I felt comfortable out there for sure," Garcia said. "I hit a lot of good shots. Conditions obviously were good, but they were tricky. The greens are a little patchy when it comes to firmness. Some spots are really firm and some spots you can definitely spin it. So it's just a matter of getting the right hops. Other than that, I felt like it was a good, solid day. I'm very happy with the way it went."
Playing alongside PGA Champions winner Collin Morikawa, who shot an erratic four-bogey, three-birdie 71, Garcia made three birdies on each half of the 7,424-yard lay-out, his play marked by the usual characteristics: long, straight driving, creative approach shots and a deft touch around the greens. Even his sometimes unreliable putting—he still hits the ball with his eyes shut of late—was cooperating.
"I'm a lot happier with the equipment I have now because I feel like I can shape shots," he said. "I can do a little bit more what I used to do. That obviously has been a process, a building process, one that comes down to confidence. I'm very happy to see where I'm heading. This is a big year. Hopefully I can be in good shape because I want to be a part of a lot of things this year. The desire is still there. I still love to compete. I love to practice and try to get better. So it's nice to see rounds like one today, because it shows that I'm putting some good work in there and just got to keep doing more of that."
That burst of self-affirmation came 24 hours after Garcia emphasized his strong desire to make what would be a 10th Ryder Cup appearance. Long regarded as the enthusiastic heartbeat—and sometimes antagonistic unofficial spokesperson—of the typically close-knit squads, the 11-time PGA Tour winner is clearly and already energized by the prospect of adding to his already record total of 25½ points from 41 matches.
"Another Ryder Cup is something that I would love to be a part of, not so much to add to my own points total but to add to that of Europe," he said. "If I do that, it obviously adds to my total, too. Everyone knows how much I love the Ryder Cup, and making the team is obviously one of the biggest goals for the year.
"Team chemistry is huge," he continued. "It's probably one of our biggest, strongest weapons when it comes to the Ryder Cup. But I think the most important thing is that it is a natural chemistry. We don't really have to work hard for it. We enjoy each other's company. We get along well. We love opening up for our partners, our playing partners, which makes it easier for us to gel as much as possible."