character building
How we define a 'great' golf course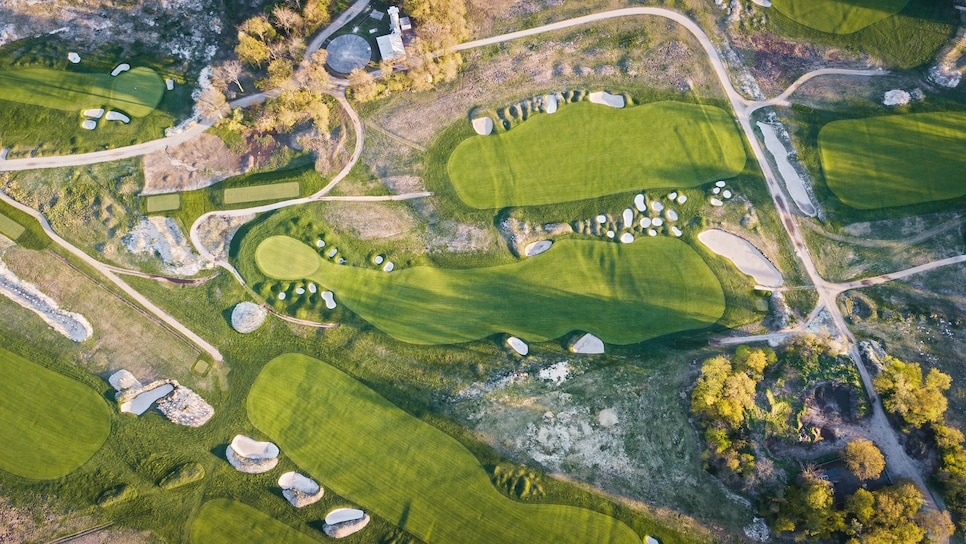 What does it mean for a golf course to have "character"? Can character be quantified, or is it more like "charisma," something that's easy to spot in a personality but difficult to explain? Most of us agree that some golf courses have character and others don't, but how does one define what creates that character, or calculate how much a course has?
This is a question—admittedly a tough one—we ask our course-ranking panelists to consider as they submit the tens of thousands of evaluations that make up the Golf Digest biennial ranking of America's 100 Greatest Golf Courses and Second 100 Greatest Golf Courses. The five other categories we use to identify greatness can be more empirically assessed. Shot Options asks to what degree a course's layout presents mental and tactical choices, with rewards to architecture that requires a mix of thoughtfulness and execution, and plays differently day to day, shot to shot. Challenge puts courses on a continuum of just that: challenge, judging the subtle and not-so-subtle ways a design can bring out the best in a scratch player. Layout Variety deals with the physical aspects of a course, including hole structures (lengths, left and right shapes, orientations, uphill and downhill), distinctiveness (how much hole-to-hole variety the architecture exhibits) and the routing (whether the course takes you on a compelling, well-connected journey that uses the best elements of the site). Conditioning awards points to courses that maintain (at least most of the time) dry, firm fairways and firm, receptive greens that roll true (but not fast—green speeds are taken up in Challenge and Shot Options), and Aesthetics determines the attractiveness of everything we see, from scenery to the arrangements and shapes of bunkers, greens, fairway lines and other hazards.
Character is the X factor. Four years ago, it replaced a longstanding category known as Ambiance, carrying the following definition: How well does the overall feel and atmosphere of the course reflect or uphold the traditional values of the game? By that standard it was distinctly non-architectural, and the concept of decorating golf courses for upholding "traditional values" (the category was originally known as Tradition) seems increasingly out of touch. One solution would have been to remove Ambiance from the criteria, but we also believe it's important to acknowledge the je ne sais quoi that sets some properties apart from others. Beyond a calculus of yardages, bunker placement and neat turf, what is it about certain courses that resonates so intensely with our desires and expectations while others outwardly check all the boxes but leave us feeling hungry? The reason we yearn to see different courses—and read rankings—is inseparable from this question.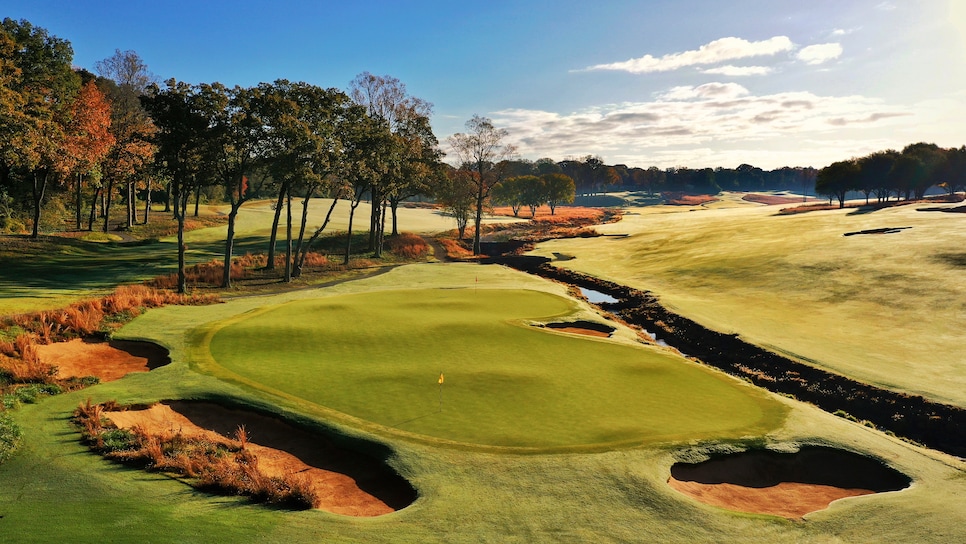 SPRINGBOARD Old Town Club in Winston-Salem, N.C., makes the biggest move in the ranking, surging from No. 92 to No. 54.
Jon Cavalier
A club's tournament history, clubhouse, reputation or exclusivity can all enhance the aura, but we don't publish a ranking of auras. Ours is a compilation of America's Greatest Golf Courses, so the discussion needs to be grounded in the architecture and other substantive elements of the property, including attributes that add to the playing experience but don't fit neatly into other categories. Thus, Character now asks: How much does the golf course exude ingenuity and uniqueness and possess profound characteristics that you would consider outstanding for its era?
Under this definition, Character sets golf courses against not an abstract standard of tradition or prestige but against other courses and time periods. Character is a measure of how unique or profound the architecture, setting or landscape is compared to its peers. Examples of exceptional character by this definition would include Pete Dye's early courses from the 1960s. At the time they were built, designs like Crooked Stick (ranked 101 with a 7.6551 Character score), The Golf Club (No. 44, 8.0441) and Harbour Town (No. 160, 7.4163) were ingenious. Their small greens and hand-crafted shaping, the artful layering of hazards and use of atypical materials like railroad ties shocked the architectural salon. As well as being invigorating places to play golf, these courses are time capsules that stand apart from other designs of the era and continue to be unique touchstones within Dye's portfolio.
It takes a certain degree of architectural acumen and perspective to assess the character of a golf course. No. 64 Garden City Golf Club (8.1452) always ranked among the top 25 courses in Ambiance because of its 100-plus-year history, old-world aura and charming clubhouse. Does it fare as well under a different set of criteria that looks only at the architecture and setting? It should. Garden City was originally designed by Devereux Emmet in the late 1890s amid the first wave of courses in the United States, then remodeled beginning about a decade later by Walter J. Travis. It remains arguably the top achievement of both men: for Emmet because of the brilliant routing and sequencing of holes across an awkwardly shaped property and Travis because of his skill in restyling greens and deepening bunkers, with a nod to the great holes from the United Kingdom. Though located in the congested west end of Long Island, Garden City plays over the subtle contours of the site like the great spacious courses on the east end, unfurling across the calm, grassy countryside like something imported from the London heathlands. The design weaves contrasting sources of inspiration into something original. That's character.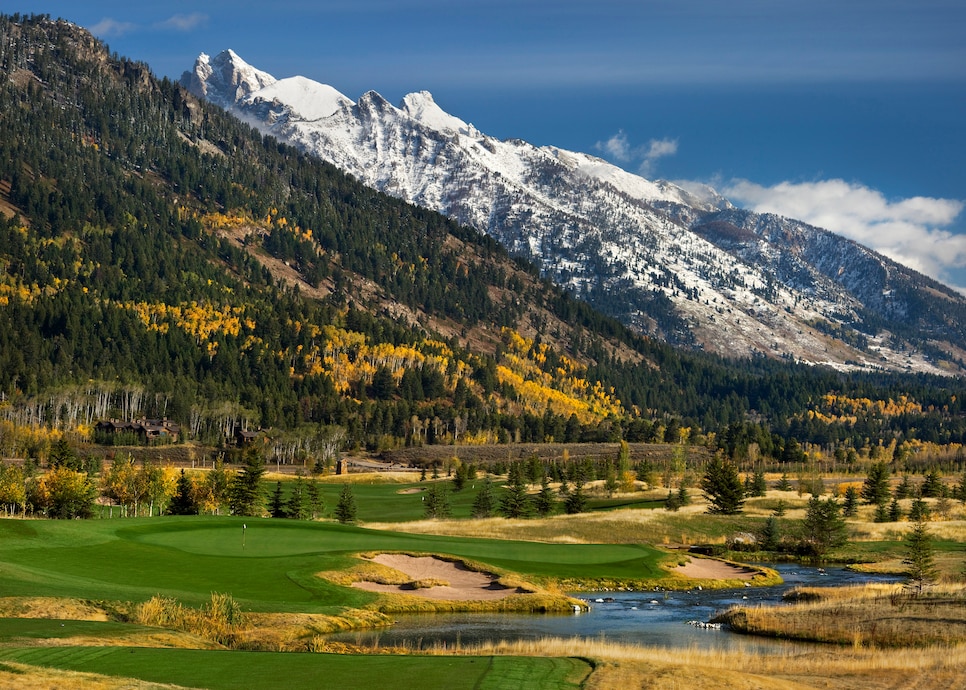 Tom Fazio's Shooting Star near Jackson, Wyo., makes America's 100 Greatest rankings for the first time, at No. 98.
Courtesy of the club
Nanea, on the east side of Hawaii's Big Island, breaks into the 100 Greatest ranking for the first time this year, at No. 49. It opened in 2003, but it has taken two decades for the remote private club to garner the 50 evaluations needed to qualify. The design runs up big numbers in Aesthetics and Conditioning but also scores high in Character (7.9692). Most courses on the islands are built along the coast, often in tropical environments, but Nanea stands out for its arid, high-country setting on a lava plateau beneath Mount Hualalai. The design, consisting of broad and bumpy holes that tumble into infinity greens set amid seas of prairie grasses with constant views of the ocean, is more Scottish Highlands than Hawaiian, which makes it not only singular in this context but sensible because that's where architect David McLay Kidd is from. This was Kidd's second design, created when still in the inspired tailwinds of the original, organic Bandon Dunes course and before his architecture took a detour toward naturalistic brutalism. One of the questions posed by Character is whether you would learn something by playing the course, including something about the architect, and you would at Nanea. Creations that illuminate periods in an artist's career should drive up the Character score.
Two other courses debut in the second half of the ranking on the strength of elevated Character scores. Old Elm Club on the north side of Chicago (No. 164, 7.6802) has an architectural pedigree unlike nearly any other course. Legendary British architect Harry S. Colt laid out the course in 1913 on one of his few visits to the United States, collaborating on the design with Donald Ross, then best known for being the head professional at Pinehurst. When Colt departed, Ross carried out the construction of the holes. Most of that Colt/Ross design has been carefully excavated and reclaimed over the past 13 years by architect Drew Rogers.
Sankaty Head Golf Club celebrates a centennial birthday this year with its first national ranking. It was designed by a little-known amateur player named Emerson Armstrong, a novice who captured the essence of the links of the United Kingdom and the sprawling, distinctive setting of eastern Nantucket Island every bit as well as a more seasoned architect could have. Since 2017, Jim Urbina has lovingly restored the course's windswept, old-time golf landscape, and the reward is a ranking of 196.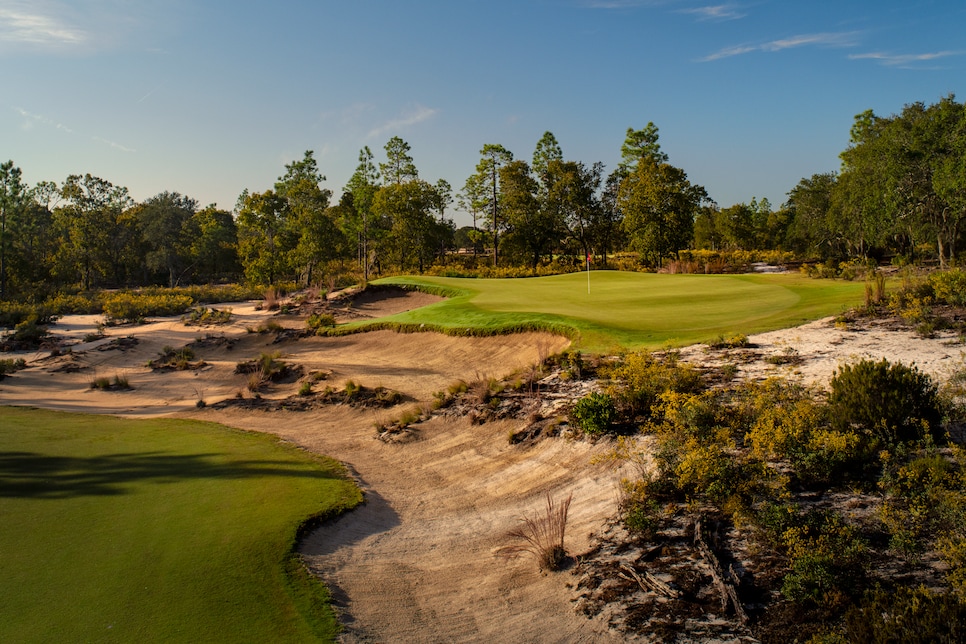 TICKET PUNCHED Ohoopee Match Club in southern Georgia makes the ranking for the first time at No. 34. Photograph by Dave Sansom
Dom Furore
The highest Character score is No. 2 Augusta National's 9.3519 (followed closely by Cypress Point and Pine Valley). When it comes to "profound characteristics," Augusta National excels with its prominent topography, a set of sculptural greens unlike anything else in golf and a presentation of strategic golf holes that have been the inspiration for hundreds of other courses. The culmination of a lifetime of architecture development by Alister MacKenzie supplemented by the input of Bobby Jones also gives it profound design lineage. Never-ending alterations by as many as nine architects, however, have narrowed and reshaped the course, boomeranging the design away from its once distinguished provenance. It might be assumed these changes—many of them eradicating the original premise of the architecture—would impact the course's scores, but Augusta National appears impervious to such critical assessments: Since 1985, it has never been outside the top three in the United States. Character, if you have it, is indelible.
The most notable change in the scoring of courses for 2023-2024 is the removal of the Distinctiveness category, which was a descendant of a category called Memorability. There's no longer a separate score for how distinct the holes of a course are from one to the next. Distinctiveness and Layout Variety had the closest scoring correlation of any two categories, so panelists now take up this consideration within Layout Variety where they are already looking at hole-to-hole diversity and the routing. Points for Layout Variety are now doubled, as are the points for Shot Options.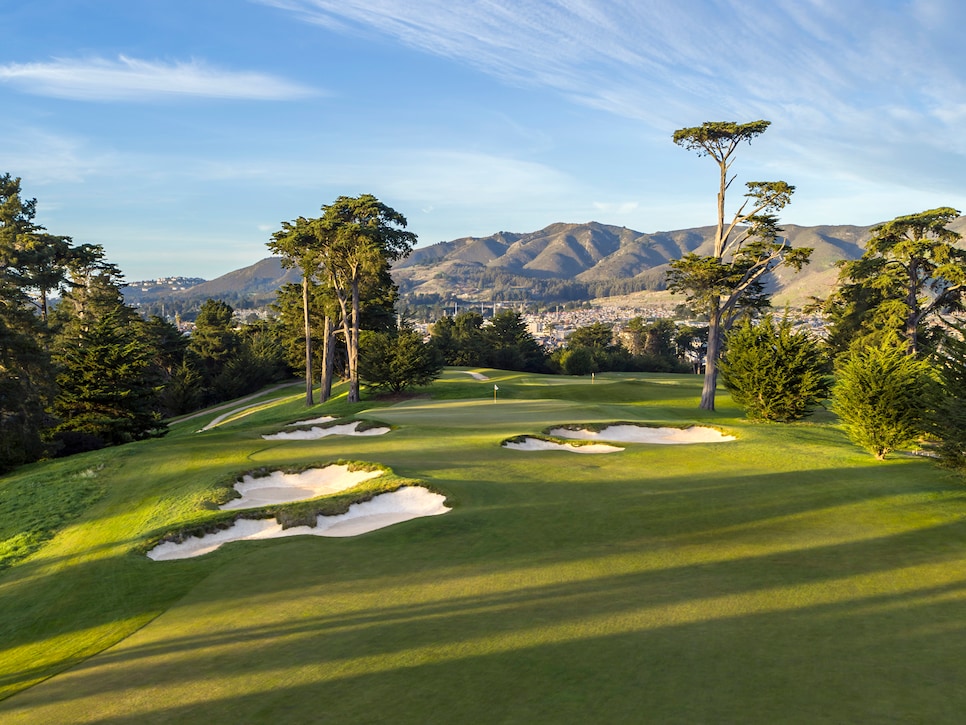 STEADY RISER Cal Club has made gains in the past six rankings, from No. 147 to No. 71. Photograph by Evan Schiller
Evan Schiller
Scores for each course are accumulated over a rolling 10-year period, meaning this ranking covers the years 2013 through 2022. Because no golf course is the same as it was a decade ago, we've begun age-weighting the scores as well, so evaluations from 2022 factor more heavily than those from 2021 and so on. To further ensure the ranking of America's 100 Greatest and Second 100 Greatest are as inclusive and as representative of current architecture as possible, the standard of eligibility has been lowered to 50 evaluations (collected over 10 years) from the previous 75.
In addition to Nanea, four other courses enter the 100 Greatest ranking for the first time. The formerly unranked Ohoopee Match Club, a rustic, sand-and-scrub design in south Georgia from Gil Hanse and Jim Wagner, crashes the party at No. 34. The California Golf Club of San Francisco, known as Cal Club, a 2008 Kyle Phillips modification of a 1920s Vernon Macan design, debuts at No. 71. C.B. Macdonald's 1913 design at Piping Rock on Long Island, revived by Bruce Hepner in 2015, continues its ascension from No. 109 to No. 97. Lastly, Tom Fazio's Shooting Star near Jackson, Wyo., previously ranked 123, vaults 25 places to No. 98.
Thirteen other courses appear in the Second 100 Greatest for the first time. These include Sheep Ranch at Bandon Dunes (115), Clear Creek Tahoe (131), Manele (140), The Dye Course at White Oak (142), Blessings (144), Old Elm Club (164), Hollywood (170), The Reserve at Moonlight Basin (176), The Bear's Club (180), Medalist (181), Karsten Creek (186), Sankaty Head (196) and The Harvester Club (197). Tom Fazio's Sage Valley near Aiken, S.C., is back in the ranking at No. 153 after last appearing in 2017-2018, as is Rees Jones' Atlantic Golf Club (No. 175), which previously appeared in 2015-2016.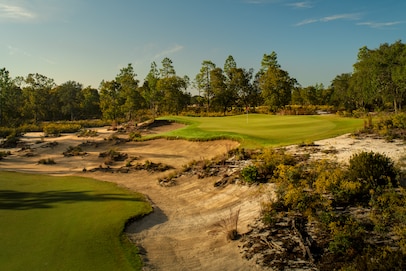 From Golf Digest Architecture Editor emeritus Ron Whitten:

I've been told Gil Hanse had first examined the site of Ohoopee Match Club as far back as 2006 considered it ideal for golf: gently rolling terrain with no severe elevation changes, and beautiful sandy soil deposited by the nearby Ohoopee River, perfect for drainage and firm, fast conditions.

The ground around tiny Cobbtown, Ga., is also perfect for growing onions—it's just northeast of Vidalia, world-famous for the Vidalia onion. Indeed, Ohoopee's logo is a freshly picked onion, although if you look closely, its roots are three writhing snakes.

Any symbolism pertaining to match play is uncertain; perhaps it simply suggests the sort of putts one will face. What's the composition of a course meant for match play? One might think it would contain lots of penal hazards, because a triple bogey on any particular hole would not be fatal in match play.

Perhaps the targets would be smaller than normal, to level the playing field between big hitters and short-but-accurate golfers. That's not the composition of the 7,325-yard championship course at Ohoopee. Hanse did produce dramatic visuals in this sandy locale that hark back to portions of Pinehurst and Pine Valley, from long expanses of sandy rough dotted with native plants to deep, foreboding pits of sand, but they're mostly on the far perimeter of holes. 

Explore our complete review here—including bonus photography and ratings from our expert panelists.
View Course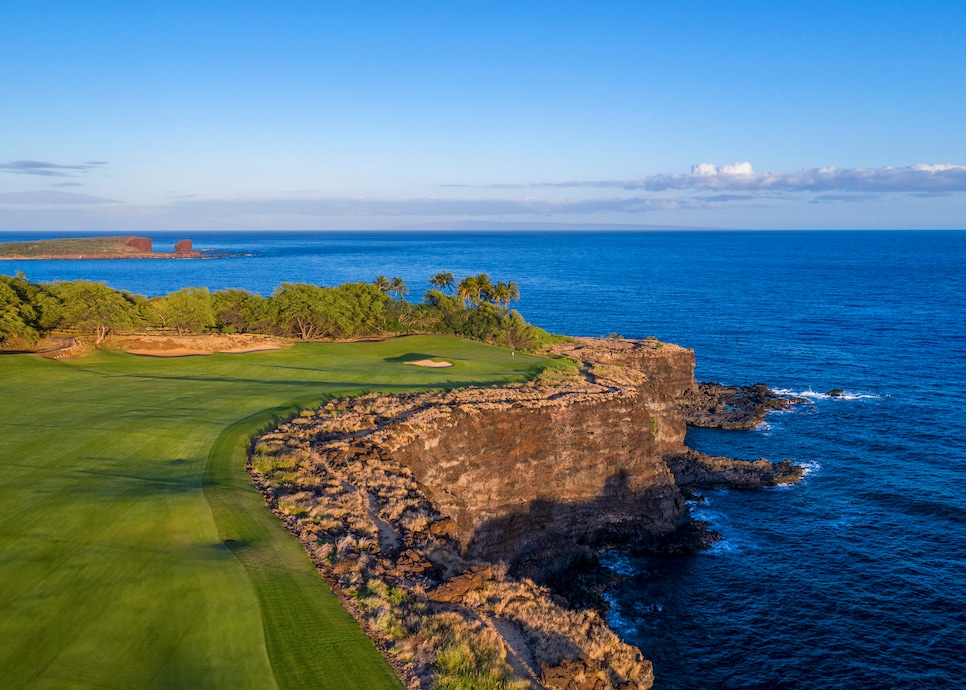 SCENE-STEALER The Jack Nicklaus-designed Manele Golf Course in Lanai, Hawaii, enters the list at No. 140. Photograph by Brian Oar
Brian Oar
The biggest move this cycle belongs to Old Town Club, the Perry Maxwell design in Winston-Salem that rockets 38 places to No. 54. Bill Coore and Ben Crenshaw's renovation of the 1939 design in 2013 catapulted Old Town to its first ranking of No. 98 in 2019-2020, and subsequent fine-tuning by the club and Dave Axland has helped it rise further. Next in line is Moraine, the 1930 Nipper Campbell course in Dayton that was renovated by Keith Foster in 2013, leaping 31 spots to No. 146, followed by Cal Club's surge. Southern Highlands, an artful Robert Trent Jones II design in Las Vegas, also jumped 30 other courses to No. 161, followed by Eastward Ho! (26 places), Tom Doak's Rock Creek Cattle Company (25), Shooting Star (25), and Myopia Hunt Club, the 1898 Herbert Leeds design outside Boston (19).
Perry Maxwell, who died in 1952, had a fine year with the ascension of Old Town Club but also with Southern Hills in Tulsa, rising four notches, and Prairie Dunes in Kansas, scratching up two spots to 23. Coore and Crenshaw added two new courses (Sheep Ranch and Clear Creek Tahoe), giving them 10 in the first 200, though their net gain was just one as Ozarks National slid off the list. While Oak Hill's East Course, site of this year's PGA Championship, retreated slightly, Andrew Green's ambitious remodels of Congressional's Blue Course, Scioto, Inverness Club and Wannamoisett continue to pay off as those courses climbed a combined 36 places. Despite passing away before it was ready for play, Pete Dye also added The Dye Course at White Oak in Florida, the Best New Course for 2022 that comes in at No. 142.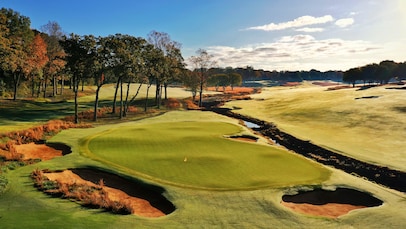 Private
Winston Salem, NC
Created by architect Perry Maxwell on the heels of his work at No. 23 Prairie Dunes and No. 28 Southern Hills, Old Town Club was surprisingly unique, and included perhaps Maxwell's only surviving double green. When Bill Coore and Ben Crenshaw were hired to address the bunkering at Old Town, they opted not to reproduce the original bunkers (some of which were enormous) but rather emulate their gnarly shapes, edges and vegetation in places where bunkers naturally fit. Lots of trees had already been removed, but the architects convinced the club to get rid of even more. Now, a single swath of fairway connects the seventh, eighth, ninth, 17th and 18th holes. Very unique. The course has jumped 45 places in the rankings since it debuted in 2019.
View Course
The most notable plunge in the ranking is measured not so much in distance but newsworthiness: For the first time in the 56-year history of our numerical ranking, Pebble Beach is not in the top 10, falling from eighth to 12th. The overall score dropped by more than 1.75 points, and the course retreated slightly in each of the six categories.
Big falls also befell Doak's Dismal River Red Course in Nebraska, which slipped 31 places, and the Jack Nicklaus-designed Spring Creek Ranch in Tennessee that dropped 30 spots. Two courses from similar Gen-X vintages, Sahalee in Washington State (Ted Robinson, 1969) and Butler National in Chicago (George and Tom Fazio, 1974), each dipped 26 slots. The most sizable drop, however, was Tributary, a McLay Kidd design in Idaho that tumbled 46 places and sits at No. 199. It wasn't a good cycle for Idaho courses in general, with Jim Engh's club at Black Rock plummeting 36 spots to No. 141, and Tom Fazio's Gozzer Ranch backing up six places to No. 37.
This was a theme for Fazio, who has dominated the ranking for the past two decades. In addition to Shooting Star, a number of courses like The Estancia Club, Diamond Creek, Hudson National, Martis Camp and both courses at Whisper Rock moved forward, but 16 of his designs retreated, including large drops by Quail Hollow (a Fazio redesign of a 1961 George Cobb original), Kansas' Flint Hills National, Caves Valley in Maryland and Galloway National in south New Jersey. Nevertheless, Fazio still boasts 32 courses in the national ranking, including 15 in the first 100. That outpaces, once again, Dye and Nicklaus (each with 14 overall), Ross and A.W. Tillinghast (each with 13), Coore and Crenshaw (10), Doak (nine) and Seth Raynor (nine).
Major renovations should always be undertaken for the benefit of the turf, lost architectural features and the memberships and golfers who play the course, and never as an attempt to climb in the ranking. That's particularly true for courses already on the 100 Greatest and Second 100 Greatest lists— they are ranked where they are because their scores are already high, and there's no guarantee that a remodel will deliver marks better than those they are already earning.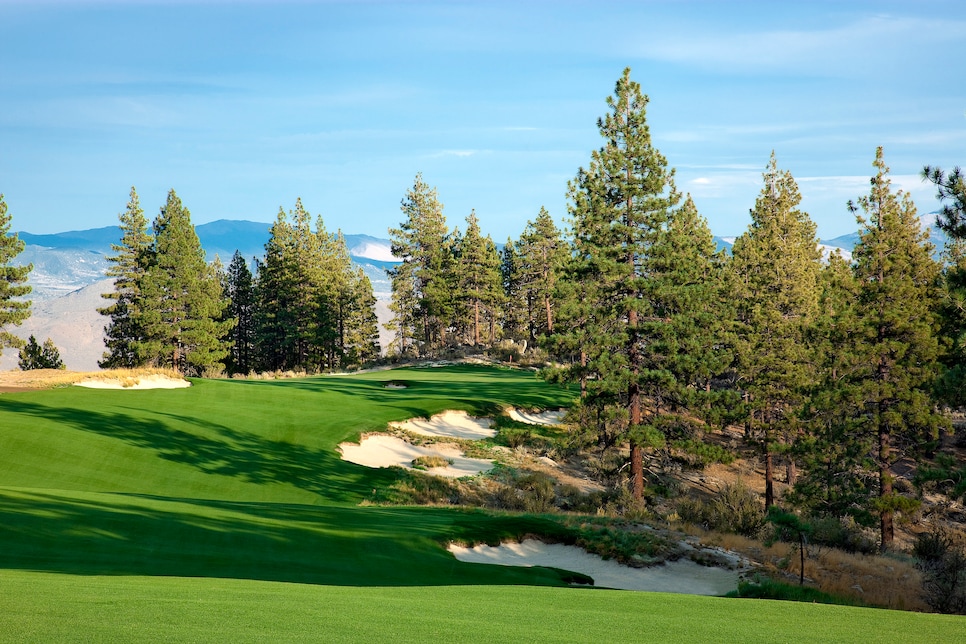 HIT MACHINE Clear Creek Tahoe in Nevada is one of 10 Bill Coore and Ben Crenshaw-designed courses among the top 200. Photograph courtesy of Clear Creek Tahoe
Courtesy of the club
When we last issued the ranking in Spring 2021, we were curious to see how remodels of four prominent 100 Greatest clubs would alter their standings—not very much. Muirfield Village was rebuilt after the 2020 Memorial Tournament, and it fell two notches in the ranking to No. 17. Hanse and Wagner orchestrated a significant paring back of Oakland Hills' South Course, clearing trees, expanding greens and moving bunkers back to where Donald Ross had them, leading to a jump of a single spot to No. 20. Their work on Baltusrol's Lower Course was not quite as substantial, and it remains right where it was at No. 45. Only Green's efforts to reimagine Congressional's Blue course—stripping away trees, reconceptualizing bunkers and greens and building back land movement that had been graded away—paid large dividends as the course moves from No. 91 to No. 73.
For every Maidstone, Inverness Club, Los Angeles Country Club or Sleepy Hollow that has been resuscitated in the ranking by a successful remodel, there are courses like Winged Foot (East and West), Quaker Ridge, Aronimink, Fox Chapel and last year's Best Renovation runner up Wannamoisett that don't receive worthwhile bumps. What a serious renovation may be better at is stopping the bleeding. This is the hope of five current and former 100 Greatest stalwarts that plummeted in this year's ranking by an average of almost 24 places: Medinah's No. 3 course, Interlachen, Baltusrol's Upper Course, East Lake and Colonial.
Each course is scheduled to begin a major makeover in the next few years, potentially restoring their previous positions—Medinah by the Australian firm of Ogilvy, Cocking and Mead; Interlachen and East Lake by Green; and Baltusrol and Colonial by Hanse and Wagner. For these clubs, given their rich history in the ranking, they have nowhere to go but back up. Just as intriguing will be to see if Hanse and Wagner's current remodel of The Olympic Club (No. 35) cooks up the right recipe to get the famed Lake Course back inside the top 20 where it resided continually from 1969 through 2004.