1 / 6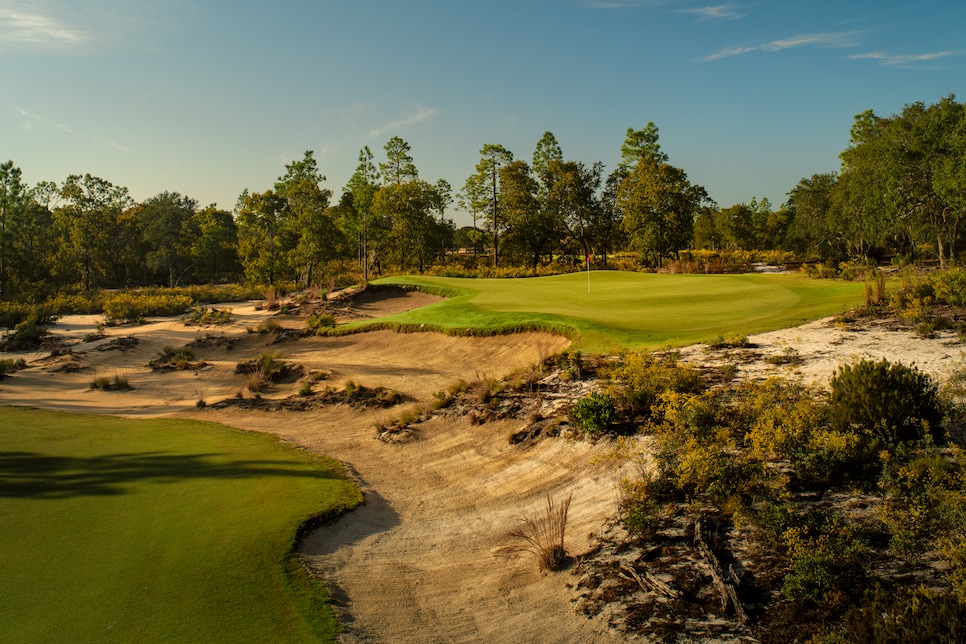 2 / 6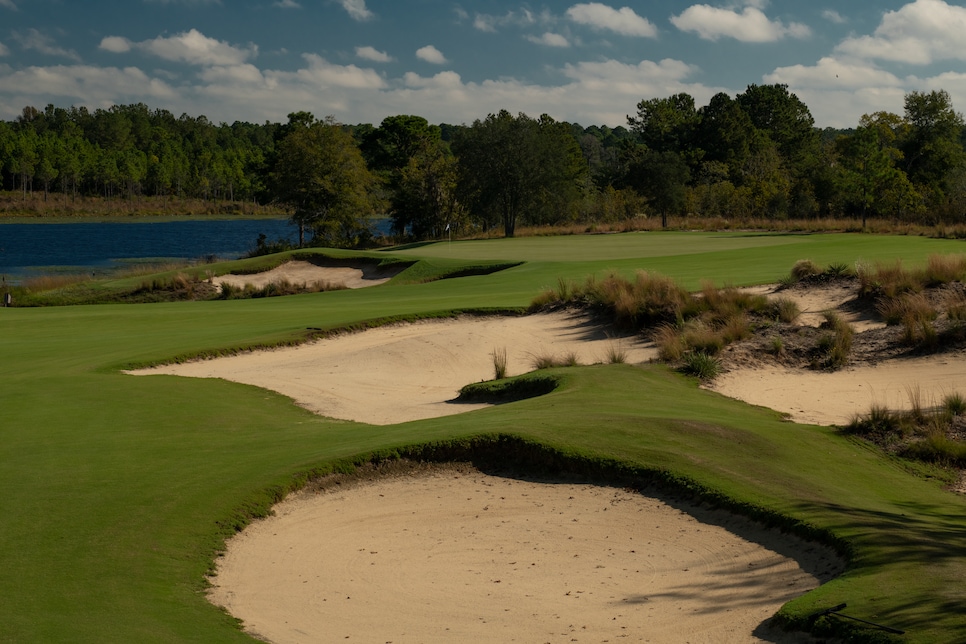 3 / 6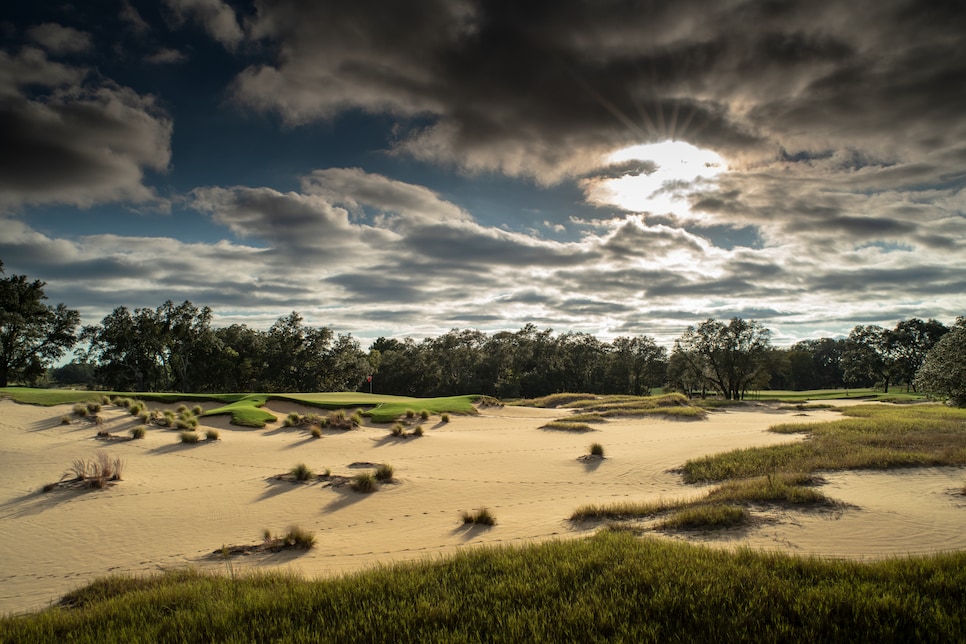 4 / 6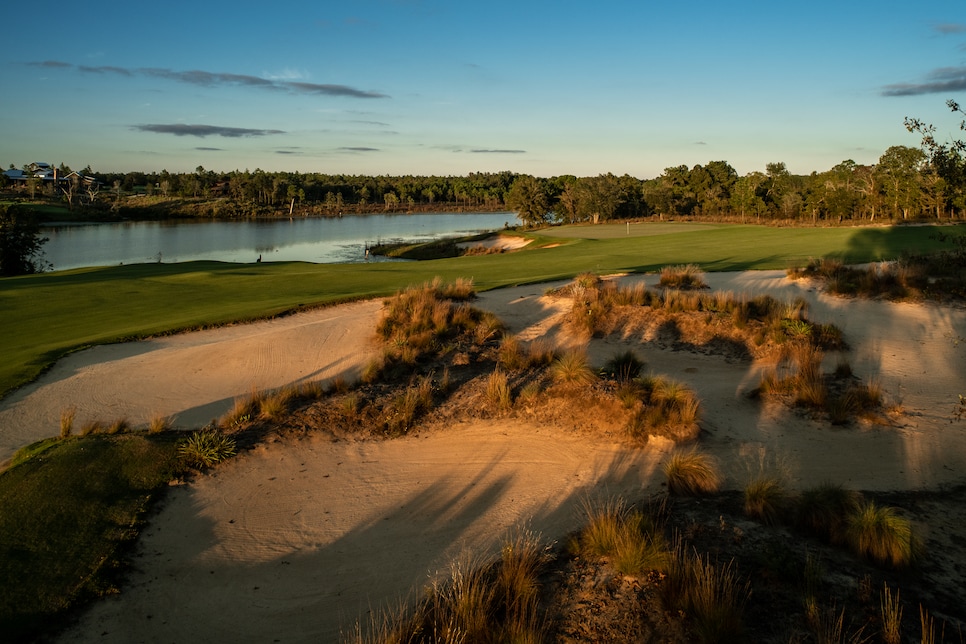 5 / 6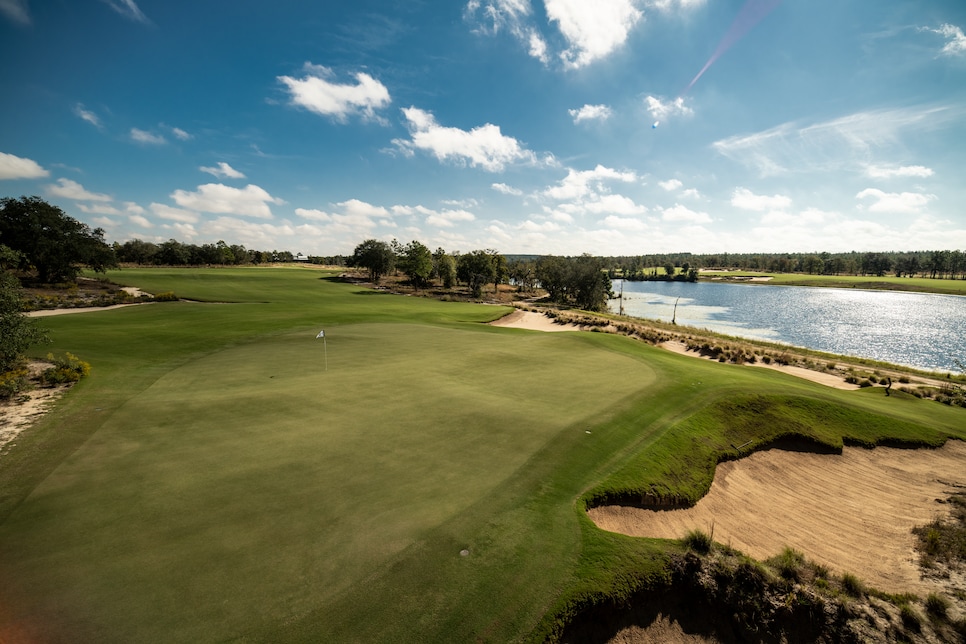 6 / 6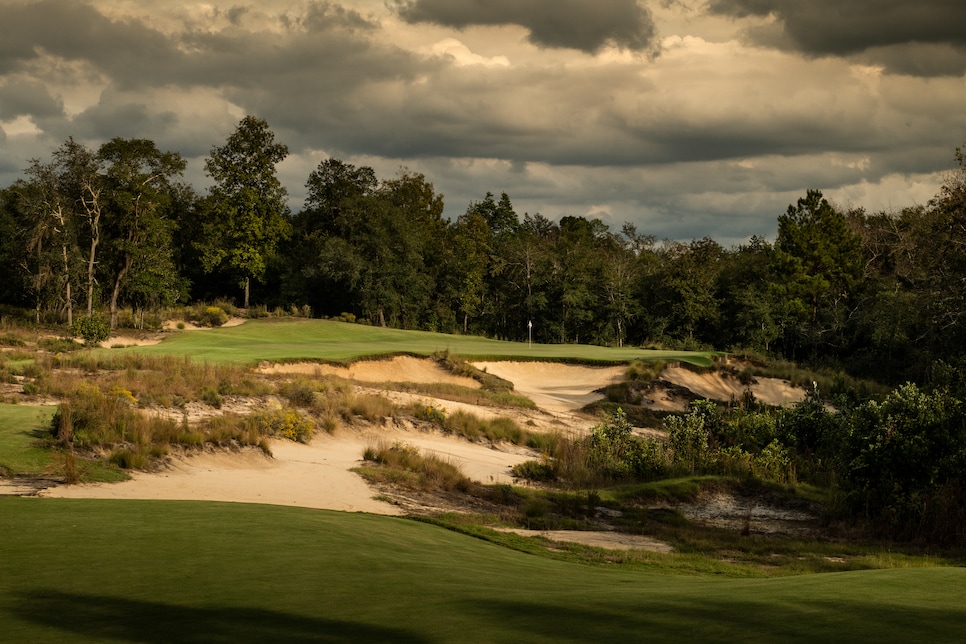 Overview
From Golf Digest Architecture Editor emeritus Ron Whitten:
I've been told Gil Hanse had first examined the site of Ohoopee Match Club as far back as 2006 considered it ideal for golf: gently rolling terrain with no severe elevation changes, and beautiful sandy soil deposited by the nearby Ohoopee River, perfect for drainage and firm, fast conditions. The ground around tiny Cobbtown, Ga., is also perfect for growing onions—it's just northeast of Vidalia, world-famous for the Vidalia onion. Indeed, Ohoopee's logo is a freshly picked onion, although if you look closely, its roots are three writhing snakes. Any symbolism pertaining to match play is uncertain; perhaps it simply suggests the sort of putts one will face.
What's the composition of a course meant for match play? One might think it would contain lots of penal hazards, because a triple bogey on any particular hole would not be fatal in match play. Perhaps the targets would be smaller than normal, to level the playing field between big hitters and short-but-accurate golfers. That's not the composition of the 7,325-yard championship course at Ohoopee. Hanse did produce dramatic visuals in this sandy locale that hark back to portions of Pinehurst and Pine Valley, from long expanses of sandy rough dotted with native plants to deep, foreboding pits of sand, but they're mostly on the far perimeter of holes. The fairways, with one exception, are extremely wide, and almost no fairway bunkers eat into any landing area. It's as though Hanse is encouraging golfers to swing away as hard as they can off the tee in search of birdies and eagles.
Indeed, five of the first seven holes, on a conventional 18, would be considered eagle opportunities: the 547-yard second followed by the even longer third (with a downhill approach to a deep green) and then the 525-yard sixth and 602-yard seventh, with a potential drivable par 4 at No. 4. On the second nine, holes in the range of 500 yards are back-to-back at 11 and 12, and the 14th is just 312 yards. On paper, that would seem to be eight holes offering potential drama.
But Ohoopee is not a conventional 18. The scorecard lists the second, sixth and 12th holes not as par 5s but at a par of 4½. The 14th isn't considered a drivable par 4; it's a par 3½. Par doesn't matter, remember, because this is a match-play design. (The drink coasters in the clubhouse read, No One Cares What You Shot.) In the early 1900s, many courses had "half-par" holes listed on the card as bogey scores, where a half-par guaranteed the hole would not be halved in a match against the imaginary "Colonel Bogey." That's not the case at Ohoopee, where nobody plays alone. The half-pars on the scorecard were simply added as a bit of whimsy.
The ultimate targets are as generous as the fairways: big, rolling greens, many with lateral ridges, and big surrounds off the putting surfaces, tightly mowed turf and sand bunkers well removed from the edge of greens to encourage ground game approaches. The theory here, I think, is that at Ohoopee, no one should ever be out of the hole. There's always hope when one has a decent pitch from a clean lie.
Another interesting aspect of Hanse's design is that on several holes, the landing areas are obscured from view off the back tees, meaning a certain gamesmanship is removed. Players won't know the fate of the opponents' tee shot, so they can't automatically play safe.
Awards
100 Greatest: Debuts on our ranking at 34th, 2023-2024.
Best in State: Ranked second, 2021-'22.
Current ranking: 3rd.
Best New: 2019 Best New Private winner.
Panelists
Ratings from our panel of 1,900 course-ranking panelists
100 GREATEST/BEST IN STATE SCORES
Reviews
1 / 4
Review
"Match Club" is a very appropriate name for this course that offers endless options on how to play each hole with tee boxes that wave "
Read More
2022
2 / 4
Review
"Plenty of risk reward on this course. Must think your way around. Green complexes provide plenty of opportunities for a variety of shots. Conditions were firm and fast with excellent greens. Great use of the land with each hole unique to the other. The bunkers added plenty of challenge and also added to the aesthetics."
Read More
2022
3 / 4
Review
"A truly unique setting. A true matchplay test, bold lines are either severely punished or rewarded. Birdies and pickups are possible at every turn. Large, undulating greens that provide multiple options for plays into the green or for a variety of recovery shots if the green is missed."
Read More
2022
4 / 4
Review
"An absolute treat and a very unique experience that starts when you turn off the highway to head to the club."
Read More
2022
Readers
Collection of reviews from our readers
There are no reader ratings yet
Reviews
There are no readers reviews yet. Be the first to write a review.