News
Solheim Cup: Redemption for Paula Creamer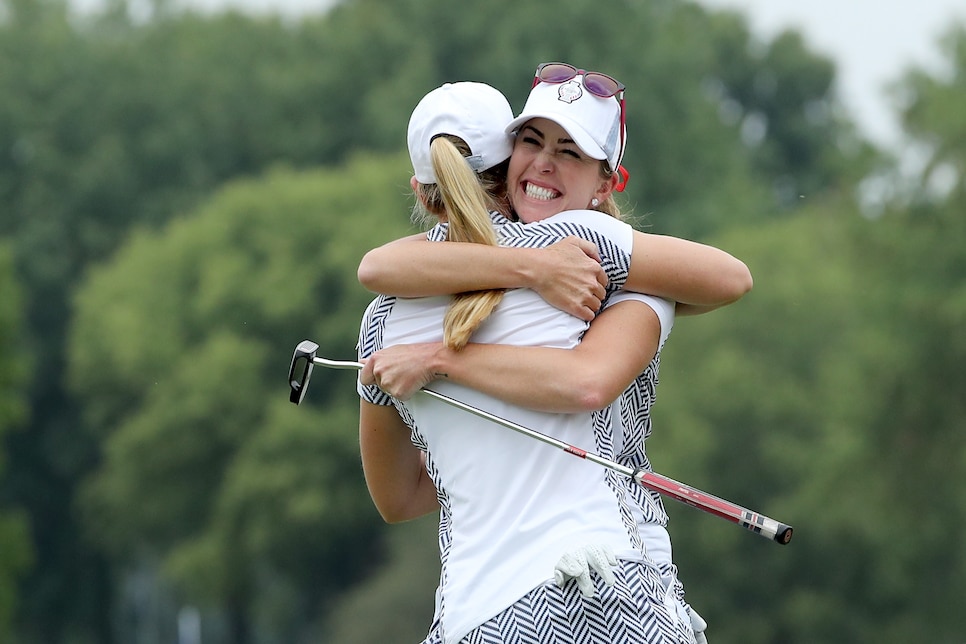 DES MOINES, Iowa -- Paula Creamer was initially left off the Solheim Cup team this year. She hadn't accrued enough points over the past two seasons to play onto the team, and Captain Juli Inkster didn't pick her as one of her two captain's picks. Once the team was announced at the conclusion of the Ricoh Women's British Open, that was it. Creamer wasn't going to Des Moines to represent her country.
But the day after the team was named, Jessica Korda announced she was removing herself from the team due to injury.
When the team is announced, the captains of both the American and European teams choose an alternate and put her name into an envelope. No one knows the identity of that alternate unless someone gets injured and has to pull out of the Solheim Cup.
Inkster put Creamer out in the first session of matches, the Friday morning foursomes.
Creamer and her partner, rookie and captain's pick Austin Ernst, lost 3&1 to Anna Nordqvist and Georgia Hall.
Inkster's faith in her alternate and captain's pick didn't waiver. She sat them Friday afternoon, and then put them in the alternate-shot line up again Saturday morning.
"We were pretty motivated last night, sitting out in the afternoon yesterday," said Creamer. "We were itching to get out here."
On Saturday morning, Creamer and Ernst were 2-under through the first four holes in the alternate-shot competition against Mel Reid and Emily Pedersen, but the match was all square. A birdie at the fifth hole put the Americans up by one, and they never trailed again.
A birdie at the par-5 15th closed the match out 5&3. The point put Creamer's career points earned in foursomes at 8.5. The total is a new American record for all-time points in foursomes. The previous record-holder was Juli Inkster.
"There's nothing better than getting a point for your team," said Creamer. "And yesterday, Austin and I played pretty well. We just went against a strong team."
"Those afternoon matches were just awesome," said Creamer. "Some great golf being played. And we want to keep that momentum going."
Creamer took the tee in the afternoon for the four-ball session, paired with Ernst again. They went up by one on the first hole against Karine Icher and Madelene Sagstrom, and never trailed throughout the entire match. Ultimately they won 2&1 to add another point to the Americans' growing lead.
"It's a very weird situation with Jessica being hurt," said Creamer. "And as being an alternate, you never know what's going to happen and here I am. So I felt like I have to kind of pull my own end of the weight once again in this situation. And I just feel like I can do that. And I hit some good shots at some good times."