News
Paula Creamer heading to Solheim Cup as replacement for injured Jessica Korda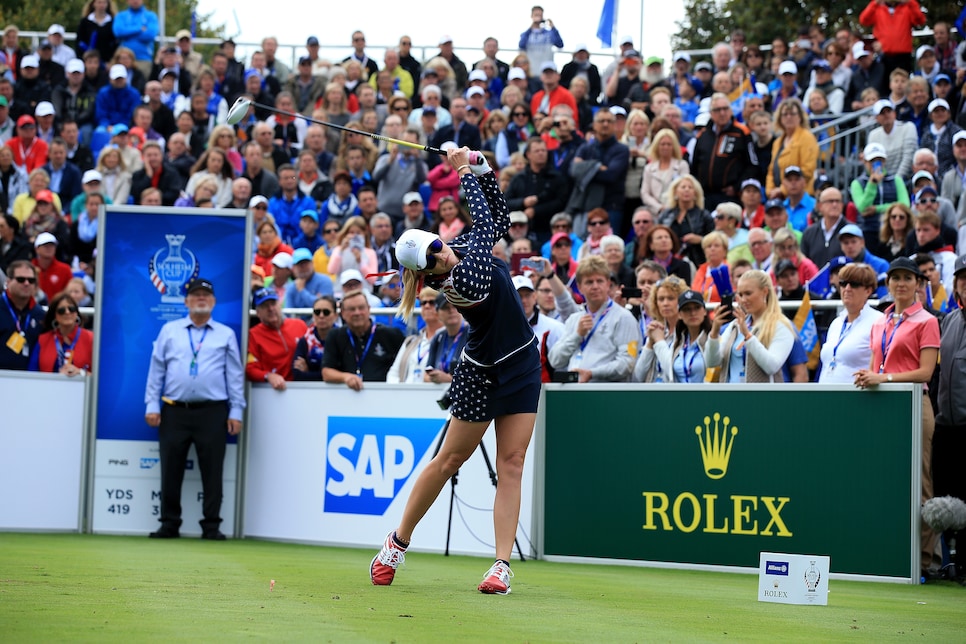 On Sunday night after the Ricoh Women's British Open, U.S. Solheim Cup captain Juli Inkster announced her Solheim Cup team. Eight players make the U.S. team off of Solheim Cup points, two make the team through Rolex World Ranking, and two players are chosen through captain's picks.
Usually, those are the only 12 names that matter. But every year, the Solheim Cup captains for both the U.S. and Europe also write down one final name for an alternate. That piece of paper is put into a sealed envelope and isn't opened unless someone is injured or withdraws. In such an event, that envelope is opened and that name becomes a member of the team.
And that very important name for the U.S. is Paula Creamer, representing her country for the seventh time in the event.
"You know what, to tell you the truth, I really didn't have anybody else in mind," said Inkster of her choice.
"I've got a lot of faith and a lot of confidence in Paula," Inkster continued. "She reminds me a lot of myself as far as heart and grit, and I know she never gives up."
Creamer was one of Inkster's captain's picks at the Solheim Cup two years ago, where her record was 2-2-0.
"It is a very weird feeling," said Creamer, of going from not making the team to being on it in a matter of 48 hours. "You don't want one of your teammates or your friends to be hurt, but that's why you have alternates, for that reason. But I'm very honored. I'm ready to wear red, white and blue for the seventh time. It's pretty crazy. I'm definitely looking forward to being out there."
"I'm in a place where I'm in total control of my own game," Creamer said. "I feel so confident."
Inkster commended Korda for bowing out early instead of waiting to see if maybe her injury would heal, allowing Creamer enough time to prepare for the event.
"For her to think about the team first and not herself, I have a big admiration for that," Inkster said.