News
Americans make history in afternoon session of Solheim Cup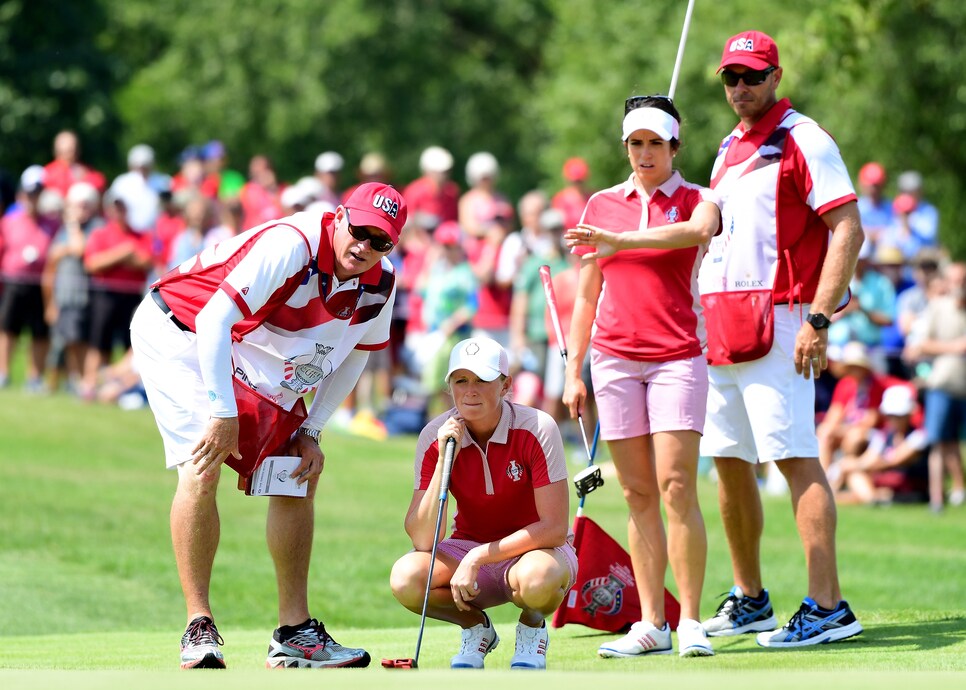 DES MOINES, Iowa -- The Europeans won the morning, winning two matches, halving one and losing one. It was a bit of a surprise, as the Americans came into the event as the favorites. But no matter how strong a group of individuals is in stroke play, there's no way to predict how they will fare in the difficult team match play formats of the Solheim Cup. Friday morning was foursomes, also known as alternate shot. In the afternoon, it was four-ball. And four-ball suited the Americans much better.
No European team led a match at any time in the afternoon.
The first match to finish was Lizette Salas and Angel Yin, who defeated Carlota Ciganda and Emily Pedersen, 6 and 5, to become the second four-ball team to win by that wide a margin in Solheim Cup history. Salas was dominant, making five birdies on the front nine. Her weekend is off to an impressive start; in the morning, Salas was part of the only alternate-shot match to win a point for the Americans.
Danielle Kang continued to revel in her first Solheim Cup experience, partnering with Michelle Wie to defeat Jodi Ewart Shadoff and Madelene Sagstrom, 2 and 1.
The two Brittanys, Lang and Lincicome, had eight birdies and an eagle between them to beat Caroline Masson and Florentyna Parker, 3 and 2.
The final match of the day, meanwhile, was the tightest.
Gerina Piller and Stacy Lewis, who lost their morning match, were 1 up through 16 holes against Charley Hull and impressive rookie Georgia Hall. Both Piller and Lewis put it close on the par-3 17th. Hull's birdie putt almost fell, but she and her partner had to settle for pars. Lewis was able to make her birdie putt to win, 2 and 1.
For the first time in the history of the Solheim Cup, Team USA swept a session.
"We want the history on Sunday night," said U.S. Captain Juli Inkster after the completion of the afternoon session. "We have a lot of work ahead of us. I know Annika is going to fire her team up."
Her team is on the same page, echoing the sentiment that anything can happen in the Solheim Cup and that the only option is to keep the pressure on as they move into Saturday.
"We just have to do the same thing we did today," said Wie. "Just go out there and not think big picture but just win point by point, shot by shot, hole by hole. I think when you look too far into the future, you look too big picture,I think that's when things can get lost."
The Saturday morning matches will be alternate shot.
7:10 a.m. – Jodi Ewart Shadoff and Caroline Masson (EUR) v. Cristie Kerr and Lexi Thompson (USA)
7:22 a.m. – Mel Reid and Emily Pedersen (EUR) v. Paula Creamer and Austin Ernst (USA)
7:34 a.m. – Anna Nordqvist and Georgia Hall (EUR) v. Stacy Lewis and Gerina Piller (USA)
7:46 a.m. – Catriona Matthew and Karine Icher (EUR) v. Michelle Wie and Danielle Kang (USA)