The Grind
Si Woo Kim's sick whip, Jordan Spieth's new big rig and Tiger Woods' game show glimpse
Welcome to another edition of The Grind, where we have (mericifully) never seen a golfer develop a case of the yips quite as badly—or quickly—as that Dallas Cowboys kicker on Monday night. Good lord, that was tough to watch. (Unless you had the under, of course.) As someone who has dealt with driver yips, I can sympathize with Brett Maher. But after working with a psychologist last year as part of a larger improvement process, I've (hopefully) overcome my issues off the tee under pressure. So, Brett, if you need some help, I've got the guy. Anyway, there was better golf being played, so let's talk about that instead. And remember, laces out, Dan.
Si Woo Kim: Talk about coming up clutch, Kim chipped in for birdie on 17 during Sunday's final round and then added a final birdie on 18 to win the 2023 Sony Open. Have a look at the hole out, which prompted PGA Tour pro Roberto Castro to call Kim the second-best short game he's ever seen behind Cam Smith (That's high praise considering he's seen plenty of Tiger and Phil as well):
Kim, 27, is now up to four PGA Tour titles, and that could easily be more if he wasn't 0-3 in playoffs. And considering one of those is a Players Championship, the South Korean is suddenly cooking up a very nice career. And apparently, he's already got a very, very nice car:
OK, so I'm no car expert (My wife and I are very happy with our Subarus), but that thing looks sick. And he appears to have shown it off a couple months after winning the 2021 American Express. So the young man knows how to treat himself. Good for him.
This OWGR proposal: It pains me to say it, but my boss came up with a great idea. But at least I get to share this photo of him with it:
So kudos to Sam Weinman for pitching a new ranking that assessing how pros play versus the course as much as how they play versus each other. You know, like a handicap index for the best players in the world, which as we shared last week would be a plus-13 (LOL) for Jon Rahm right now. There are still plenty of holes in Sam's plan and, as he admits, his math as a former English major is lacking. But there's a lot of good stuff in there.
Tiger on "Jeopardy!": Well, Tiger being part of "Jeopardy!," that is. In what might be the easiest clue ever:
You know it's easy when a "Jeopardy!" contestant gets a sports clue that quickly. But hey, it was nice for golf to get some love, and it got us remembering that heroic effort last year. And thinking about when we'll actually see Mr. Woods again. Fingers crossed, it's soon.
Jordan Spieth's RV: The Spieths made a huge and seemingly smart lifestyle change by buying an RV in the off-season. And now Jordan is hoping others will follow. Literally. When you travel as much as these guys, this seems like a smart choice—especially because they have the money to hire someone to do the long driving between events. Spieth sleeps in the same bed that he does in his house, and it allows them to not have to constantly be packing things for baby Sammy. And we're guessing there's even room for his babysitter, Tom Kim.
Jordan Spieth's reversal: After grabbing a share of the first-round lead in Honolulu last Thursday, Spieth talked about how confident he was with his game and that at other times he might worry about "How do I hold this sh-- together." Well, spoiler alert, he didn't hold that sh-- together. Spieth shot 11 strokes worse on Friday to become just the 17th golfer in the past 30 years to miss the cut at a PGA Tour event after having at least a share of the first-round lead. Ouch. Even worse … he didn't have the new RV as a refuge for his frustration.
Ian Poulter whining: Or is it whinging? I used to love when Ricky Gervais' David Brent character used to say that on "The Office." But seriously, complaining about Ryder Cup Europe not wishing Sergio Garcia a happy birthday? On a day that just happens to be your birthday? Wild.
It may be a petty move to slight the LIV Golf defectors, but it's even more pathetic to point it out. No normal person over the age of 30 should be calling attention to one's birthday.
Si Woo Kim's Sunday shirt: This is a bit much: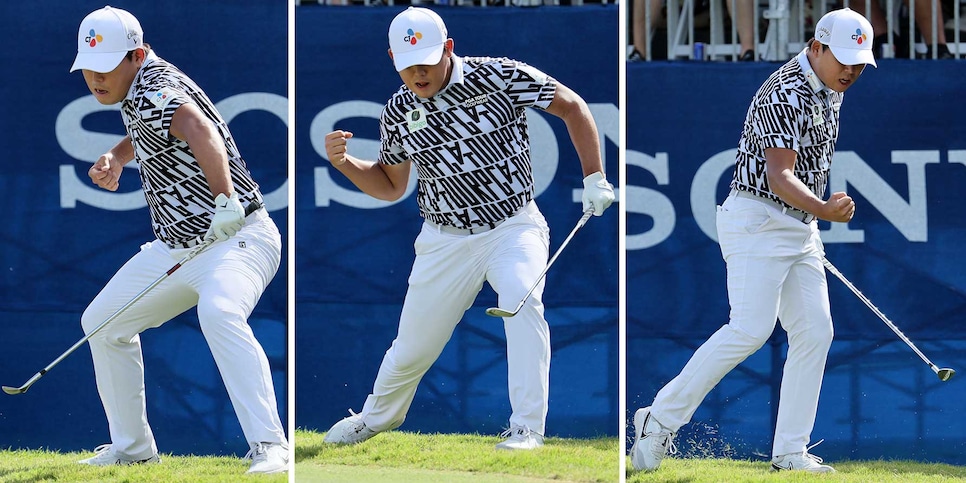 I mean, we get it. You play on the PGA Tour. Then again, Si Woo won in it, so maybe he should consider making that a Sunday tradition.
The PGA Tour shifts to the contiguous United States (By the way, is there any other situation where the word 'contiguous' is used? Didn't think so.) for The American Express, AKA that one played in Palm Springs, AKA that one Jon Rahm called a "piece of sh-- putting contest" last year. And Ian Poulter will make his 2023 debut at the DP World Tour's Abu Dhabi HSBC Championship. Hopefully, he'll get some nice in-person birthday wishes there.
Random tournament fact: The American Express tournament used to be five rounds or 90 holes. Think how tired the LIV guys would be playing in that?
RANDOM PROP BETS OF THE WEEK
—That Si Woo Kim Sunday shirt is going to sell out: 1 MILLION-to-1 odds
—Jon Rahm will win this week: 6-to-1 odds (actual)
—Jon Rahm will be more careful around potentially hot mics this week: LOCK
Of course, this is in reference to Ian Woosnam realizing he had an extra club in his bag during the final round of the 2001 Open Championship. Ouch. What a dagger. Here was Woosnam's response:
Don't blame you, Ian. It's been over two decades and that still feels too soon.
CLUB PRO GUY TWEET OF THE WEEK
It's not just that CPG made an "ace" to take his own members' money, but it's that he tagged TCU football, a reference to the big bet he made on the Horned Frogs in the national title game.
Talk about "fortuitous" timing for such an "ace"!
This is an old one, apparently from the 2007 Masters, but wow is it a good one. Apparently, some dude thought having practice tickets to the event meant he had access to play Augusta National: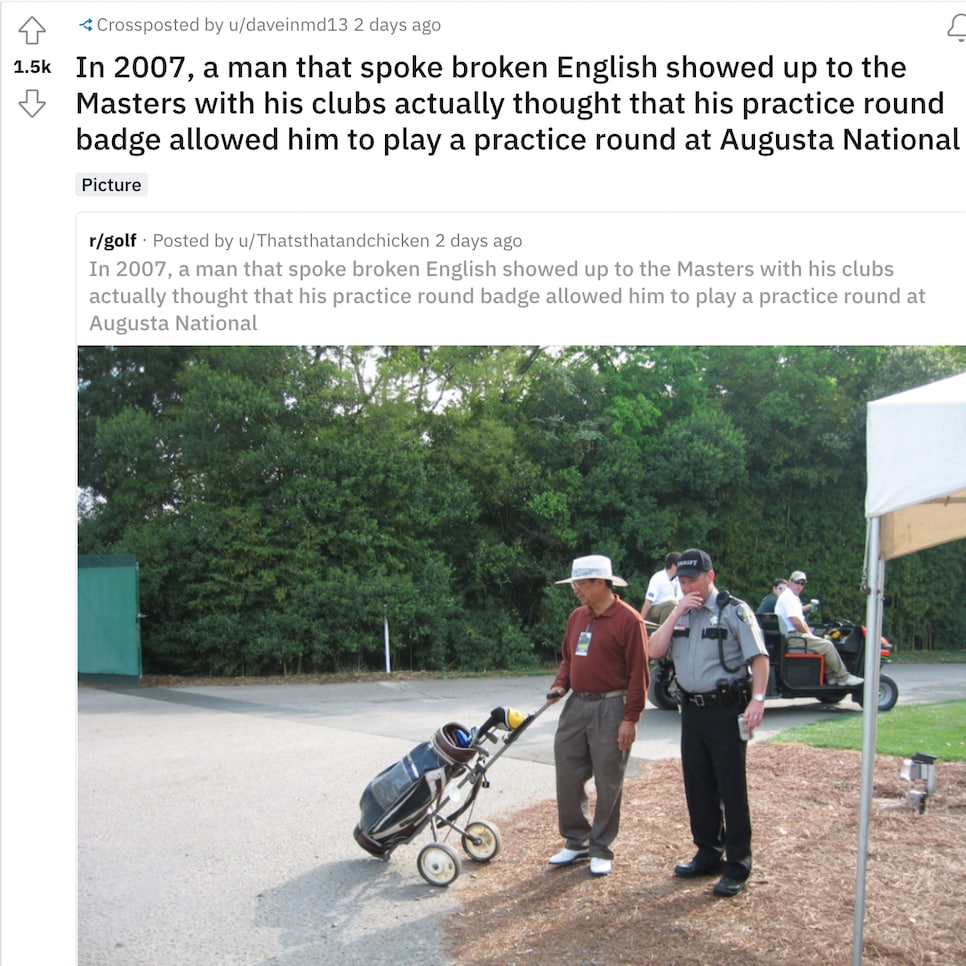 We're not sure what the heck happened here, but this looked pretty darn serious!
Are they finally cracking down on people yelling things like "GET IN THE HOLE!" and "MASHED POTATOES!" at tour events? Jeez.
VIRAL VIDEO OF THE WEEK (NOT INVOLVING A LOADED GUN)
The real Scott Stallings finally got his Masters invitation that was sent to the other Scott Stallings:
The best part is his wife saying, "Told you I didn't have it!" at the end.
THIS WEEK IN PUBLIC DISPLAYS OF AFFECTION
First, a birthday message from Collin Morikawa to his wife on her birthday:
But I'm not sure Collin knows the definition of a "cougar." And then there was Max Homa's caddie, Joe Greiner, getting married:
Way to take advantage of the work trip to Hawaii. And now you have the perfect spot to celebrate your anniversary every year—provided Max keeps getting into the Tournament of Champions.
THIS WEEK IN PUBLIC DISPLAYS OF AFFECTION (ANIMAL DIVISION)
Si Woo Kim loves his dogs:
"I think I was not good enough for the top level, like all the top 10 players. But somehow I got lucky, like that rookie year, and then next year won The Players. I think that holding me up. Yeah, my dad keep talk to me, you're not the top player, so don't try to act like a top player." —Si Woo Kim, who apparently has a pretty tough critic in his father!
Congrats to Mateo Fernandez de Oliveira on winning the 2023 Latin America Amateur Championship—and earning a spot in the Masters. Hopefully, Augusta National sends the invite to the right Mateo Fernandez de Oliveira. … Nike signed Nelly Korda to an apparel deal, just a few weeks after signing Tom Kim. Nike is having the best golf season of anyone. … The new NFL Pro Bowl will feature a long-drive contest. In related news, this might be the first year I ever tune into the Pro Bowl. … And, finally, we took the girls to Dunkin' Donuts for the first time:
And it did not disappoint. In related news, we are running out of winter activities.
RANDOM QUESTIONS TO PONDER
Which NFL player is the best long driver?
Which pro golfer would do best on "Jeopardy!"?
How many miles will the Spieth RV log this year?