Sony Open
Si Woo Kim always had the talent to win on the PGA Tour. Now he's got the desire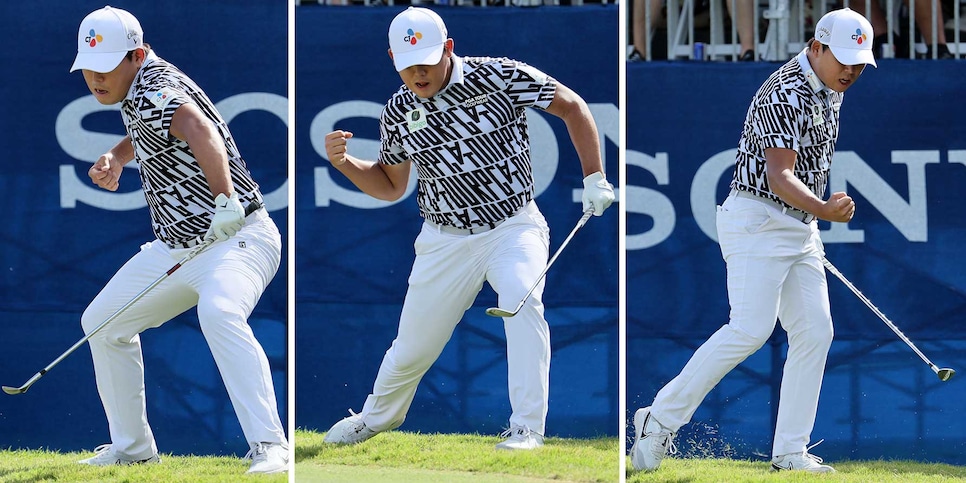 HONOLULU — There was a moment at last September's Presidents Cup, during his singles match against Justin Thomas, when Si Woo Kim converted a tying seven-foot par putt on the 15th hole and then brazenly put his index finger to his lips, gesturing to shush the pro-American crowd at Quail Hollow Club in Charlotte, N.C. Three holes later, Kim holed a 10-footer for birdie to beat the reigning PGA champion 1 up. At the time, Kim said he had never been more nervous, not even when he won the 2017 Players Championship at the age of 21.
No wonder the standout South Korean appeared to exude a calm determination down the stretch on Sunday at the Sony Open in Hawaii. Kim birdied the final two holes at Waialae Country Club, the first with an aggressive chip-in, and rallied to edge Hayden Buckley by a stroke for his fourth PGA Tour title.
"I don't know about that it [made] me a better player, but I think definitely helps for [dealing with] the pressure in any tournament," Kim, 27, said after becoming the first Korean player to win the Sony Open since K.J. Choi in 2008. "I think that helps more learning about it.
"I tried my best every shot. Was a little shaky in like last four holes, but, yeah, was trying to get confidence and keep calm."
Kim sure didn't look shaky. Coming out strong with birdies on his first three holes and then tacking on those clutch birdies at the finish, Kim shot his second-straight six-under 64 and completed 72 holes in 18-under 262. He won for the first time in almost two years, since the 2021 American Express, and collected a check for $1.422 million.
In a showdown of 20-something newly married men—both Kim and Buckley tied the knot with their longtime girlfriends last month—the former concocted the key shot after beginning the day three strokes off the lead. Kim flew a 7-iron over the pin at the par-3 17th and found a light patch of rough 28 feet from the hole but with the grain growing against the intended direction of the shot. Initially, he thought about playing conservatively, but then Buckley holed a 16-foot birdie putt behind him at the par-4 16th to break a tie they had shared off and on over the late stages of the inward nine.
"It was little tricky. But I knew he made a birdie," Kim said. "I heard the noise, so I have to hit it aggressive. I have nothing to lose, so I just hit it aggressive."
He executed the chip perfectly and reacted with an enthusiastic fist pump. Then he immediately regrouped and found the green in two at the par-5 closing hole with a 5-iron from 222 yards out of the left fairway bunker. Two putts from 42 feet and his work was finished.
Buckley, 26, seeking his first tour title in his 40th start, came up short of the green on the home hole and then pitched to 12 feet. He pulled the tying putt slightly, and the ball veered just left of the hole. The Mississippi native closed with a 68.
Chris Kirk, twice a runner-up at Waialae, also had a 68 and added a third-place finish to his record with a 265 total.
"Winning on the PGA Tour is the hardest thing to do and sometimes you just get beat. I feel like that's what happened today," said Buckley, who entered the final round with a two-stroke lead over Kirk, Ben Taylor and David Lipsky. "Overall, I was impressed by what I did, and I think I'll remember this day and it'll just make me better."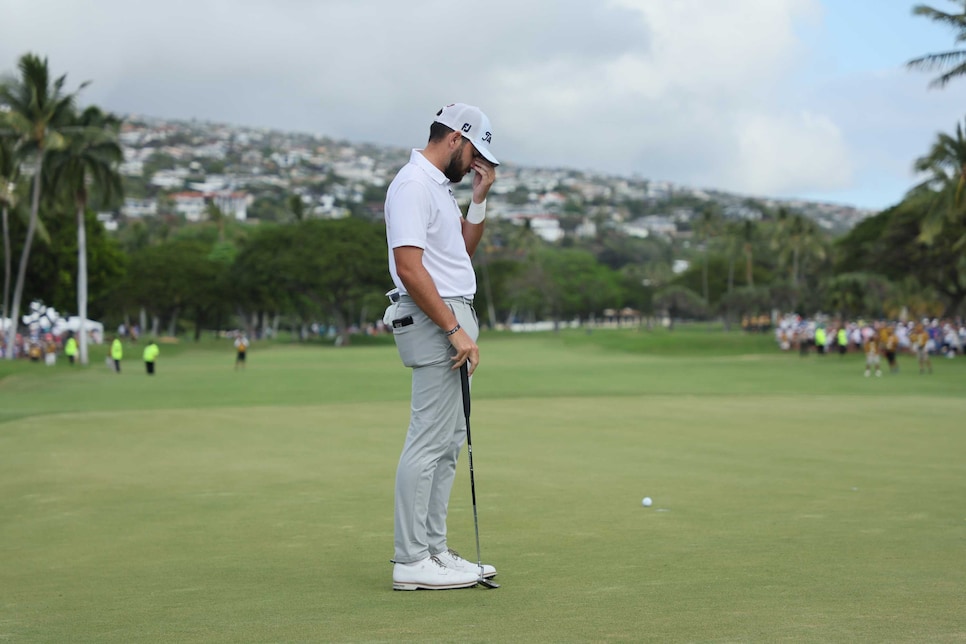 Hayden Buckley had a chance to force a playoff with this birdie try from 12 feet on the 18th hole, but he missed it low left.
Andy Lyons
Amid the breeziest conditions of the tournament, Kim tied the low round of the day with the kind of ball-striking proficiency he exhibited all week. He hit 15 greens in regulation each of the four days and led in strokes gained/approach the green on Sunday. He was also second in proximity to the hole, averaging 24 feet. For the week he led in both categories, which explains his T-2 standing in putts per greens in regulation. That also helped to offset negative standing in strokes gained/putting each of the last two days, including -0.458 in the final round.
Though he won the Players at an early age, Kim said he has never thought of himself as one of the better players on tour. "Like I won the rookie year here [in 2016 at the Wyndham Championship], and then after next year I won the like pretty much the fifth major championship," he said. "After I was thinking, like, I'm not a good player, and then here's like too many good players here. I think that's why a little bit hard time next couple years after Players.
"Yeah, my dad keep talking to me, you're not the top player, so don't try to act like top player," he added with a slight laugh.
"There's a lot of Si Woo as a golfer, especially on the inside," said Australia's Adam Scott, the former Masters winner, who thought Kim was one of the best players for the International team in Charlotte. "I think when he's in a position like this, the fire burns hot, and he's going to be hard to beat if he's in the lead I would say."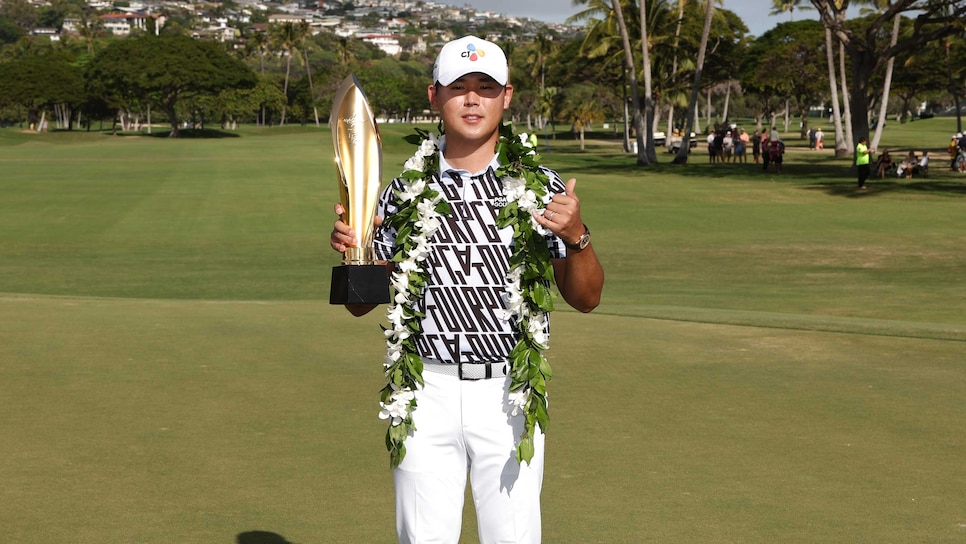 Si Woo Kim became the sixth winner in 11 PGA Tour events in the 2022-23 season to comeback on Sunday to claim the title.
Harry How
Kim, 84th in the world when he stepped foot on Oahu, wouldn't disagree that he is more driven than he appears. In the past that meant getting in his own way. "Like a little bit of holding me up," he said. But he's learned a lot in recent years, a lot about himself, and experiences like the Presidents Cup certainly helped. Mostly, he has learned to balance his emotions as he strives to become a top player.
"Always hard, but I've got too much high expectation, so I think that makes me more nervous. This year the goal is like with my caddie, with Manny [Villegas], I talked to him the week before here, so I'm trying to be better attitude, like, act better. When I [don't] hit the best shot, try to be less upset. I think that helps for this week."
On Sunday, he hit the best shot—and at the right time. Something a top player would do.