Postmortem
Lesson from the Spieth and Morikawa meltdowns? Just move on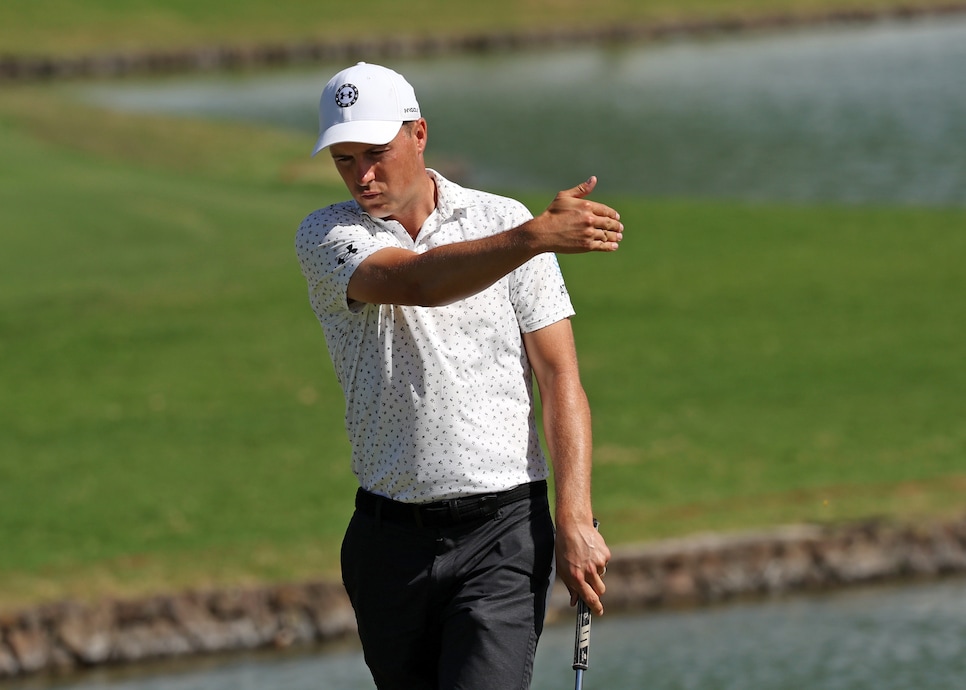 Jordan Spieth reacts to a missed putt for birdie while practicing for the Sony Open in Hawaii.
Harry How
HONOLULU — Because it happened to Jordan Spieth, one of the best and most popular players on the planet, and because he held a share of the first-round lead, there won't be many things that happen this year on the PGA Tour more curious and beguiling than his early exit from the Sony Open in Hawaii.
After speaking with confidence and certainty about his level of proficiency following his opening six-under 66 at Waialae Country Club, Spieth, quite shockingly, disintegrated during Friday's second round and carded an utterly deflating 75 to miss the cut by a stroke. He toured Waialae like he was singing a Barry Manilow tune—up, down, all around, trying to get the feeling again and just … couldn't.
No one who follows the game needs reminding that golf is hard. Even for someone of Spieth's pedigree. But there it was, in black and white and not a lot of red anywhere.
"Just a bad day. Didn't feel like it was much different. Felt like I had a really bad deck of cards today," said Spieth, 29, who took his young son Sammy into the scoring trailer, undoubtedly for comfort—but maybe also as reminder to not let a golf score define him. "Made a couple bad swings from off the tee. Other than that, I didn't play that different. I just ended up a foot into the rough here, right behind a tree here. It was a weird, weird day."
Weird day, but not a strange occurrence. Spieth became the 11th player since 2011 to miss the cut in a tour event after having at least a share of the first-round lead and the first to do so since Matt Every at the 2020 Arnold Palmer Invitational. Other than Keegan Bradley's misstep at the 2016 Valspar Championship, Spieth is the only other major winner to suffer something so ignominious in the aforementioned stretch.
In recent memory, the only similar occurrence that resonates with a commensurate level of shock is Davis Love's meltdown at the 2006 Players, when he canceled his brilliant opening seven-under 65 at TPC Sawgrass with a second-round 83.
Love, who has generally been one of the more gracious players in relations with the media, was so dismayed by the turn of events that he retired to the Champions locker room and declined interview requests.
After handing off Sammy to his wife Annie, Spieth graciously stepped in front of reporters for the difficult postmortem.
"Yeah, this sucks. I mean, I've never led a tournament and missed the cut before," he said looking off in the distance instead of into the eyes of the handful of reporters in front of him. "It's not like I wouldn't have replayed anything that … I didn't really make any bad decisions. Just got just the ball in the wrong spots at the wrong places."
Studying the anatomy of a shockingly bad round is to scrutinize a chalk outline drawn with the poor statistical numbers. Spieth's second-round strokes gained rankings are dyspepsia inducing:
The statistic that stands out is the putting, the area of his game where he not only excels but is uncanny, almost supernatural. He gained 3.494 strokes on the field and ranked sixth on Thursday but lost 1.389 strokes on Friday. Spieth still holed a few key putts, but his stroke failed him down the stretch when he needed just one birdie in the 12-foot range—a virtual layup with his talent—to salvage the weekend.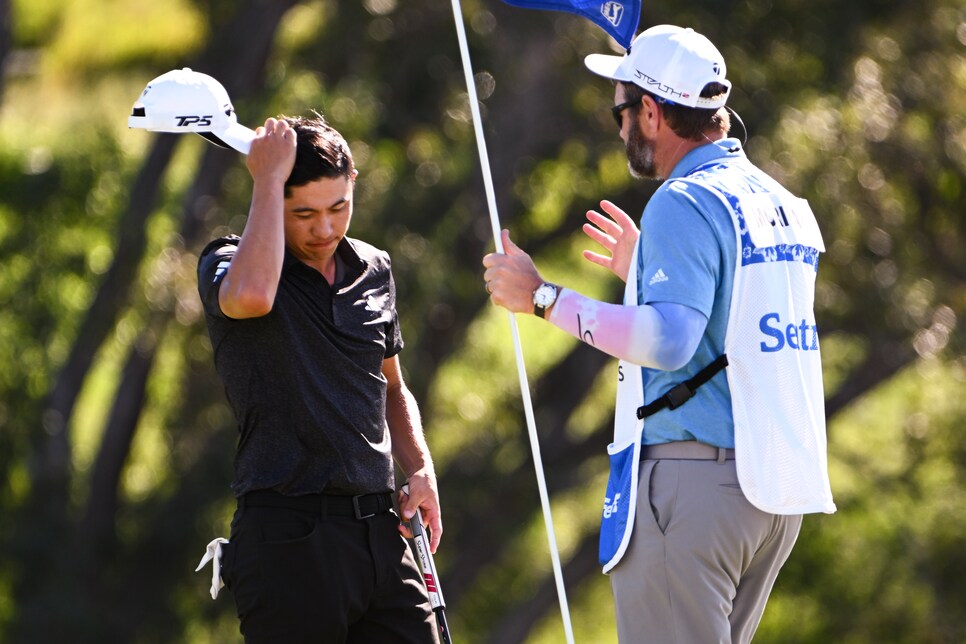 Caddie J.J. Jakovac consoles Collin Morikawa on Sunday at the Sentry Tournament of Champions.
Tracy Wilcox
Spieth's stumble was not unlike Collin Morikawa's the week before at the Sentry Tournament of Champions at Kapalua Resort. Appearing firmly in control of the tournament and marching toward his first victory in more than a year, Morikawa suffered one inexplicably poor stretch that no one could have expected, absorbed the flow of three straight bogeys, and watched helplessly as Jon Rahm rallied by him.
From the eighth to the 12th hole at Waialae, which includes two of the easiest holes in the par-5 ninth and the short par-4 10th, Spieth, even par at the time and still six under overall, ran off four straight bogeys to fall on the cutline. It was a nervous struggle from there.
"The guy is frickin' great, so that just speaks to what the game is and the nature of it sometimes," said Zach Johnson, who played alongside the three-time major champion. "You could not have seen that coming, especially because he played really well [on Thursday] and it didn't look much different today [Friday]. But, you know, he's totally invested in the game and you see how hard he tries. That was just a blip, something that happens to all of us."
Johnson sounded a lot like Jim Furyk, who shared the first-round lead with Love at the '06 Players and was paired with the former major champion and two-time winner at TPC Sawgrass. "He played so well yesterday and hit a lot of good shots today. It kind of jumped up and got him today," Furyk said.
The vicissitudes of the game make it maddening and seductive, and no one has ever been immune to the fluctuations. Ranked 15th in the world and a PGA Championship victory shy of the career grand slam, Jordan Spieth is a very good golfer who will have many good days, some great ones, and, yes, a few more he'll want to forget.
There is no real lesson here. After his Plantation Course Morikawa expressed a remark of similar effect, sighing, "Don't know what I'm going to learn from this week."
Well, perhaps, the lesson, eventually, is that you learn to move on.
Spieth is not in a hurry to return to competition. Neither is he inclined to alter his schedule to more swiftly ameliorate the disappointment at Waialae, a course he loves but which has sent him packing early in two of his four appearances. Sometimes, it's just best to let it go. And he will. Besides, he'll have plenty on his plate, and soon, starting with the AT&T Pebble Beach Pro-Am in early February, an event he won in 2014 and has finished third and second, respectively, the previous two years.
"I'm [playing] seven out of eight when I play next, so I don't really want to do any more than that," he said.
And there's no doubt he'll be determined to not do any more of that. But it will happen again. He is a golfer. It happens to every golfer, every great golfer who ever lived.