News & Tours
After rejecting LIV's early overtures, Adam Scott proves he's all in on PGA Tour by joining PAC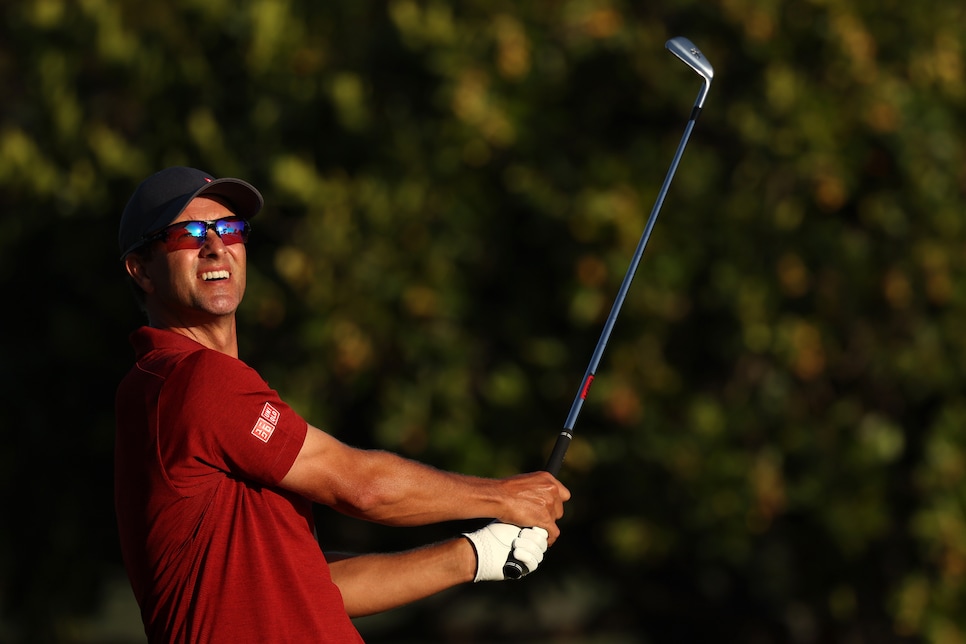 Adam Scott plays his shot from the 11th tee during the second round of the Sony Open.
Harry How
HONOLULU — You wouldn't think of Adam Scott, one of the most reserved and even-keeled individuals in golf, as someone who likes to "stir the pot," so to speak, on matters related to the PGA Tour and the game in general.
Maybe that's partly because he's never been in a position to do so. Until now.
The amiable Australian star confirmed on Friday that he has agreed to join the tour's Player Advisory Council, a 16-player committee that consults with and makes recommendations to the tour's Policy Board (board of directors) and Commissioner Jay Monahan. Scott joined the PGA Tour in 2003, has 14 victories among 28 worldwide titles, including the 2012 Masters Tournament, and is 42 years old, but he has never before served on the PAC.
He felt that it was time. Because he was asked. And because, well, it's an interesting time in the game with the tour locked in a competitive battle, not to mention a legal battle, with the upstart LIV Golf League. It's no secret that Scott was recruited to join the Saudi-backed circuit run by fellow Aussie Greg Norman, but his desire to augment his record with additional majors outweighed the allure of a lucrative guaranteed contract.
By extension, contributing to the tour as something more than just a popular player and gallery draw appealed to him.
"I'm more interested in what the tour is planning on doing with the tour than how we're fighting a lawsuit. I couldn't care less about that to be honest," Scott said Friday at the Sony Open in Hawaii after he strung together birdies on his final three holes for a four-under 66 at Waialae Country Club to complete 36 holes in five-under 135. "I'm more interested in what the future of the tour looks like. I convinced myself that it was worth diving into that to see what's going on."
Scott, ranked 37th in the world, said it's a fair assessment to believe he has bought into the direction the tour is going, with several high-paying "elevated" events identified this year that should bring together the top players regularly and additional bonus money available in the Player Impact Program to the tune of $100 million.
However, he said that it would be a mistake to read too much into his decision to join the PAC.
"I think seeing Rory [McIlroy] taking a leadership role, I feel, potentially, like a few other notable players—if I can call myself a notable player—can assist him moving things in the direction it seems to be," he said.
"It's an important time for the tour to kind of map out the next decade and beyond, what playing the PGA Tour kind of is working towards and what that looks like," he continued. "As well as everyone out here probably wants to know, full schedule and beyond. But it is a critical, critical … it's just a time of change. And, yeah, big decisions are going to be made and they need to be the right ones."
The full membership of the Player Advisory Council is expected to be announced by the tour in the next few days.
"I don't mind stirring the pot, if that needs to be stirred in conversation in those kinds of [meeting] rooms," Scott said. "Just to let everyone think a little more."