Sony Open
One round in Hawaii changed Hayden Buckley's life path, and he's feeling the island vibe again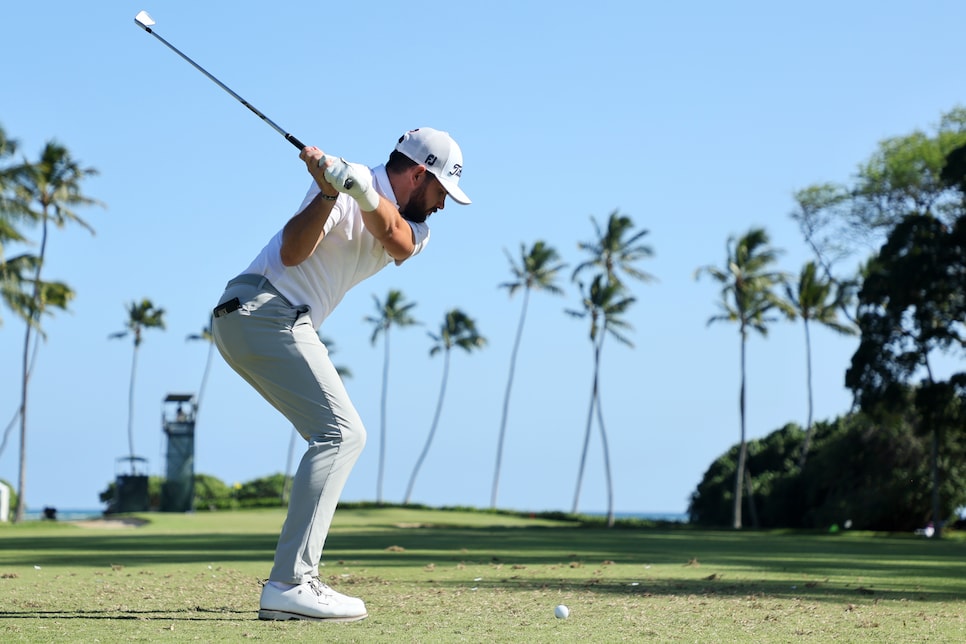 Hayden Buckley plays his shot from the 11th tee during the first round of the Sony Open.
Andy Lyons
HONOLULU – He might hail from Tupelo, Miss., but Hayden Buckley has an abiding affinity for and feels a sense of home in Hawaii—and rightfully so, considering the 50th state played a key role in influencing the arc of his career.
He was studying health science in earnest at the University of Missouri when one round of golf changed his way of thinking. It happened at an event called the Warrior Princeville Makai Invitational, on Kauai, and Buckley flirted with shooting 59 before settling for 61. That round propelled him to one of his four collegiate victories and also into a different mindset about his professional prospects.
"I remember that day. To see a round like that and have a chance to be 59 and just have a day where everything went in, it kind of woke me up a little bit to where I realized, this is something I could do for a living," Buckley recalled. "Not that one round should make or break it, but it was that defining moment where I was studying pretty hard, and I studied a little less hard after that because I knew that golf was something that I was going to pursue.
"That changed a lot of things for me."
Up until then, Buckley's personal best was a 64.
On Friday at the Sony Open in Hawaii, Buckley put up another 64 with birdies on four of his last eight holes. With a nine-under 131 total at Waialae Country Club, he stood just one stroke behind Taylor Montgomery through 36 holes in the year's first full-field event. Last year in his rookie season, Buckley finished T-12 at Waialae, so the South Pacific seems to be to his liking.
"It seems to bring out something in me, yeah," he said.
A standout baseball player as a youngster, Buckley didn't aspire to a career in professional golf growing up. He peaked late, made the Missouri team as a walk-on, and, as he tells it, "I was studying harder than I was practicing.
"I didn't figure it out until about my junior year of college," he said. "That's when things started to click a little bit. That senior year, that 61 in Hawaii, that was when it was kind of validated that I could do it, but my junior year is probably when I really wanted to pursue it."
And so here he is, in pursuit of his first tour win. His second round Friday morning was an illustration of the progress he has made as a scorer. Starting on the 10th tee, Buckley played his first five holes in one over par, and it could have been uglier had he not converted par putts of 20 and eight feet, respectively, on the first two holes.
"I found a way to kind of bounce back from bogeys, something that I didn't have last year I feel like," said the 26-year-old Florida resident. "I don't know what that is. Just mentally feel a lot stronger being able to come back from bogeys. Did it yesterday. My first bogey yesterday I bounced back with a birdie immediately and kept the round alive, it feels like. Sometimes in the past I feel like my rounds stall out, and next thing I know I shoot 1 or 2-under par on a day where I hit it well just because of one bogey.
"Mentally I feel a lot tougher."
The feel of things is important to a golfer. Buckley made a slight adjustment in his putting grip late in the first round, pointing the index finger of his left hand down the putter shaft. He birdied the last two holes for a 67. On Friday, Buckley was leading the field in strokes gained/putting after the morning wave, needing only 25 putts covering 132 feet.
He couldn't explain why it worked. There was no technical benefit to the switch. He putts left hand low, which he only began to do at last year's U.S. Open at The Country Club, where he finished T-14 after having missed the cut in five of his previous six starts. Just felt right to change things up.
"Something I've done in the past just to feel more comfortable putting. I didn't work on it at all this week. Just something that came to me I think on 16 yesterday," he explained. "I made a two-putt coming in, so I rolled with it. I'm in one of those places where I have a ton of confidence, and whatever feels right I'm just going to do it. Whether or not it's mechanically the right thing to do, I'm just going to do whatever I want."
In youth baseball, Buckley was one of the better pitchers on his team. His best pitch? Yep, a changeup.