Getting the last laugh
Scott Stallings FINALLY got his Masters invitation, and his wife delivered a hilarious dagger when he opened it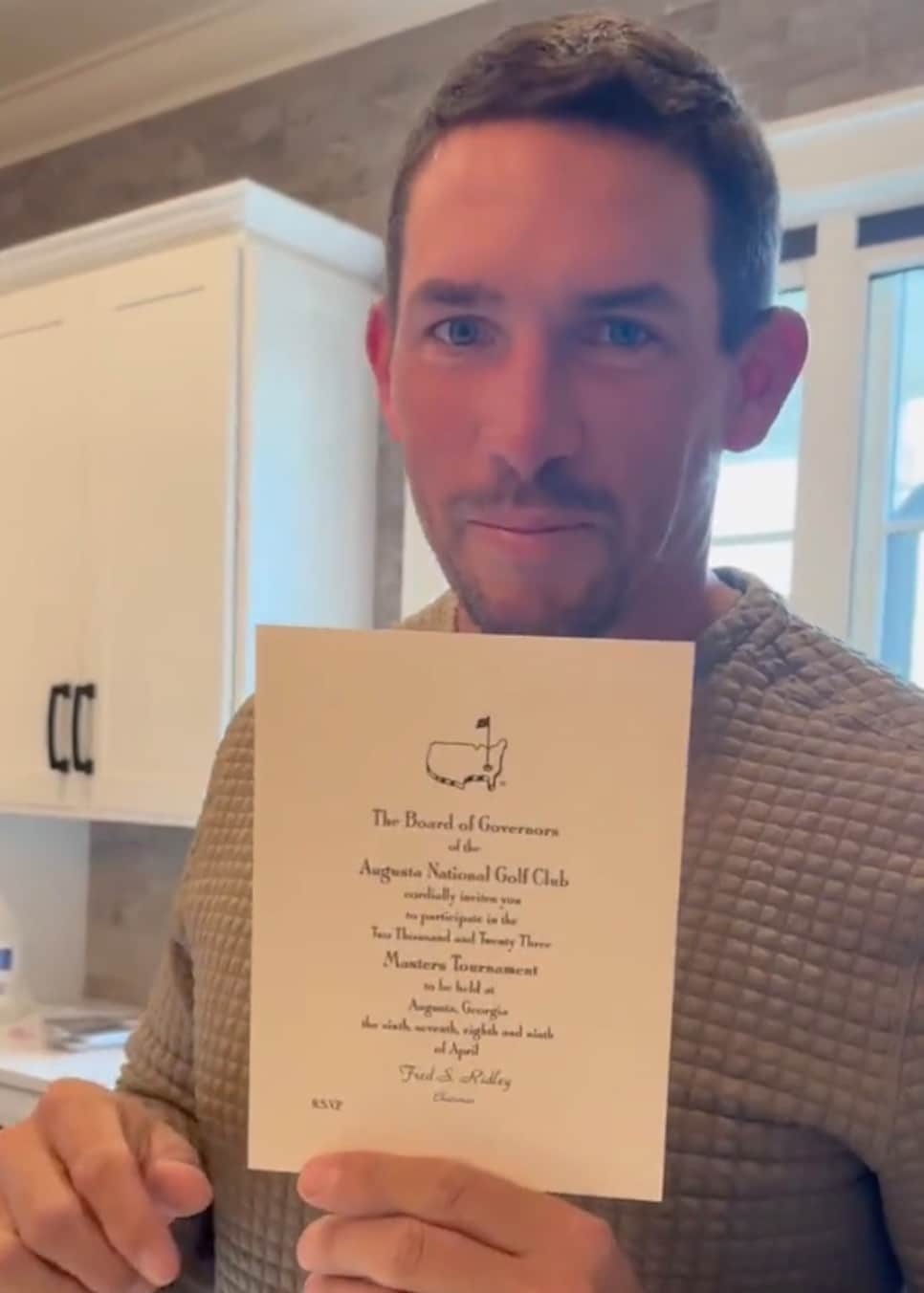 Scott Stallings shows off his Masters invitation that was originally sent to another Scott Stallings. (Photo from @StallingsGolf on Twitter)
The video is like many others out there of 2023 Masters competitors showing off their invitation to Augusta National Golf Club in April. As we all know, however, Scott Stallings had more reason than most to celebrate the envelope's arrival.
The story went understandably viral last week when a Scott Stallings who is real estate agent and "90s-shooter" from Atlanta opened his mail and got the Masters invite that was supposed to go to three-time PGA Tour player Scott Stallings, who'd be anxious to make official his first Augusta appearance in nine years. The regular-guy Stallings posted about it on social media and got the attention of the world, and by the time the week was over, Golfer Scott had invited Realtor Scott to come to a practice round at the Masters.
You maybe figured that the Masters committee might just send out another invitation, but these things are keepsakes and the Green Jackets probably didn't want to see the invite out there on eBay, so it was apparently arranged that Realtor Scott would forward the invite to Golfer Scott.
And on a Friday in mid-January, there was Golfer Scott being filmed by his wife, Jennifer, getting out of his Ford Bronco at the end of his (very long) driveway in Knoxville, Tenn., to retrieve something out of his (very fancy) mailbox. Yes, it seemed a bit staged, but the happiness was genuine. "Finally here (claps hands). It's been delivered," Stallings says. "Confirmed. Correct address (fist pump)."
The best part, however, is the next scene, where he's in the kitchen opening up the familiar Masters green envelope to reveal the invite from Chairman Fred Ridley. Scott doesn't say a word through all of it, showing just a bit of a satisfied smile. But it's Jennifer who delivers a hilarious deadpan line that had us watching it over and over again.
"Told you I didn't have it," she says dryly, with a tinge of spousal annoyance. And for the perfect ending, the post goes to black before we see the response. So good.
There was one other thing that caught our attention. When Stallings opens up the shipping envelope, there is a hand-written letter with a business card attached. We were wondering: an apology from Augusta National?
No. With some deep digital forensic work, case solved. The letter is from Realtor Scott, and though we can't read the first part that's covered by his business card, the rest says, "Glad we were able to connect & return this invitation package to you. Now go win that green jacket!"
Well played, Realtor Scott. Well played.