grand theft auto
Shirtless man with dog in lap leads 15-mph golf cart police chase for the ages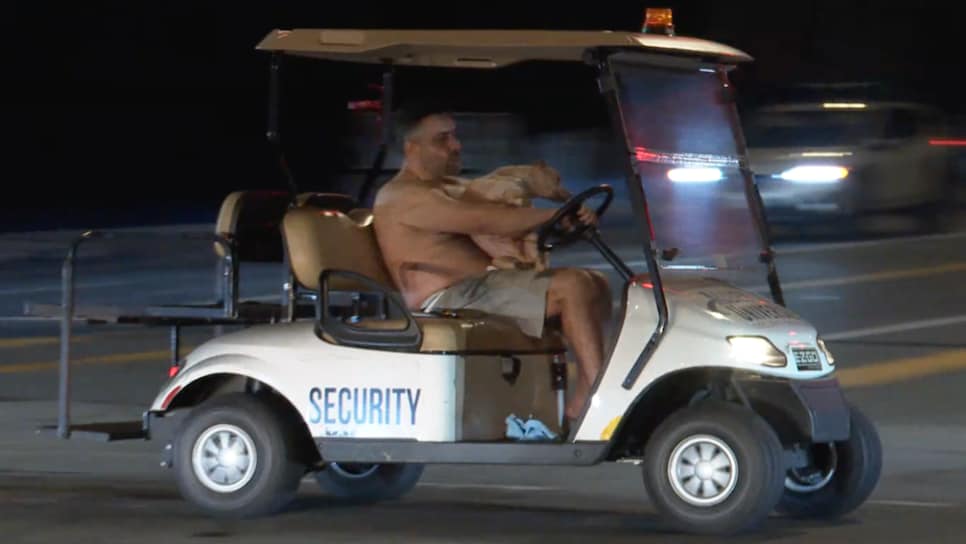 Well, it's Ryder Cup week and the festivities are starting. The pros have made their way to Marco Sim—what's this?! Is that a shirtless man with a dog in his lap attempting to make a getaway from the Los Angeles authorities in a golf cart? You're damn right it is.
In the most San Fernando Valley story of all time, an unusual hunt went down late Sunday night in which an individual driving a golf cart bobbed and weaved through the open road, evading officers all the while. He was wanted for robbery and grand theft auto, and police said that he took the cart at knifepoint. It truly has to be seen to be believed. Even the reporter broadcasting the news "couldn't believe what she was saying."
Here are all of the angles to the chase, because that's what a story like this deserves.
The LAPD responded to a report of a possibly stolen golf cart and assault with a deadly weapon and the chase began quickly after that. This certainly won't break any police-chase speed records as the max was around 15-20 mph, but the stellar golf cart maneuvering while barefoot is impressive, to say the least.
Fox 11 even noted that the fugitive drove into a parking lot and looped around a building to stave off the brass for a few more minutes. Eventually, he was cornered against a big rig and tackled in the parking lot of a 7-Eleven in Valley Glen, but what a run. The man was taken into custody and allegedly shouted "Don't drink, don't do drugs, be a better person" while entering a cop car.
NBC Los Angeles believes that the dog was taken to Los Angeles County Animal Care. The pooch will not be facing any charges.