Ryder Cup
The one thing Shane Lowry is having trouble getting over after an emotional Ryder Cup debut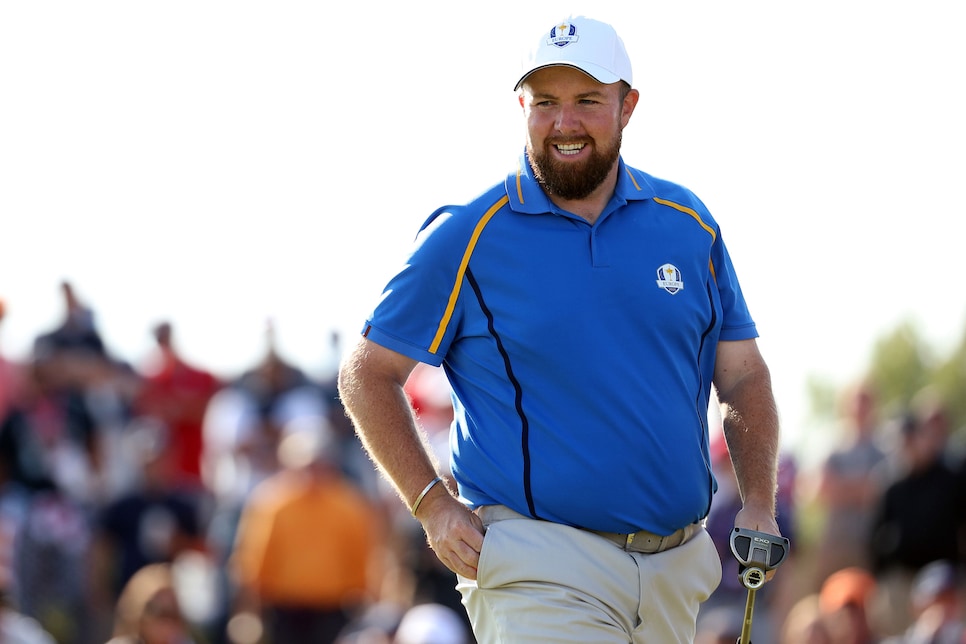 Shane Lowry reacts on the 11th green during his Friday afternoon four-balls match at the Ryder Cup
Maddie Meyer/PGA of America
ST. ANDREWS, Scotland — He had warned his wife to expect the "dog's abuse" that came her way at Whistling Straits last week. And he'd told his father not to get "involved with anyone" when it happened. But it did, even if Shane Lowry at first didn't think the crowd gathered at last week's Ryder Cup had been "that bad." Only after talking to his wife did the extent of the verbal torture his family had been subjected to become clear.
"They are obviously a home crowd and they are going to be a partisan crowd," said Lowry, who is teeing-up in the Alfred Dunhill Links Championship at St. Andrews, Carnoustie and Kingsbarns this week. "Some of the stuff wasn't very nice. But look, that's just the way it is. Some people are idiots, especially when they drink. Nobody turns into a genius drinking, and that's what they were doing last week. Especially if you were out in the afternoon matches, it was loud. As a team it was hard for us to perform our best. You stand up and you hit a 3-iron into 10 feet from 250 yards and you don't even get a ripple of applause. You almost get booed for it. It's hard."
Still, Lowry tried to give as good as he got. His animated reaction to holing a winning last-green putt on Saturday evening was one of the few positive moments for a European team en route to what would become a record-breaking 19-9 defeat.
"Bethpage in 2025 is going to be horrendous," continued the Irishman. "But it will be a great chance to shut them up. That's the way I see it. When I'm out there that's what I'm doing. There is nothing better than holing a 20-footer and turning around to see them all standing there dead silent. Having said that, I swore to myself last week, knowing what the crowds were going to be like, I said if I holed any putts, chipped-in or did anything cool, I was just going to take it easy and chill. But I holed a putt on the fourth green for par with Rory [McIlroy] on Friday and it just all came out of me. I didn't understand where it came from, to be honest."
Indeed, it wasn't all bad news with regard to the spectators. As Lowry acknowledged the majority cheered loudly and appropriately for the home side.
"When I finished my match on 16 on Sunday, I was walking back to follow the other groups and got a huge ovation off the crowd in the grandstand there, that was pretty cool," Lowry said. "I thought I get on well with the crowd last week as best I could. I tried to take it as best I could. I think I did. I think I performed OK. I don't think it's going to be like that in Rome [at the 2023 Ryder Cup]. We will obviously have the home support, but we'll be hopefully winning a bit of a different way."
Thursday morning Lowry will tee-up at Carnoustie alongside Padraig Harrington, his close friend and, of course, his captain last week. Inevitably, Harrington has already come under fire in some British newspapers. Pairings have been questioned, as has the Dubliner's decision to select Lowry ahead of former World No. 1 Justin Rose. Having had to stop reading one newspaper on the plane over from Ireland—"I was just also annoyed"—Lowry was quick to spring to his compatriot's defense.
"People think they know what went on, what's gone wrong, then try to pick holes in the European Ryder Cup system," he said. "Since 1985, Europe are 12-6 up, so there's nothing wrong with the system. Yes, we got a big beating. And yes, the Americans are going to be strong for years to come. But the Americans will always be strong. And the Europeans always come back. We will give it a good go in Rome. If we win, we win. If we don't, it's not because the players or captains haven't done their best. What I'm trying to say is I'm just so disappointed for Paddy and the way his captaincy is being picked apart now. People think they know what they're taking about. But they really don't."
Lowry did concede that Harrington was understandably "a bit down" in the wake of what was obviously a tough week to take. Even before the final result was confirmed, Lowry had been aware of the implications should Europe not get at least 9½ points, the figure attained by the U.S. in 2004 and 2006 when the New World went down to the previous record margin of defeat.
"It's obviously disappointing for Paddy," Lowry said. "And I'm most disappointed for him. I don't think he deserves the beating we got last week. It looks bad on paper obviously. It's hard because he's a very good friend. We didn't perform as a team for him. And little things … well, it's not a little thing, it's a big thing … like the extra half point. I was thinking, 'Oh my God' because I knew about the 18½ points from the K Club [in 2006], I remember that. So I was just devastated for him. He'll be fine, like, he'll be grand. But he doesn't deserve this."
Still, for all its obvious downsides from a European point of view, Ryder Cup week ended in its now traditional fashion. Late into the night, both sides got together for a drinking session many will surely not remember too well.
"As always, the party ended up in the European team room," said Lowry with a smile. "It's always most fun in there. We had a few drinks, and the Americans came in. We chatted about the week or whatever. It was nice. It was a good night. I was very disappointed, but we all got together and tried to celebrate the week we just had even though it wasn't the week we would have liked."