DP World Tour
A leaderboard bursting with major winners—Lowry, Molinari, Harrington—promises a wild Sunday in Abu Dhabi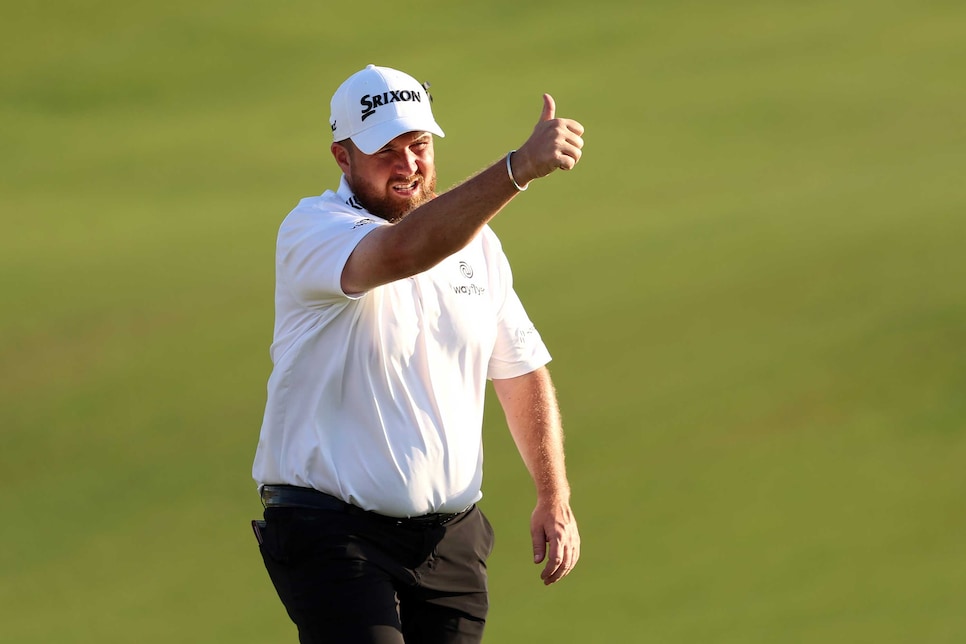 Shane Lowry gives the thumbs up on the 18th green as he claimed a share of the 54-hole lead at the Abu Dhabi HSBC Championship.
Warren Little
ABU DHABI — In Scotland, golf fans would be calling this a "right guddle," a wild, out-of-control, tightly packed battle with an indeterminate, impossible-to-predict conclusion. Perhaps golf fans in the United Arab Emirates will start calling it the same as they brace for a doozy of a finish at Abu Dhabi HSBC Championship. With 18 holes to play over the Yas Links layout, as many as 19 players are within four shots of the 13-under-par lead held by Min Woo Lee, Francesco Molinari and Shane Lowry.
If there is a favorite on such a bunched leaderboard, that honor must go to Lowry. The highest-ranked player in the field (20th in the latest OWGR listing), he is also a past champion of the event, albeit his 2019 victory came along the road at the Abu Dhabi Golf Club.
Lowry's third-round 66 (matched by his co-leader, Lee) was marked by a fast start, a relatively ponderous middle and an up-and-down conclusion scarred by his only dropped shot at the short 17th, where his tee shot found sand.
"This is just my first [stroke play] tournament of the year, so you don't really know what's going to happen," said Lowry, whose score was highlighted by the 162-yard 8-iron he holed for eagle on the par-4 sixth. "My thing is always to try and give myself as many chances to win as I can. Then, at some stage, hopefully it happens. Tomorrow, I've got a chance to go out there and do something special. If I can bring the game I brought the last few days, and roll in a few putts as well, you never know what might happen."
That's not to say the chances of Lee should be dismissed out of hand. Although it's been 18 months since his last victory at the 2021 Scottish Open, the Australian closed 2022 with six straight top-12 finishes.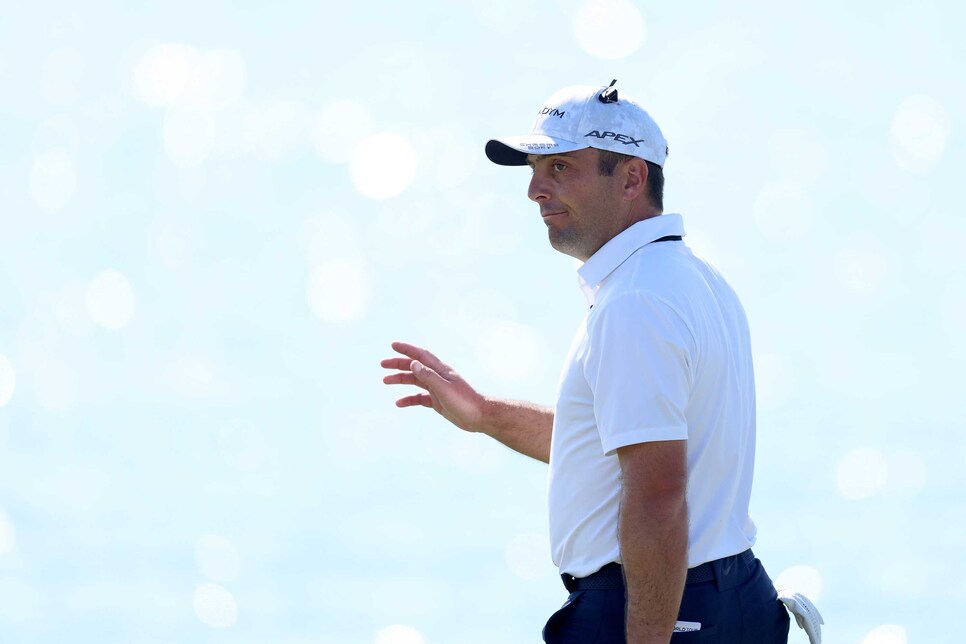 Francesco Molinari is look for his first DP World Tour win since the 2018 Open Championship.
Warren Little
"I've been playing awesome," claimed the 24-year-old, whose older sister, Minjee, is the third-ranked female golfer in the world. "Those close calls have all been someone else really playing well. Jon Rahm beat me at the Spanish Open [where Lee was third], as did Adrian Otaegui at Valderrama [where Lee was again third] a week later. It's one of those where you do the right things but someone else pips you. Hopefully I can be that guy tomorrow. But whatever happens I'm just enjoying it all and having fun."
Then there is the seemingly rejuvenated Molinari. Unbeaten at last week's Hero Cup, where he led the Continent of Europe to victory over Great Britain & Ireland, the 40-year-old Italian hasn't won anywhere since the 2019 Arnold Palmer Invitational. But finishing first even when faced with the stiffest opposition is something he knows how to do. Tiger Woods and others were seen off down the stretch in the 2018 Open Championship at Carnoustie, a feat Molinari has accomplished two months earlier at the BMW PGA Championship at Wentworth when it was Rory McIlroy who had to settle for second place.
"It was all a bit scruffy," Molinari said of his 69. "I left a couple of shots out there on the front nine and on the back nine it got tricky when the wind got up. I'm pretty happy with what I've done. It wasn't an easy day and it was nice to finish with a birdie at the last. It's definitely going to be a shootout tomorrow. There are loads of guys in with a chance. We'll see. You might even get someone shooting a low score in the morning and posting a winning score. So an exciting day is in store for the viewers. But maybe not so much for us."
Still, perhaps the most intriguing member of the sizeable chasing pack is Padraig Harrington. In the wake of an eight-under-par 64 highlighted by eight birdies (six of them in succession) the 51-year-old Irishman is just two shots off the pace. Should he close that gap over the course of the final round, the U.S. Senior Open champion would, at the age of the 51, become the oldest winner on the DP World Tour.
As ever, Harrington had plenty to say in the wake of his bogey-free effort, one that improved on his second day score by nine shots. The secret to that contrast in fortunes was, in his own fast-moving mind at least, a renewed ability to focus on the job in hand.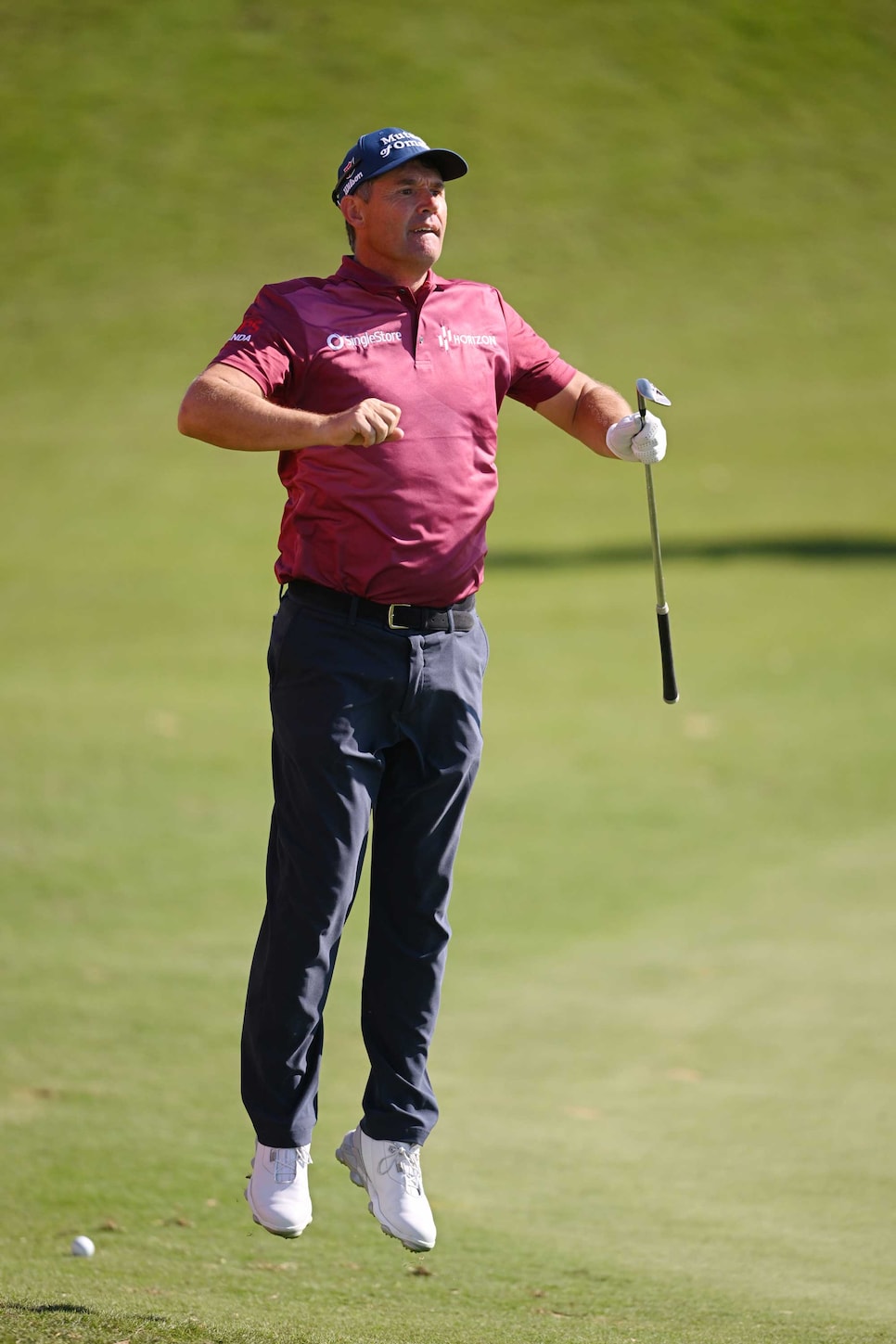 A win on Sunday from Padraig Harrington, at 51, would make him the oldest player to ever claim a title on the DP World Tour.
Ross Kinnaird
"I really had no idea," he said when asked if he realized he had made those six birdies in a row. "That's nirvana when it comes to golf. Nirvana is just playing each shot as it comes. To do that, I need to be enjoying myself; I need to be talking. I can't have my head down thinking. And today was a perfect example. I knew I was making birdies, but if you had asked me, I would have said I made five. I did not know I had made six.
"It's all part of my new tactic," he continued, perhaps tongue-in-cheek. "Before everybody did stats, I did stats. Now that everybody does their own stats, I'm refusing to do them. I don't want to be one of the masses. I have to be different. So I'm actually trying the opposite. I don't want to know."
But he does, along with quite a few others, want to sort out this guddle and win.