The Loop
7 things you really need to know about the Premier League before June 17th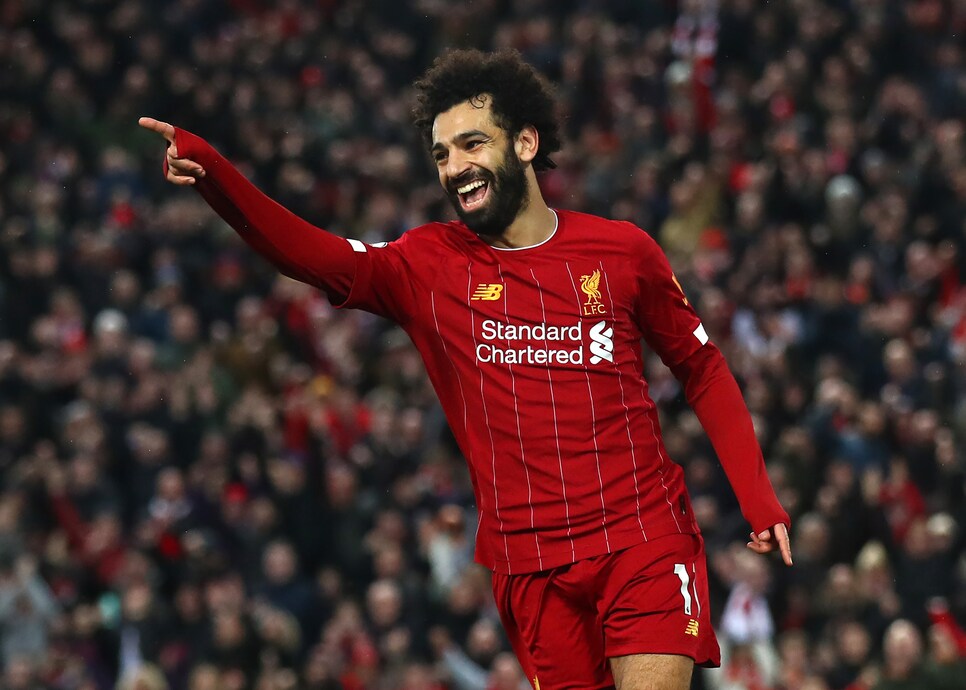 Well, well, well. Another day, another sport open for business. A few weeks ago things looked pretty grim, but as the spring has turned to summer and new coronavirus cases have continued to fall, something awesome has happened: Sports, one by one, in various forms, have started to return. In the world of golf, we've enjoyed two star-studded Match Play events. In NASCAR, a race about every 12 hours. The NHL unveiled its 24-team summer pucks palooza and over in Germany, the Bundesliga has rumbled on, cardboard cutouts and all. On Thursday, however, the biggest team-sport announcement yet came by way of the Premier League, which announced plans to resume play on June 17th with Manchester City vs. Arsenal and Aston Villa vs. Sheffield United. But before we get there—before we get back to breakfast beers and describing everything as cracking—there's a few super, duper important soccer things you should know, starting first and foremost with the first and foremost.
Liverpool is about to dodge a major cosmic bullet . . .
When sports went belly up in March, Liverpool were 25 (no decimal point) points clear at the top of table and cruising toward their first League title since 1990, back when the Premier League wasn't even called the Premier League. They were potentially one win away from clinching, and then coronavirus cases spiked and the whole season was hurled into purgatory. If it was cancelled outright, would a Premier League trophy even be awarded? If it was, how big of an asterisk would be stamped on it? These questions kept more than a few Reds supporters, not usually the most emotionally grounded bunch anyway, up nights, but now we finally have our answer. The season will finish and Liverpool will be crowned champions, perhaps as soon as restart week 1, at the expense of their bitter rivals Everton no less. It's not the way anyone in the Kop would have scripted it, but it is undeniably Liverpool.
And Manchester City is about to take one right between the eyes
UPDATE: Manchester City's appeal has been heard, but a final ruling won't be delivered until mid-July.
Meanwhile, Manchester City—reigning back-to-back champions and Liverpool's only real challenger this season—is facing a no-win situation. On Valentine's Day, UEFA officially handed City a two-year Champions League ban for "serious breaches" of Financial Fair Play regulations. Now City, who are owned by the Deputy Prime Minister of the UAE and have been accused of buying championships and cooking the books for years now, are staring down the barrel of no European tournament play for the next two seasons, despite currently occupying the second of England's four Champions League qualifying positions. With Liverpool out of sight and their UEFA appeal hearing scheduled for June 8-10, there's a very real chance that by the time Manchester City kick off against Arsenal on June 17th, they'll have nothing left to play for.
The team that benefits the most from all of this is . . .
Honestly, weirdly, probably Tottenham Hotspur. At the time of the Premier League's suspension in March, Spurs were in freefall, with season-ending injuries to star forwards Harry Kane and Heung-Min Son further blunting manager Jose Mourinho's notoriously dull attack. Midtable looked like the destination for Spurs, who have made the Champions League each of the past four seasons, but the extended hiatus has been something of a lifeline. Earlier this week, Mourinho confirmed the entire squad—Kane, Son, fellow longterm absentee Moussa Sissoko—were fit and training, and with the aforementioned ban of Manchester City from next year's Champions League, Spurs may only have to claw their way back up to fifth instead of the usual fourth to qualify for the lucrative tournament. That may not seem like much, but as the table currently stands, it's a difference of one full win, or roughly 12.4 percent of the maximum remaining points available. It's definitely a long shot, but that's better than no shot at all.
Troy Deeney is pissed . . . and he's not going to be the only one
While fans and sponsors and just about everyone else is excited about the return of another professional sport, a few of the players aren't as thrilled about dragging their asses back to work during a pandemic. Newcastle left back and dependable tabloid soundbite Danny Rose has objected to the idea that the Premier League could be a testing ground for broader coronavirus containment strategies, likening the treatment of players to that of "guinea pigs" and "lab rats," while veteran Watford striker Troy Deeney had this to say about the integrity of the title following the Project Restart announcement of Thursday:
It should be noted that Deeney had originally announced he wouldn't return if the season resumed due to his son, who was born five months early and has breathing difficulties. He has since reconsidered his stance, but lurking beneath all of this is also the small matter of Watford . . .
Relegation is looking like a dog fight
As the table currently stands, Watford is the last club staying up, edging Bournemouth only on goal difference. Restarting the Premier League may not mean much to the very top of table, but it pours accelerant on the relegation dumpster fire at the bottom. Norwich, adrift on 21 points, are definitely going down, but the other two spots are up for grabs, with Aston Villa on 25 points (with a game in hand) and the plucky, lovable Cherries on 27. Watford and West Ham also sit on 27, while Brighton hover on 29. Those last three would give up their shin guards to end the season today, but unfortunately for them (and fortunately for us) that no longer looks like a viable option.
The Golden Boot race could be an interesting subplot
Meanwhile, if you're looking to lose money on all of this or just need an additional subplot to keep you interested, the PL's Golden Boot race is still in full swing, with Leicester City's Jamie Vardy currently setting the pace with 19 goals and Arsenal's Pierre-Emerick Aubameyang nipping at his heels with 17. Sergio Augero and Mohamed Salah both sit on 16, but if you wanted a real dog here, take a long, hard look at Harry Kane on 11. Eight goals is a massive amount to make up in nine games, but there is no better goal machine on earth than a healthy, motivated Harry Kane, and England's no. 9 promises to be both. Plus if you're looking for a little precedent here, entering the penultimate game of the 2016/17 season, Kane trailed Romelu Lukaku by two goals. He ended up winning the Golden Boot by four, scoring seven goals over his final two matches. Yes, we're saying there's a chance.
No matter which way you cut the cucumber sandwich, this is going to be more than a little weird at first. Week 1 of Bundesliga's restart was rocky. Stadiums were dead silent. Goal celebrations were awkward and restrained. Some teams just weren't ready to play. It was soccer by the letter of the law, but by virtually no other metric. Things have since improved—it turns out fake crowd noise is better than no crowd noise and as fitness has returned, so has the intensity—but it's still a very different animal than it was back in March. The Premier League has the advantage of learning from the Bundesliga's mistakes and successes, but nobody loves tradition more than the Brits, and this promises to be about as untraditional as it gets. There's bound to be tension. Some fanbase is going to get railroaded (boy, we would HATE to see West Ham go down, HATE it we tell ya). But with all that stuff comes drama, and if not drama, at least some damn sports.