The Loop
Artificial crowd noise is...surprisingly good?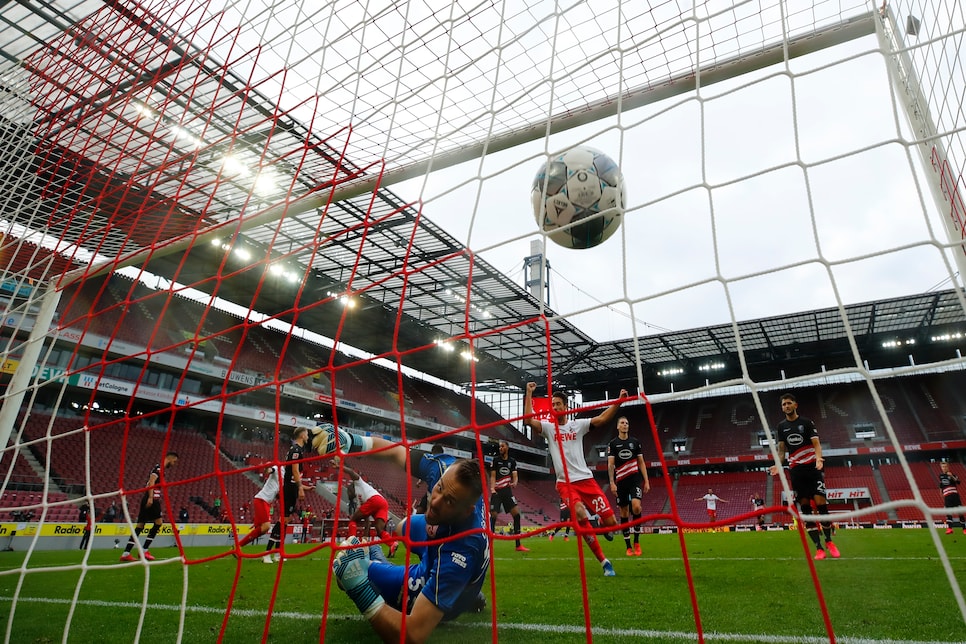 I never thought I'd say this, but adding fake crowd noise—from celebratory roars to full-throated singing and all the way down to the neutral stadium hum—made a big improvement in this weekend's German soccer action. The Bundesliga offered its broadcasting partners the option of piped-in crowd noise, seemingly mixed by one of their own technicians, and while some networks opted out, Fox Sports was one who took them up. My only point of comparison was the laugh track in sitcoms, which at this point in the evolution of TV feels antiquated and forced. Based on that, I had a suspicion that fake crowd noise would kind of suck.
I was wrong. Listen here:
And compare it to a goal scored last Saturday without the crowd noise:
Last week, I wrote about the disconcerting strangeness of watching sports played in an empty stadium, and while empty seats are definitely bizarre, I was mostly talking about the sound angle. I could write 1,000 words philosophizing about the importance of atmosphere, but it all comes down to the fact that when we hear thousands of people cheering, a sporting event feels important, and when there's silence interrupted only by the clapping of some coach, it feels like a scrimmage. To hear people cheering is comfortable, somehow, and the absence of it diminishes the perceived magnitude of what we're watching.
And sure, artificial crowd noise is a trick, and in theory we should know better, but if it works for the brain, it works for the brain. As Stu Holden put it, it's "soothing and familiar." It's the same reason some golf tournaments used to pipe in birdsong—the more we can be in the place, even from our coaches, the greater our enjoyment, and the greater our investment. Plus, a goal without roars is like an actor nailing a scene in dress rehearsal...it just doesn't feel quite as good.
Next move: CGI some people in the stands, and we're in business.
Most necessary sport of the week: The NBA
This coming Friday, the NBA will initiate a return-to-play plan, but rumors are that it will involve a one-month build-up that possibly leads to a July re-start with all teams in Orlando at Disney's ESPN complex. No word yet on whether they'll try to finish out part or all of the regular season or simply proceed to the playoffs, but let me tell you: This country could really use some NBA. More than other sport that got cut off by COVID-19, this was the one set up for the most intriguing finish, and the one that will suffer the most from a lost season. In the west, you had a looming LeBron vs. Kawhi all-Los Angeles match-up in the conference finals (it was all but inevitable), and in the east the big drama was whether Giannis could reach his first finals for Milwaukee. (An additional wrinkle there is that Giannis could easily leave after this season, meaning the heartbreak potential for the Bucks is through the roof.) If Adam Silver can pull it off, keeping the health and safety of players and personnel paramount, it will be a huge boon for American sports, and fans like us.
Athlete of the Week: Timo Werner, RB Leipzig
If Tom Brady is on one end of the scale among athletes who competed on television this weekend, Timo Werner is on the other. The RB Leipzig had the first hat trick in professional football since play resumed, and they were all extremely classy, almost casual, one-touch goals. Take a look:
I would love to be as effortlessly good at anything as Werner is at scoring goals against the best players in the world. I come close with the simple act of walking, but in the end it's too hard.
Surprise, hilarious radical leftist of the week: Noah Syndergaard, Mets
Turns out you can be screwed over by a landlord even if you're a mega-rich athlete. The Mets pitcher is being sued by a landlord in New York City after they failed to reach a deal on a penthouse he rented just before the pandemic hit, even though Syndegaard offered to pay two months rent. After being sued for $250,000, he got fed up and fired back on Twitter:
An enormous part of grassroots activism in the Covid-19 era has been trying to stem abuses related to rent, and if nothing else, Syndergaard is the most unlikely "ally" any of them could have imagined.
The precarious professional league of the week: MLS
It was only a matter of time before the more "minor" professional sports leagues began to feel the economic pain of quarantine in a big way, and the MLS is starting to hurt. Never a financial juggernaut to begin with (unlike the women's league, they aren't significantly subsidized by U.S. soccer), MLS has proposed a 10% pay cut in an effort to stem the tide of lost revenue. The league and the players association made some progress on a collective bargaining agreement in February, but the fact that it was never ratified gives the league some leeway and puts the players in a no-win situation that will almost certainly require them to give up money. In their counter-proposal, they're already seemingly prepared to give up 401k contributions and other financial concessions that amount to more than $100 million. Even that might not be enough, as MLS previously wanted players making more than $100,000 to take a 50 percent pay cut.
Meanwhile, the league's big proposal is sending the players to Orlando for a mini-tournament that would keep them in virtual isolation for ten weeks—something the players really don't want, since it would take them away from family for that period (some have pregnant partners, and kids, and etc.). Some projections call for a 20-40% loss in net profit margin, which means the league's viability may depend on the generosity of billionaire owners...and those owners are going to want concessions. All of which means the players have little hope of winning any negotiation, since the alternative may be as dire as a shutdown...and even artificial fan noise won't fix that.