News & Tours
PGA Tour says it made error in Sergio Garcia ruling that led to his controversial remarks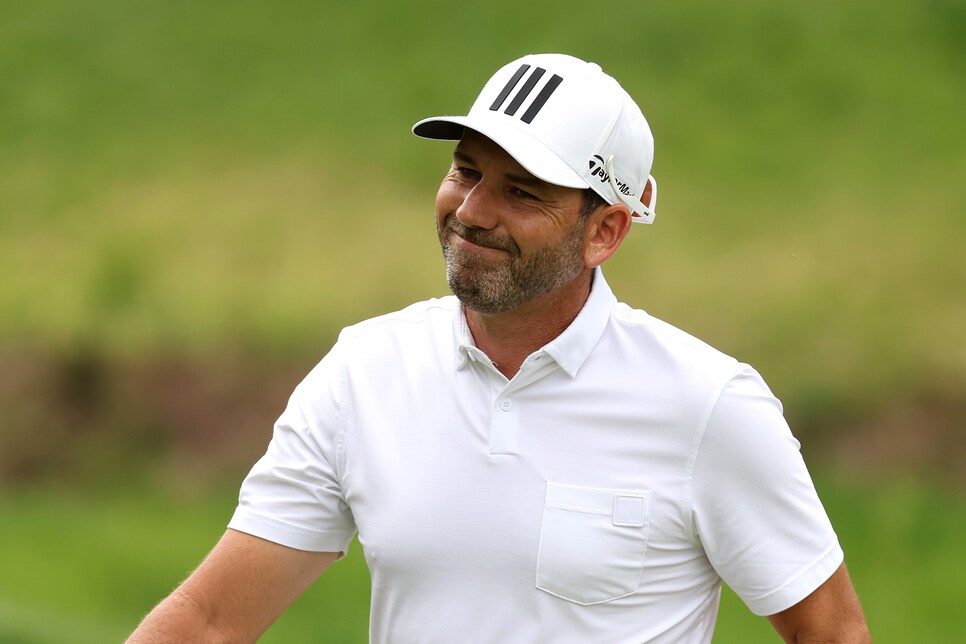 At TPC Potomac's par-5 10th hole, Garcia snap-hooked his drive into marsh on the left side of the hole, which was marked as a penalty area with red stakes. Garcia, having to wade across a creek and trudge through tall grasses, eventually spotted his ball, but a rules official deemed he found it outside the three minutes allotted for search. Upset at the ruling—Garcia thought the search time started too early—the Spaniard responded by saying "I can't wait to leave this tour" and "Just a couple more weeks until I don't have to deal with [the rules official] anymore." Microphones also caught Garcia uttering profanities after the ruling.
Published reports have indicated that Garcia is considering playing in the first Saudi-backed LIV Golf Invitational event next month. The references to leaving the PGA Tour would seem to allude to that potential.
Unable to play the ball inside the penalty area, Garcia took a drop using back-on-theline relief under Rule 17.1d(2), and then played his third shot (after adding a penalty stroke) back into the fairway. Despite the predicament, Garcia managed to save par on the hole.
But, according to the tour, it was a predicament that shouldn't have happened.
Steve Rintoul, PGA Tour senior tournament director, offered a clarification via PGA Tour Communications after the round:
"As Garcia entered the penalty area, a referee located on the 10th hole started a search time clock, as it appeared a search for the golf ball had begun. Unbeknownst to the referee, the players in the group were told by a TV spotter that the ball was on the far side of the creek, and at that point, Garcia spent a considerable amount of time trying to access the other side of the creek. This was not in clear view of the referee due to other players in the group playing, so the time clock was still running on the search when it should have been paused. When the ball was found by Garcia, the ferry's three-minute search time had expired, and Garcia was informed the ball was treated as lost."
The tour explained that the rules committee reviewed video from the situation, and in the process discovered that Garcia should not have been timed as he was trying to traverse the creek. "To clarify, the time spent by Garcia trying to access the other side of the creek should have delayed the start of the search time clock, and the ball would have still been 'in play' if not for that error," the statement read.
Unfortunately for Garcia, the Rules of Golf prevent his score from changing despite the clarification.
Garcia was able to bounce-back from the 10th hole mishap to turn in a three-under 67. Garcia declined to talk to the media following his round.