Takeaways
Golf is back, PIPhil is feeling his age and Jon Rahm shows precisely zero signs of rust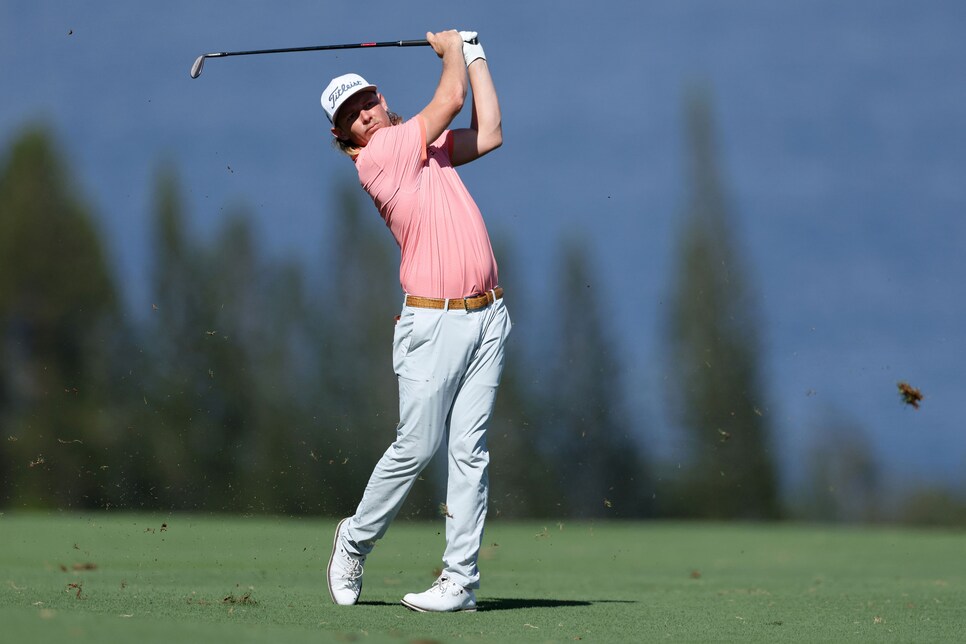 Cameron Smith plays an approach shot on the fourth hole during the first round of the Sentry Tournament of Champions.
Gregory Shamus
Our long national nightmare is over, for the days of golf-less Sundays are at last in the rearview mirror. The PGA Tour returned from its holiday slumber on a board-of-tourism day in Hawaii, the type that makes you wonder why you live in a place that snows—and that makes you curse the COVID gods for keeping you confined to your Maui hotel room. (OK, maybe that's just me.)
In more pertinent matters, here are five takeaways from the Sentry Tournament of Champions—which, after one year of letting in all Tour Championship qualifiers, is back to being a truly winners-only event.
Cameron Smith and Maui are a match made in surfer heaven
I don't actually know if Cameron Smith surfs, but Cameron Smith has to surf, right? It's only fitting that the chill-as-hell Aussie leads in Hawaii, where he won his lone invididual PGA Tour title, the 2020 Sony Open. (He's a two-time winner of the Zurich Classic, because who doesn't love teaming up with an easygoing Aussie?) The Sentry could well be the most mellow PGA Tour event on the schedule. For starters, every player in the field won last season and thus has job security. They're on Maui. There is no cut. The golf course itself extremely resort-ey: a gorgeous but wide-open field that tumbles and turns down hillside overlooking the ocean.
Despite the allure of the Pacific, Smith managed to stay focused on the task at hand and holed two bomb eagle putts, a 44-footer on 5 and a 37-footer on 15, en route to an eight-under 65. (Remember, par 73 this week). He leads by himself, with Daniel Berger one back and four more a shot farther behind at six under. Here's how Joel Dahmen described it after his five-under 68: "Weather is perfect, golf course is fun, pretty generous off the tees, so you have to hit two bad shots to make a bogey out here. It's mostly stress free for us and, yeah, overall it was just a really good day."
Jon Rahm, Patrick Cantlay showed zero signs of rust
A number of top players essentially skipped the fall season—including Jon Rahm, who explained on Tuesday that his two-month break was prompted not just by his roller coaster 2021 but an 18-month stretch of hectic golf. After missing the cut in an October European Tour event in his native Spain, he headed back to his home in Arizona to spend time with his wife and baby boy, Kepa. During that familial stretch he nearly lost his World No. 1 ranking to Collin Morikawa, only for the young American to stumble down the stretch at the Hero World Challenge to remain at No. 2.
Rahm looks keen on fending off Morikawa for at least one more week. He displayed zero signs of rust in shooting a bogey-free seven-under 66 on Thursday. It was an encouraging start to the year for a player who has sky-high expectations—both from himself and the media—for 2022.
Patrick Cantlay has not played a PGA Tour event since winning the Tour Championship and collecting the $15 million FedEx Cup grand prize in early September. He hardly played during the break and, as is his habit, stayed completely off the radar by reading books on his couch. After an opening bogey on Thursday he too kicked it into midseason form, playing his last 17 in eight under to post 66. Nice to return from a long layoff and be greeted by the widest fairways on tour.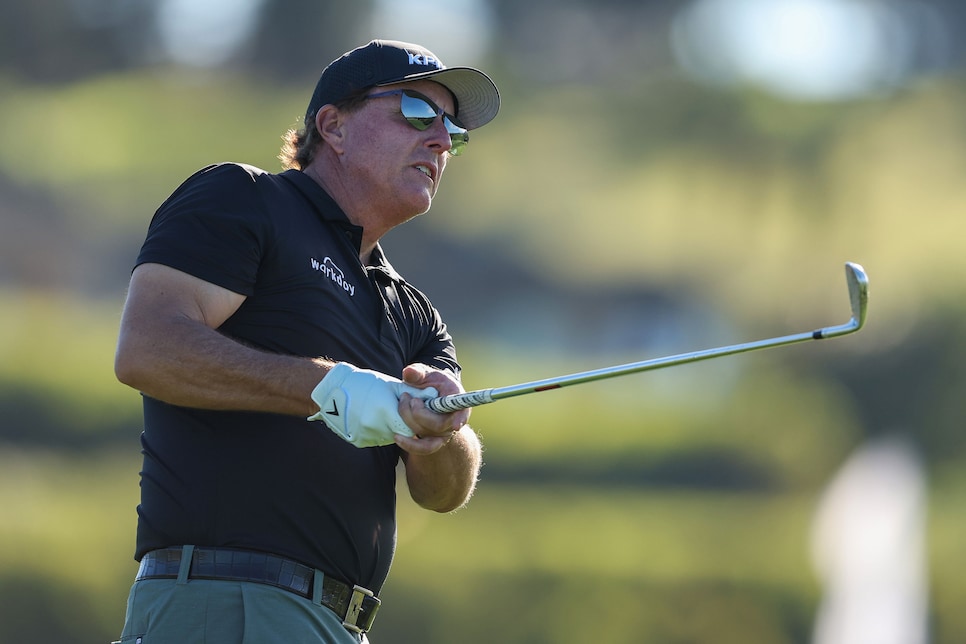 Phil Mickelson watches his shot on the first fairway during the pro-am prior to the Sentry Tournament of Champions.
Gregory Shamus
Kapalua reminded PIPhil of his age
Phil Mickelson is back at Kapalua for the first time in more than two decades. The reason? In order to collect money from the Player Impact Program—which Phil claimed to have won last week—a player must participate in a mutually agreed upon event with the PGA Tour. For Lefty, that's the Sentry. The 51-year-old will have to work for his $8 million, as he told Golf Channel after the round that he was legitimately winded from walking the Plantation Course, which may be the toughest walk on the entire PGA Tour.
"It's a beautiful place and every hole has such scenery," Mickelson said, "but it is a hard golf course to walk. I'm hurting. It's vertical. It's hard. It's not easy. And that was the biggest challenge because I was winded going up and down those hills."
He birdied three of his final four holes to flip a disappointing round into a two-under 71.
Lift, clean and place, for some reason
Golf Twitter has its favorite punching bags, one of which is the PGA Tour's quick trigger when it comes to lift, clean and place. Whereas it's a non-starter at majors championships, "normal" tour events seem to opt for preferred lies rather often … including on Thursday, when there was hardly a cloud in the sky. Mark Rolfing, an expert on Hawaiian weather patterns, referred to it as a "picture-perfect day in Maui." The tour's official explanation for the decision was "wet conditions," and without being on-site it's difficult to assess ground conditions. From the hotel room, however, this didn't look like a mud-ball kind of day.
The first day of the post-green book era
Jan. 1 marked the beginning of the post-green book era on tour, as the tour's vote to adopt a local rule banning the books went into effect at the start of the year. It won't be easy to enforce the ban, because the books exist and players have used them for years. Plus, they're relying on an honor system, trusting that players and caddies will police themselves and only transfer written notes that follow the new guidelines. It'll be an adjustment for some who rely on the books more than others, such as Bryson DeChambeau, but most guys weren't too stressed about the change.
"I've never really been a big fan of the greens books," Smith said. "I do AimPoint Express, and I like to feel a lot of stuff. I like to see stuff and I like to feel stuff, so the greens books, for me, took away a lot of that. I gave them a crack a couple of times but, yeah, I was never really a fan."
Talor Gooch used the books but thinks the ban will actually benefit him: "I'm excited for it. I use the green-reading books, but I think it was to a detriment at times and I play my best when I think less, I calculate less, I kind of try to be reactive and so having no greens books is great for that."
"I like it," Dahmen added. "I probably bury my head in them too much as it is. I don't use them at home and I putt OK, so there's no real reason to have them out here for me anyway. But it's a little more work for the caddie on Tuesday and Wednesday for them to get the slopes and the grain out there. But for me it's worked out OK so far."