PGA Tour
Here's why Jon Rahm took two-plus months off before the Sentry Tournament of Champions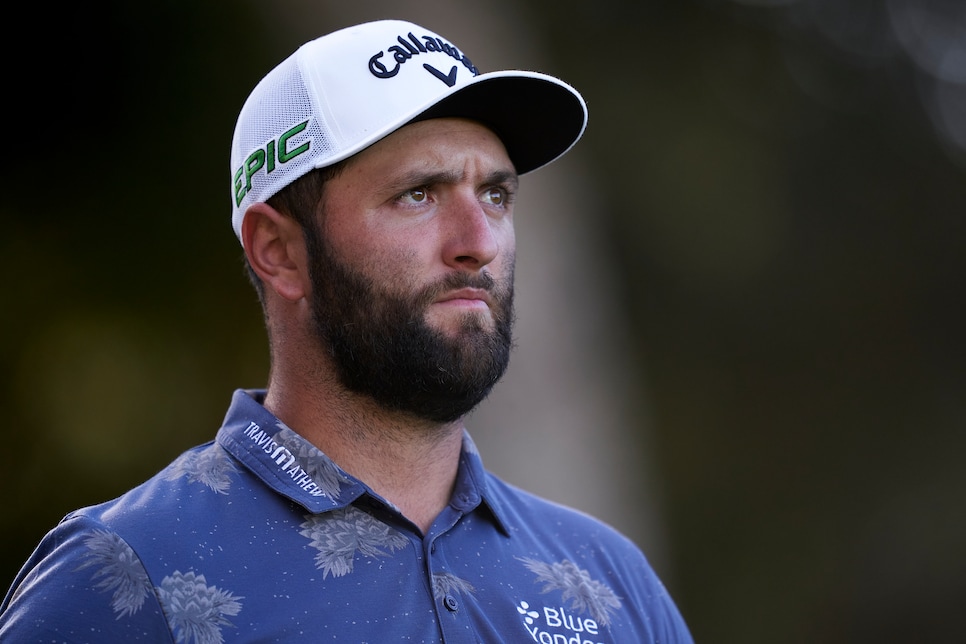 We've all been there—after a particularly hectic stretch at work, you feel completely devoid of energy and motivation. The only thing that'll refill the energy reserves is some good ol' fashioned rest and relaxation. Not everyone, however, can simply take two months off work. Because not everyone is the world's best golfer.
Jon Rahm is back in action at this week's Sentry Tournament of Champions for the first time since Oct. 15, when the World No. 1 missed the cut at the Andalucia Masters back home in Spain. He didn't just miss the weekend at Valderrama; he missed it by a mile, and it was his second missed cut in three starts—highly uncharacteristic play from a man who's finished in the top 10 in more than half his starts as a professional.
Rahm needed a break—and not just from his roller-coaster 2021, which saw him become a father, learn of his COVID diagnosis on live television, withdraw from the Memorial while leading by six, and return to win his first major in his very next start. Turns out the accumulating fatigue dates back to a full year before his victory at Torrey Pines.
"It all started for me when we restarted after COVID," Rahm said ahead of his fifth start in the season-opening, winners-only event. His four previous appearances at Kaplua's Plantation Course have yielded four top-10s, including a runner-up in his debut in 2018.
"It was from June of 2020, right, it was a lot of golf to be played, I ended up getting two wins, played really good golf in majors, finished the Masters in November. And then right away, when everybody has time off, I basically flip, change manufacturers and work harder than I've ever worked, right?"
He's referring to a high-profile move from TaylorMade to Callaway, which happened at the beginning of 2021. Rahm proceeded to have perhaps his best year as a professional despite winning only once. He had 15 top-10s—not including the Memorial—in 21 PGA Tour starts. The consistency of his results, however, was starkly juxtaposed by the chaotic cadence of his season.
"I get my moments with COVID, became a dad, won a U.S. Open, played amazing golf and then played a great Ryder Cup," Rahm said. "So when that Ryder Cup was over, I was drained for the previous year and a half. Not only the last four months but the previous year and a half. And after I went to Spain and finished playing, I just, I needed a break. Not only for me but also for my family.
"We all endured it together and I just wanted the time to be a dad and be a husband and just be there for my wife and my son. I'm really glad I did it because since he was born, we had help at night and Kelley had help, but I wasn't that help, because I was competing and I had to sleep to be able to compete. So as soon as I got back home I told her I want to be more involved, obviously I want to help out. And for those two months I really, really, really enjoyed having to wake up a couple times a night and take care of my son. Be able to be there in the morning, give him a bath in the morning, feed him, give him a bath at night, just enjoy the simple things of parenthood and knowing that basically once he starts going to school I'm pretty much going to miss 50 percent of his life. I really wanted to cherish those moments. I know I'm not going to regret any time I decide to spend more time with my family, and that was what that decision was based on and I couldn't be happier that I made that decision."
Rahm had a comfortable cushion on World No. 1 when he hung it up for 2021, but Collin Morikawa has since closed rapidly and had a chance to supplant Rahm before struggling down the stretch of the Hero World Challenge. Morikawa could pass Rahm should results fall his way this week in Hawaii.
Rahm said he's not terribly concerned with the World Ranking race; instead, he's content to be operating with a full tank of gas.
"I feel great,"he said. "Yeah. I'm happy. Mind and body are rested, I'm ready to go for the year."