The Loop
Russell Wilson says he spends over $1 million a year on body recovery, gives new meaning to "Mr. Unlimited"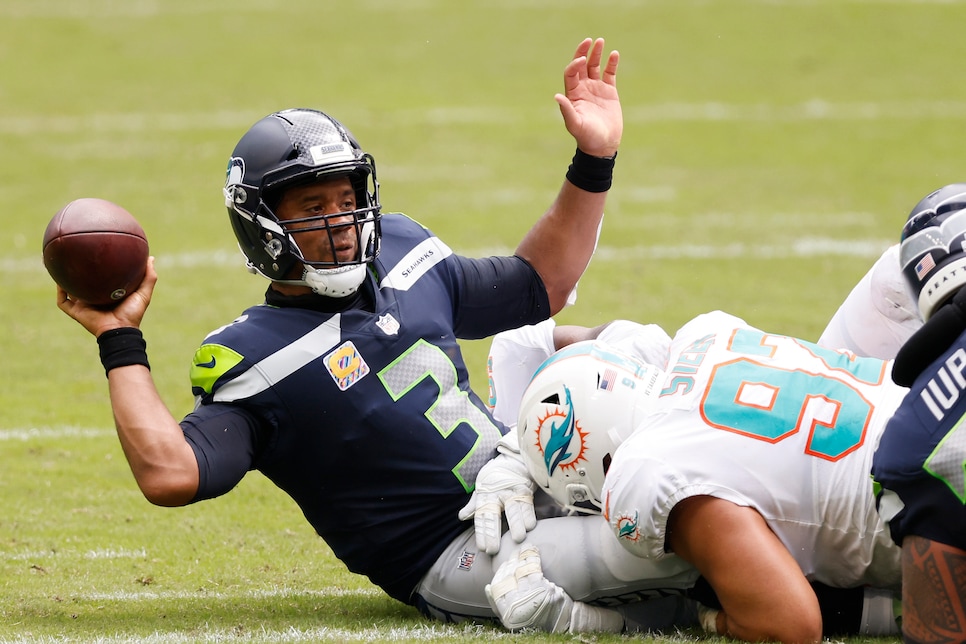 When Russell Wilson calls himself "Mr. Unlimited" we all snicker, because calling yourself "Mr. Unlimited" is a very corny thing to do, but he's not wrong, necessarily. So far throughout his NFL career, he has yet to encounter something he cannot do. He went from third-round pick to day one starter. He upset one of the most dominant regular-season teams in NFL in his first Super Bowl. He married a pop star, had a few kids, and hasn't missed a single start along the way. He's not a literal iron man in that he's not actually made of steel, but he's the next closest thing and we finally know how he does it:
Hard work and money. Lots and lots of money.
That's Russ on the Bill Simmons pod talking about his prep and the numbers are eye-watering. He wants to play until 45. He trains 363 days a year, taking only Thanksgiving and Christmas (schedule permitting) off. But the truly astounding figure is 1,000,000. That's the amount, according to estimates, that he spends on body recovery—personal massuses, chefs, two hyperbaric chambers—annually.
That may seem like a lot of money, and for most of us it is A LOT of money. But for Russ, a guy who signed a pre-Mahomes record $140-million-dollar contract extension in the spring of 2019, it's just a drop in the bucket. What's impressive is not the checkbook, but the commitment to performance and longevity that brings it out, calling to mind a certain LeBron James, as Celtics-stan Simmons surprisingly points out. Like Russ, LBJ is goofy, cringey, and earnest to a fault, and like Russ, he reportedly spends seven figures a year on his carriage. There is one key difference, however:
LeBron ain't taking Christmas off. No way in hell.