The Loop
Seattle's Russell Wilson-era would have never happened if it weren't for Peyton Manning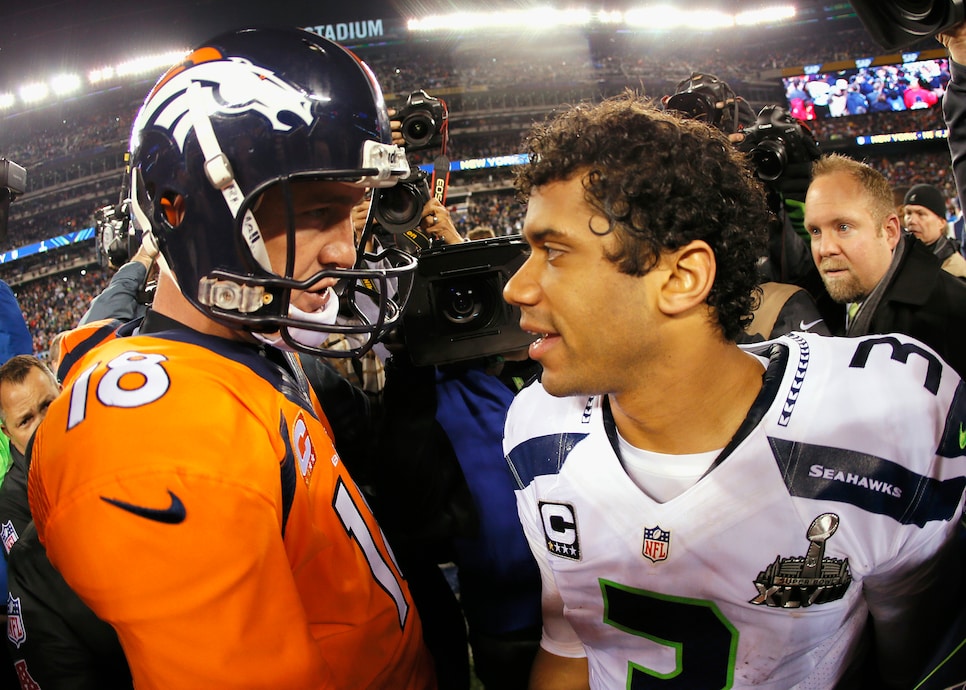 It's hard to remember a world where Russell Wilson wasn't a surefire stud. When we think of Russ, we remember the Super Bowl that was, the Super Bowl that should have been, and of course the bottomless well of Dilfer Dimes™ no. 3 has delivered throughout his eight-year NFL tenure. But back in the 2012 offseason, Wilson was but a glimmer in the Seattle Seahawks' eye. They weren't looking to a senior-year transfer who was too short to excel in the NFL to take their franchise to the next level. They were looking to Peyton Manning.
On Monday, Peter King joined The Record podcast to recount some Peyton Manning free agency stories ahead of The Match II this weekend. There were interesting anecdotes about the widely reported interest from the Niners and Titans, but most fascinating of all was the revelation that Peyton Manning completely ghosted Pete Caroll mere weeks before the NFL Draft, unknowingly paving the way for the Russell Wilson era in Seattle.
According to King, Carroll had it bad for Manning. Peyton was holed up at Brandon Stokley's house near the Broncos facility in Denver. Carroll wanted to fly down to meet with him, to which Manning politely said don't waste your time (paraphrasing here.) Carroll didn't take the hint, however, and the next you thing you know he's touching down at a small airport in Colorado completely by himself. When he got off the plane, no one was there to pick him up.
"Manning didn't go meet Pete Carroll. Pete Carroll flew to Denver chasing Peyton Manning and Manning never met with him. He got back on the plane and just flew back to Seattle. It was really kind of a crazy time."
Cold shouldering one of the greatest football coaches in history, college and pro, like a crazy ex is brutal stuff from Manning, who was allegedly not happy with Carroll for wasting the time and money to come to Denver when he had already said no. In the end though, it worked out for everyone, even the neutrals.
If Manning had gone to Seattle, King believes the Seahawks would not have drafted Wilson. And if the Seahawks hadn't drafted Wilson, who knows where he'd be right now. Rotting on the Jets' bench? Leading the Cowboys back to the promised land? Playing baseball? Who knows. But here's what we do know: Two years later, the Seahawks' would win their city's very first professional sports championship at the expense of Peyton's Broncos, while Manning would enjoy perhaps the single greatest statistical season in NFL history before finally claiming a deserved second Lombardi. A win-win for everyone involved, and all because 18 decided to leave poor Pete Carroll stranded on the tarmac with nothing but a bag of peanuts and ginger ale.