WGC-Dell Match Play
Scottie Scheffler's flubbed chip—followed by a holed bunker shot—sums up his WGC-Match Play brilliance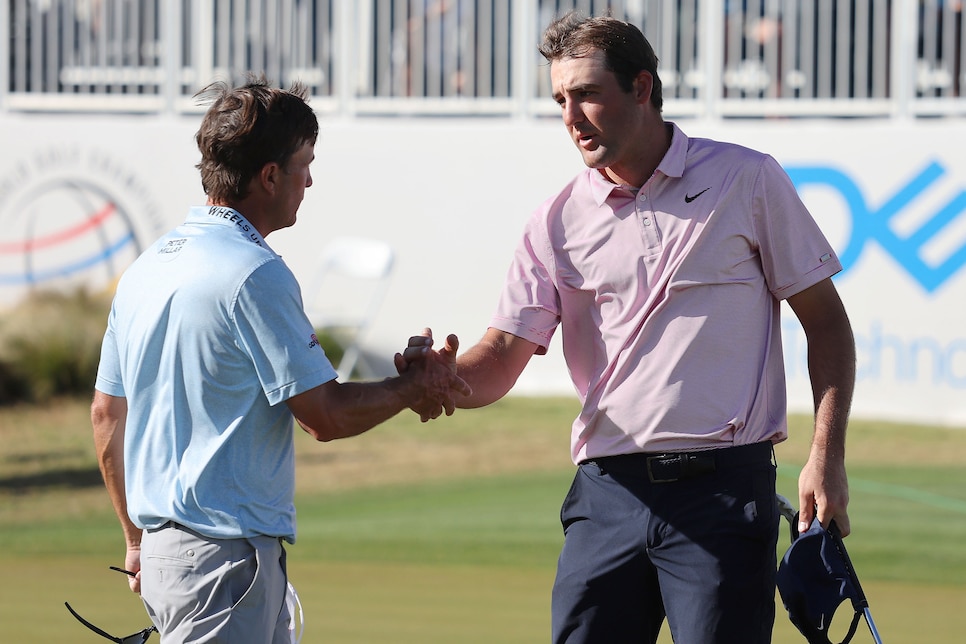 Scottie Scheffler was looking invincible in the 18-hole final of the WGC-Dell Match Play Championship on Sunday, holding a 3-up lead against match-play menace Kevin Kisner through 11 holes. The only way it appeared Scheffler would be rattled at Austin Country Club is if he made a mistake of his own doing, which didn't look likely … until it happened.
On the par-5 12th, Scheffler was just to the right of the green in two with a short chip to set up a birdie try after Kisner had hit his approach to seven feet. But for the first time seemingly all weekend, Scheffler stumbled—flubbing the chip as it rolled meekly into a bunker just five feet ahead of him.
Kisner, winner of the championship in 2019 and runner-up in 2018, was no doubt sensing a potential opening. He hadn't won a hole all match, but if he could do so here, potentially he could grab the momentum. Perhaps Scheffler sensed it, too.
But that opening closed quickly when Scheffler did this:
Say it with us: The vagaries of match play!
Kisner, to his credit, rolled in his birdie putt to tie the hole. But it was a crushing blow that made Scheffler's eventual 4-and-3 victory feel inevitable.
It was a glorious week for Scheffler in his home state. Of course, he ascended to World No. 1 for the first time in his career—and he did so in rather dramatic fashion in a few of his matches.
Most notably, his hole-out, walk-off chip to defeat Seamus Power in quarterfinals:
Yes, it's nice to have some luck on your side in match play—and Scheffler certainly had some of it this week. But make no mistake about it: Scheffler was dominant in securing his third victory in less than three months. And his new No. 1 ranking is well-deserved.