The Grind
Scottie Scheffler turns to 'The Office,' Tiger Woods returns(!) to action, and the funniest Masters prop bet caught on video
Welcome to another edition of The Grind, where we are currently suffering from Dove ice cream bar withdrawal. Upon confirming the Georgia peach ice cream sandwiches weren't anywhere on the property at Augusta National last week, I shifted my afternoon snack strategy in the media center and wound up going a bit overboard. Damn, those things are good. Not Georgia peach ice cream good, of course, but still really good. Anyway, I'm proud of myself for overcoming such trying work conditions, and I'm ready to talk about everything else going on in the world of golf. Let's get to it before I start twitching again.
Scottie Scheffler: What a week, what a run. The 25-year-old continued his historical heater by winning his first major championship—and it wasn't really close. Scheffler took a record-tying five-shot lead on Friday and wound up winning by three even with a Happy Gilmore-esque four-putt on the final hole when the magnitude of the moment finally seemed to get to this otherwise unflappable player.
In just 57 days, Scheffler has won his first four PGA Tour events, ascended to a commanding lead in the Official World Golf Ranking, and slipped on a green jacket. He also set an unofficial Masters record for slipping on and off a vest during Saturday's third round.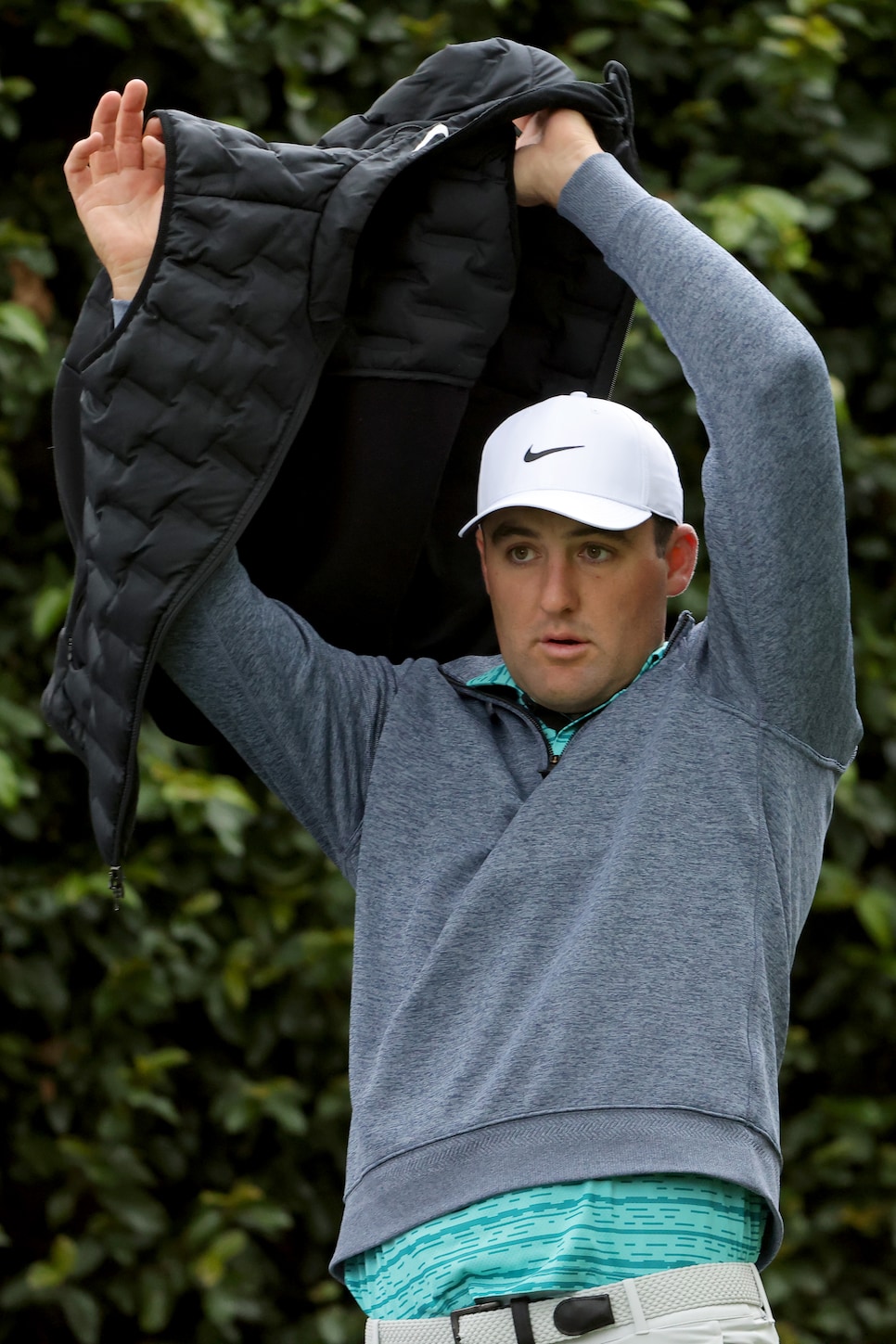 Caddie Ted Scott really earned his money that day. Speaking of money, Scheffler has earned nearly $9 million the past two months. Incredible. Looks like that finance major from the University of Texas might come in handy after all.
Scottie Scheffler's taste in TV: How did this young man prepare himself for the biggest day of his life? By binging episodes of "The Office" with Meredith—his wife, and not Dunder Mifflin supplier relations rep Meredith Palmer, that is. Turns out the Schefflers spend their Saturday nights just like every other married couple. Scottie said they were just starting Season 4, and although we're not sure how many they watched, hopefully they got to this classic scene:
Genius. Almost as genius as Scottie's short game. Scheffler has certainly declared himself as the best player in the world these past two months. But if Scottie the golfer ever wants to transition to Scottie from accounting, his work wardrobe will be pretty set with the Masters green jacket, Arnie's red cardigan, and, of course, that black vest everyone was talking about on Saturday.
Tiger Woods: What Sunday's final round lacked in drama, it more than made up for on Thursday and Friday as Tiger put forth one of the most impressive performances of his career. After a 17-month layoff from competition, and just over a year following a car crash that nearly resulted in his right leg being amputated, the 46-year-old shot 71-74 to comfortably make the cut.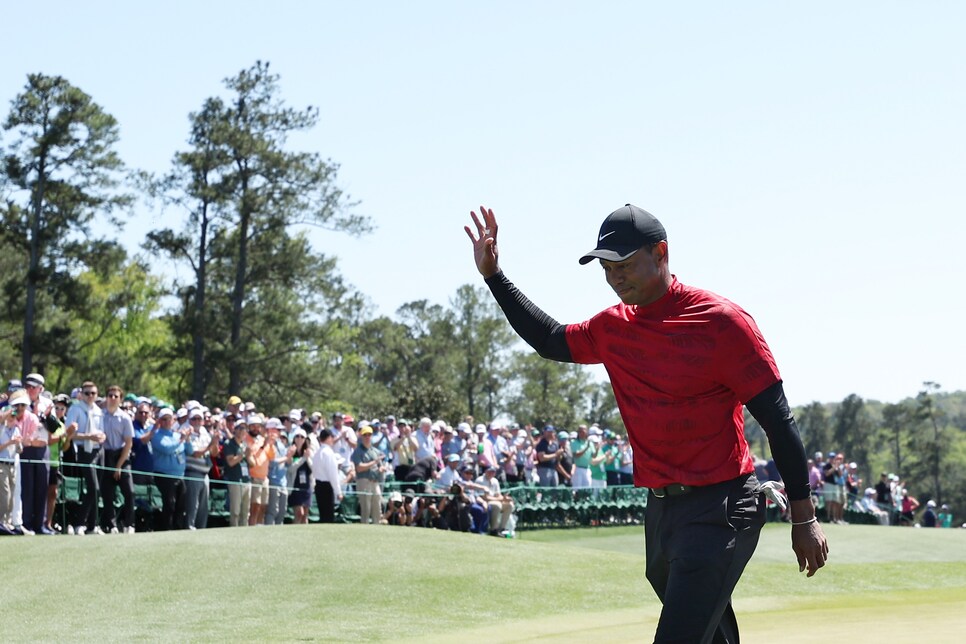 It was tough watching Woods struggle at times, particularly with walking the hilly course, but boy, was it appreciated by the patrons. Great to have you back, Big Cat. Keep those ice baths coming!
Rory McIlroy's final round: The four-time major champ's 64 matched a Masters Sunday record and was the only bogey-free round of the week. And he capped it with that amazing bunker shot on No. 18 that Nick Faldo ruined for viewers at home:
Rory said that was the happiest he's ever been on a golf course after holing that shot, and it sure looked that way. Although we're not quite sure what that reaction was. The solo second was McIlroy's best Masters finish as he continues to get (kinda) close to completing the career Grand Slam.
Rory McIlroy's first three rounds: Unfortunately, he was Rory MehIlroy the other three days. Why does he keep doing this?! Why can he never shoot the early-round 64 any more and win a major by eight shots?! Heck, just win a major again! It's been nearly eight years! Yeah, yeah, young Rory spoiled us almost as much as the Masters spoils media members. Come to think of it, do I have any ice cream in the house? I'm starting to get the shakes again. . . Anyway, our Shane Ryan expertly wrote about why Rory McIlroy's Sunday 64 was both thrilling and frustrating to watch as a fan. Oh, and as someone who bet on Rory to win. Speaking of gambling . . .
This brutal bad beat: One mystery gambler came painfully close to a monster payout on Sunday before getting daggered by Cameron Smith's triple bogey at No. 12. It's hard enough to hit an exacta in horse racing, but this person looked like he'd nailed the top two spots in a golf tournament with Scheffler and Smith, and his $750 wager would have netted him $93K.
Ouch. And the most painful part is that a Scheffler-McIlroy exacta would have paid out even more. Oh well. Also, if someone is tossing $750 at a crazy bet like this, we're guessing they're doing OK.
Tyrrell Hatton's whinging: I've always wanted to use that word (WHINGING!) since hearing Ricky Gervais say it in the original version of "The Office." Again, genius. Anyway, Hatton ripped apart Augusta National like few have following his final-round 80. He also had this, um, theatrical moment while making a triple bogey on No. 13 during Saturday's third round:
The best line? "Would be nice if we had a time machine to fast forward certain things." Agree, Tyrrell. Except instead of getting out of Augusta National, I can't wait to get back—especially when they (hopefully) have those Georgia peach ice cream sandwiches again.
The PGA Tour heads to the RBC Heritage at Harbour Town, AKA that place where they went to all that trouble building that extra "Bryson Net" last year on the driving range for Bryson DeChambeau—and then he didn't show up. Bryson isn't playing again, but a surprising number of top players will be showing up in Hilton Head this week.
Random tournament fact: Luke Donald is still looking for his first win at Harbour Town despite finishing runner-up in this event a record five times, and finishing third another two times. As a result, he's known around these parts as Luke Donaldson. Get it? Like Phil Mickelson for all his close calls at the U.S. Open? OK, so that one might need some work . . .
RANDOM PROP BETS OF THE WEEK
—Luke Donald is a threat to hit it over the driving range net: 1 MILLION-to-1 odds
—Tyrrell Hatton won't be invited back to the Masters next year: 10-to-1 odds
—Tyrrell Hatton will receive a letter from Augusta National: LOCK
CPG nails it. Every time.
There are too many to pick from Golf Digest's photo team throughout the week, but I'm partial to this Tiger shot from Adam Glanzman: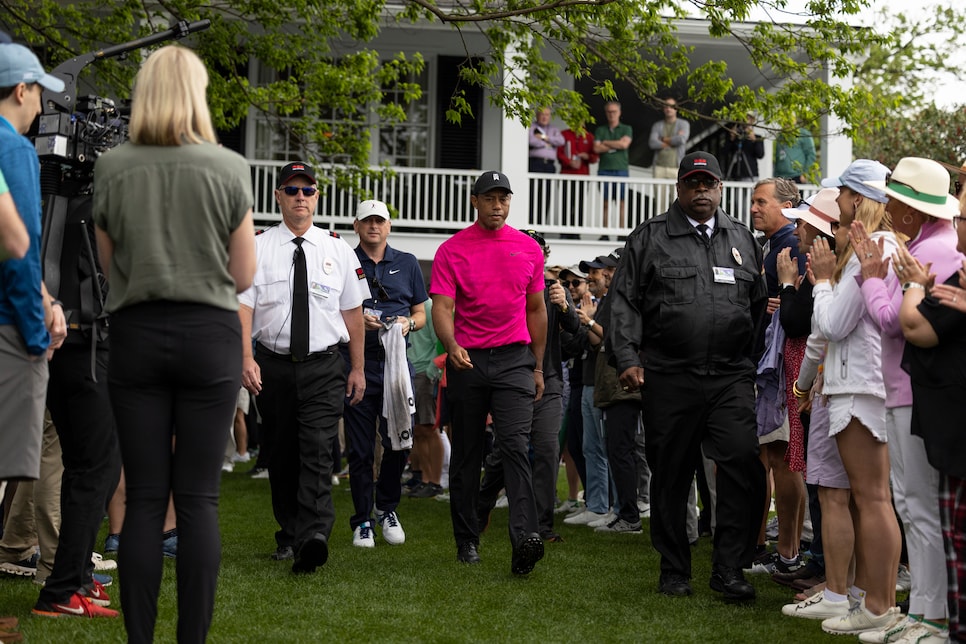 Oh, and that's me all the way on the left! What a thrill it was to see the GOAT back in action.
This clip of a guy monitoring his prop bet on whether Scottie Scheffler would cry after winning is off-the-charts funny:
Whether it's real or staged, that's amazing. His fear over Scheffler's dad potentially ruining the bet and then all those late hugs are the best parts. "Who are these people?! Get out of here!" Classic. And, yep, if it was a real bet, we're ruling that a win. And considering Scottie said he was crying before the round, that's an all-time upset.
THIS WEEK IN PUBLIC DISPLAYS OF AFFECTION
There was a lot of PDA at ANGC on Sunday from the Schefflers: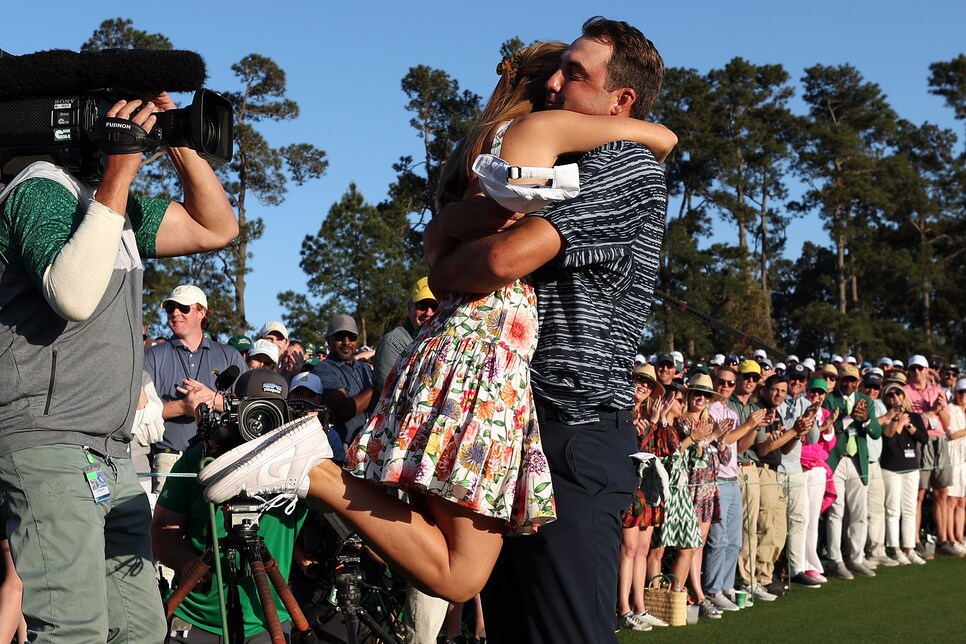 And among the Woods clan:
Even Nike co-founder Phil Knight gave Tiger a big hug. Although after Woods' week of wearing FootJoys, Knight may have whispered into Tiger's ear: "Don't ever go against the family again."
"No, I'm still playing with Poppy and thinking about the 6-iron on 11." — Rory McIlroy when asked if being a father helps him forget about bad shots quicker. Love to hear that, Rors. Keep battling out there. And I'll keep betting on you to win that long-awaited fifth major.
Collin Morikawa is the fourth-youngest male golfer to have a top-5 finish in each major, according to 15th Club's Justin Ray. What a stud. . . . Speaking of young gunz, congrats to Ratchanon Chantananuwat, AKA "TK," for winning his first Asian Tour title at the Trust Golf Asian Mixed Cup. At 15 years(!) and 37 days, TK broke Ryo Ishikawa's record to become the youngest male player to win on a major pro tour. . . . Assuming a 10-percent payout, Ted Scott has made nearly $1 million of his own over the past couple months. Considering his former boss, Bubba Watson, has earned $334K this season, that split has worked out pretty well for Ted. . . . And, finally, shout-out to this Augusta/Martinez Taj of India (and h/t to Dan Rapaport for finding it last year), which we ordered from after every tournament round: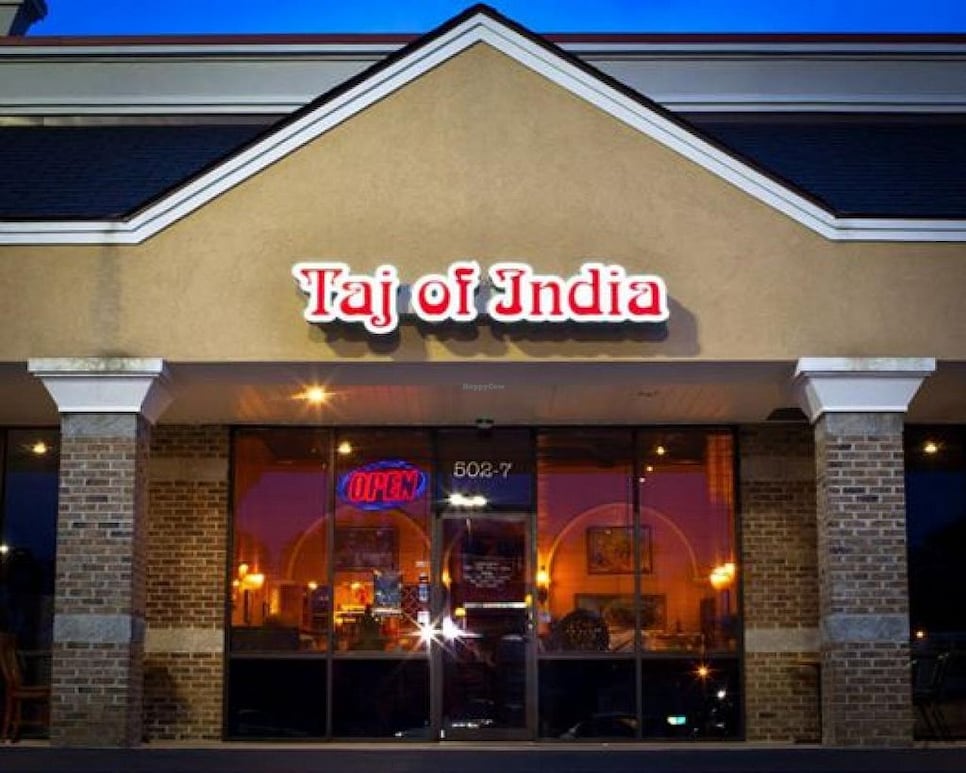 Well, attempted to order from, that is. The kitchen closing at 8:30 on Sunday really daggered us. Nevertheless, it's a great spot.
RANDOM QUESTIONS TO PONDER
When will we see Tiger Woods again?
How many majors will Scottie Scheffler win?
How many vests did Scottie Scheffler sell?