Internal Debate
The impossible question: How should we feel about Rory McIlroy's 64?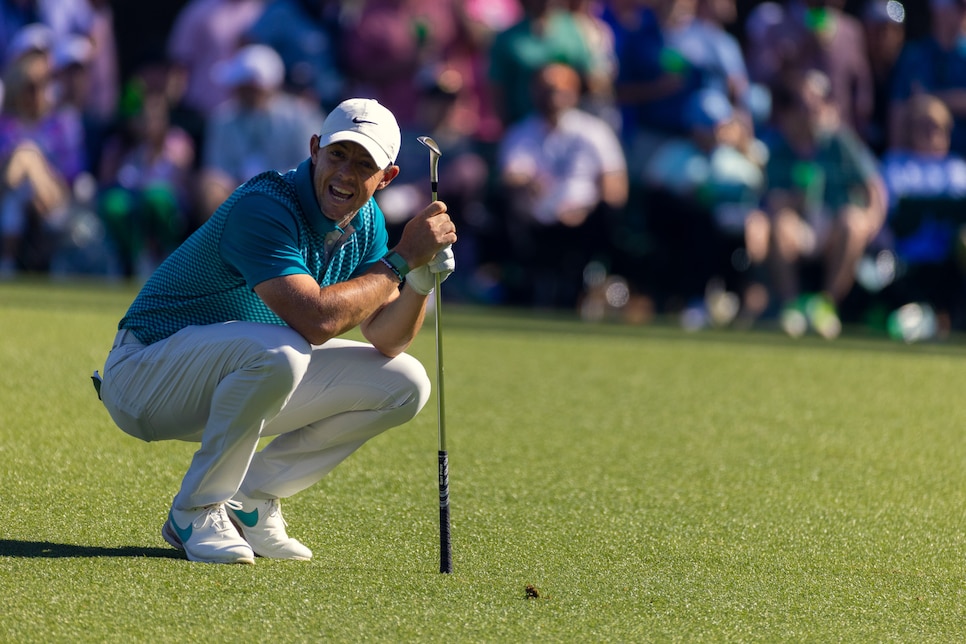 Nobody cares what an idiot on his couch may or may not have predicted, but I'm going to tell you two quick stories anyway.
Story 1: In a Slack with some friends, at 5:43 p.m. ET on Saturday evening after Rory's 73-73-71 put him safely out of contention at this year's Masters, I wrote, "Does Rory shoot 63 or 64 tomorrow?"
Story 2: In the midst of Rory's spectacular front nine on Sunday, I tweeted this:
And then, a couple hours later, my cynicism was swamped in the tidal wave of Rory doing what Rory does. Try to be a smug-slash-self-pitying neutral observer in the face of such awesome feats:
So what is a Rory fan to think? Was this inspiring? Was it a sign of things to come, the very beginning of Rory's resurgence, culminating with a 2014-like triumph at Southern Hills/St. Andrews/Brookline?
Or—and I hate to be this way, I promise—is it exactly what you'd expect from post-2014 Rory? Does it follow the script so closely that even a dummy like me could predict it a day earlier? Does it speak to someone who can be utterly spectacular in a major tournament, right at the exact moment when he can't really win anymore?
I've been torturing myself with this debate for 24 hours now, but what is not up for debate is how much fun the whole thing became. Despite my early frustration, I joined the hallelujah chorus on an otherwise boring Sunday, and the sheer joy shared by McIlroy and Morikawa on 18 will go down as one of the coolest moments of the year. Howe ver much some of us crave 2014 Rory, it's still a gift to have 2022 Rory. May his reign only be interrupted by his former self ... or something. You get my point.
And now we must strive to answer the difficult question. On the side of inspiration/hope/joy, you have the spine-tingling emotions of Sunday. You have the reality of a second-place finish. You have the fact that he's still a top-10 golfer on the planet, he still occasionally wins tournaments, and some of those tournaments are big. Not major big, but big.
Tony Jacklin, one of Europe's many historical near-analogues for Rory, won the Open Championship in '69 and the U.S. Open in '70, then lost the '72 Open in truly disgusting, heartbreaking fashion when Lee Trevino chipped in on the 17th hole from a losing position. He was rattled, and not just for the last two holes, but for an entire career. He later admitted to multiple writers that something broke in him that day, and he never seriously contended at a major again. He was 28.
Rory was 25 when he won his last major, but the problem with the comparison is that he doesn't have that single destructive moment that shattered him into a thousand pieces. The one great horrific choke of his career actually came before his first major, at Augusta, when he shot a Sunday 80 to lose a four-shot lead. He responded to that potential devastation by winning the U.S. Open by eight shots two months later. That was the start of three brilliant years, and you can't put a neat pin in the Moment When Everything Changed. In 2014, he was a killer in the majors, and a year later, he was not, and he hasn't been since. The devolution was not televised.
All of which seems to say that he could be great again. His brain is not broken, his physical gifts are extant, and a return to glory should just be a neurochemical or karmic twist away. A revelation on the range, a good break when he needs it most, or—join me in hope—a brilliant final round at Augusta in 2022 serving as a revelation of what he can still accomplish.
...cynicism returns with a flaming sword.
Read the following paragraph in your meanest voice:
Of $*%&*% course Rory shot a 64 in Augusta and made it seem like it almost mattered. It didn't—even the leader four-putting on 18 couldn't get him within a country mile of the green jacket. Deep down, he knew this, and we all knew it too, and the fact that he was well and truly out of the running is the only reason why he could play like that, why he could shoot 64, why he could light our hearts on fire again. Notice, will you, that when it kinda/sorta started to seem real right after the 13th hole, he didn't make another birdie on some very gettable holes. At least until 18, which was a piece of extraordinary luck and, while it was pretty cool, only serves to obscure the truth that when the rubber meets the road, the gravity of leading a major presses down on him with vicious force—and he is no longer capable of performing at his best under this kind of pressure. So stop hoping you silly naive pollyannas, stop hoping and stop believing because in your darkest hearts you know exactly who Rory McIlroy is now and who he's always going to be, forever and ever, amen.
Pardon me, for a moment, while I collapse in a heap of existential dread.
You've heard the angel on the shoulder, and you've heard the devil, and now ask yourself which one sounds like the truth. This is a golf question, but it's also probably a question about what kind of person you are, or want to be, and to what extent your optimism has been obliterated in golf and life.
What do I want to be true? Easy: Hand-in-hand with each of you, starry-eyed and clad in flowing white robes, I await the prophesied return. When he comes, we'll shoot out both arms like little zaps of lightning, embracing the weird new move he taught us in that Georgia bunker.
What do I think is true? Easy, again: I'd rather not say.