The Grind
Scottie Scheffler's sneaky tie to Matthew Stafford, Phil Mickelson's Twitter blocking rampage and DJ/Paulina's sweet Super Bowl seats
Welcome to another edition of The Grind where we are still recovering from Super Bowl Sunday. The beer delays. The shirtless golfers. And, oh, yeah, a thrilling finish. But that last point actually brings up the big bone I have to pick with the WM Phoenix Open: Stop overlapping with the BIG game! The FedEx Cup Playoffs were moved up a month to avoid the NFL's opening weekend, the Farmers Insurance Open went to a Saturday finish to avoid the NFL's conference title games, but the WMPO continues to have playoffs run past the opening kickoff, putting us golf fans in a tough spot. Look at this poor guy at the Super Bowl!
That's five of the past seven years there's been a playoff at TPC Scottsdale. The golf gods are surely cackling about that somewhere. But it could also be easily avoided by moving up final-round tee times and playing the par-3 16th over and over instead of the par-4 18th to save time. You know, the one where all those fans are sitting already. Just a thought. Maybe next year. Anyway, here's what else has us talking.
Scottie Scheffler: What's the only thing better than seeing someone get his first PGA Tour win after a slew of close calls? Seeing someone get that first win in a tournament you bet on them, of course. Cha-ching! Thank you, Scottie! Although, I could have done without the short miss on 18 in regulation.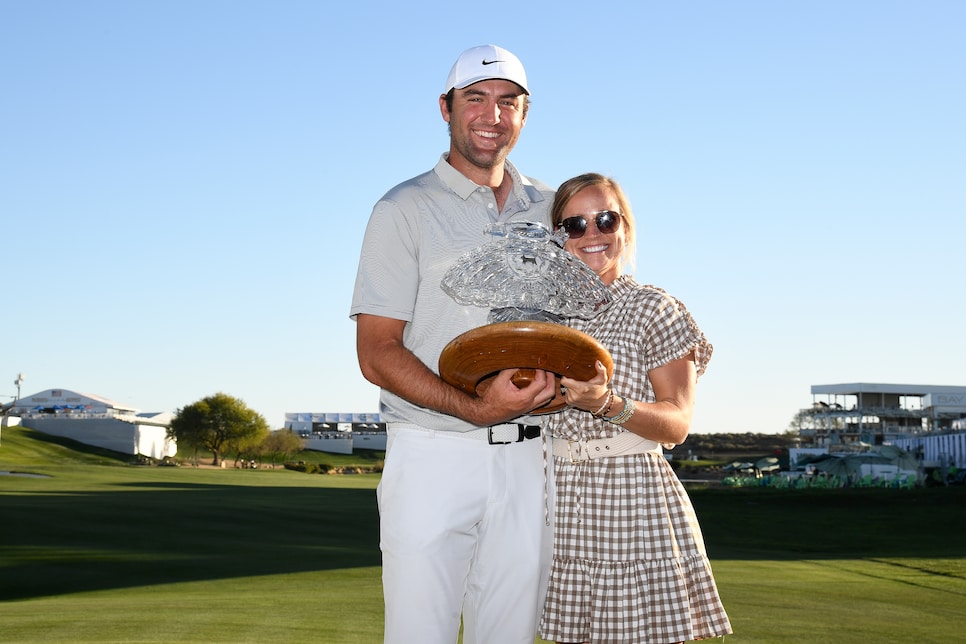 But seriously, well done. This was only a matter of time, although it certainly didn't appear like Sunday would be that time when he fell behind by three shots on multiple occasions. But the Ryder Cupper battled through and took down the reigning FedEx Cup champ in a playoff. And in a pretty amazing coincidence(?) Scheffler attended the same high school as Super Bowl champ Matthew Stafford:
Looks like the golf gods colluded with the football gods on Sunday.
Sahith Theegala: Amid weeks of exorbitant contract offers being reported and accusations of "obnoxious greed," golf found a refreshing new star in a 24-year-old who still lives with his parents. Playing on a sponsor's exemption, Sahith slept on the lead all three nights at TPC Scottsdale, handling himself incredibly well while battling some of the game's biggest stars. Unfortunately, a bad break on the penultimate hole probably cost him a breakthrough win, but he made a ton of new fans and provided the most beautiful moment of the week when he embraced his two biggest supporters afterward:
I'm not crying, you're crying! Nah, it's true. I'm crying. Great job, Sahith.
TPC Scottsdale's 16th hole: Enough with the debate. This raucous atmosphere isn't good for golf. It's GREAT for golf. Sam Ryder's hole-in-one on Saturday there set off one of the craziest scenes in golf history. And that was Sam freaking Ryder! Who wasn't even in contention!
Clean up on aisle hole 16! That being said, I'm not buying fans throwing beers. But not because it's dangerous or bad for golf's image. Because they probably cost 12 bucks a pop. That's just wasteful!
Patrick Cantlay's pace: Patrick Cantlay is a great putter, but he also must be great at the cha-cha with all this feet shuffling:
Seriously, that tap-dance routine is ridiculous. Obviously, Cantlay's not alone with his snail's pace on the course, but can the PGA Tour finally start penalizing guys for slow play? Then again, if it did, you'd only get more situations like this …
Charley Hoffman's rant: Ooo boy, this was something on a Friday night. A four-time PGA Tour winner taking an absolute blowtorch to the hand that feeds him as well as the USGA: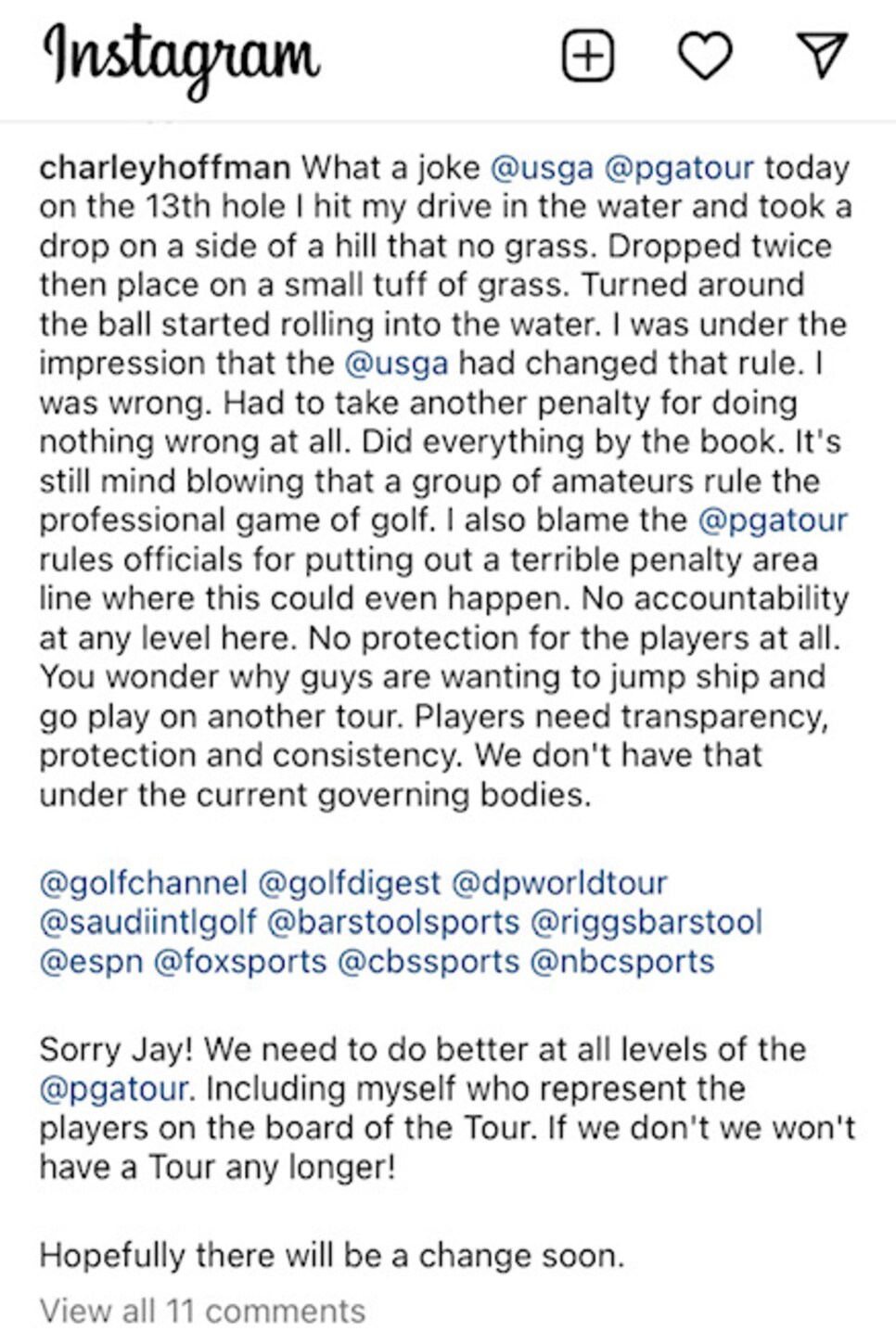 Look, there's certainly an argument to be made that it's dumb that golfers gets penalized if their ball happens to go back in the water when they're already taking a penalty. But know the rule and be careful. And don't use it as an excuse to make a threat against a league that has allowed you to become very, very rich ($32 million in career earnings) while propping up a potential rival with questionable motives. Bad look, Charley. Not surprisingly, look who responded in Hoffman's favor: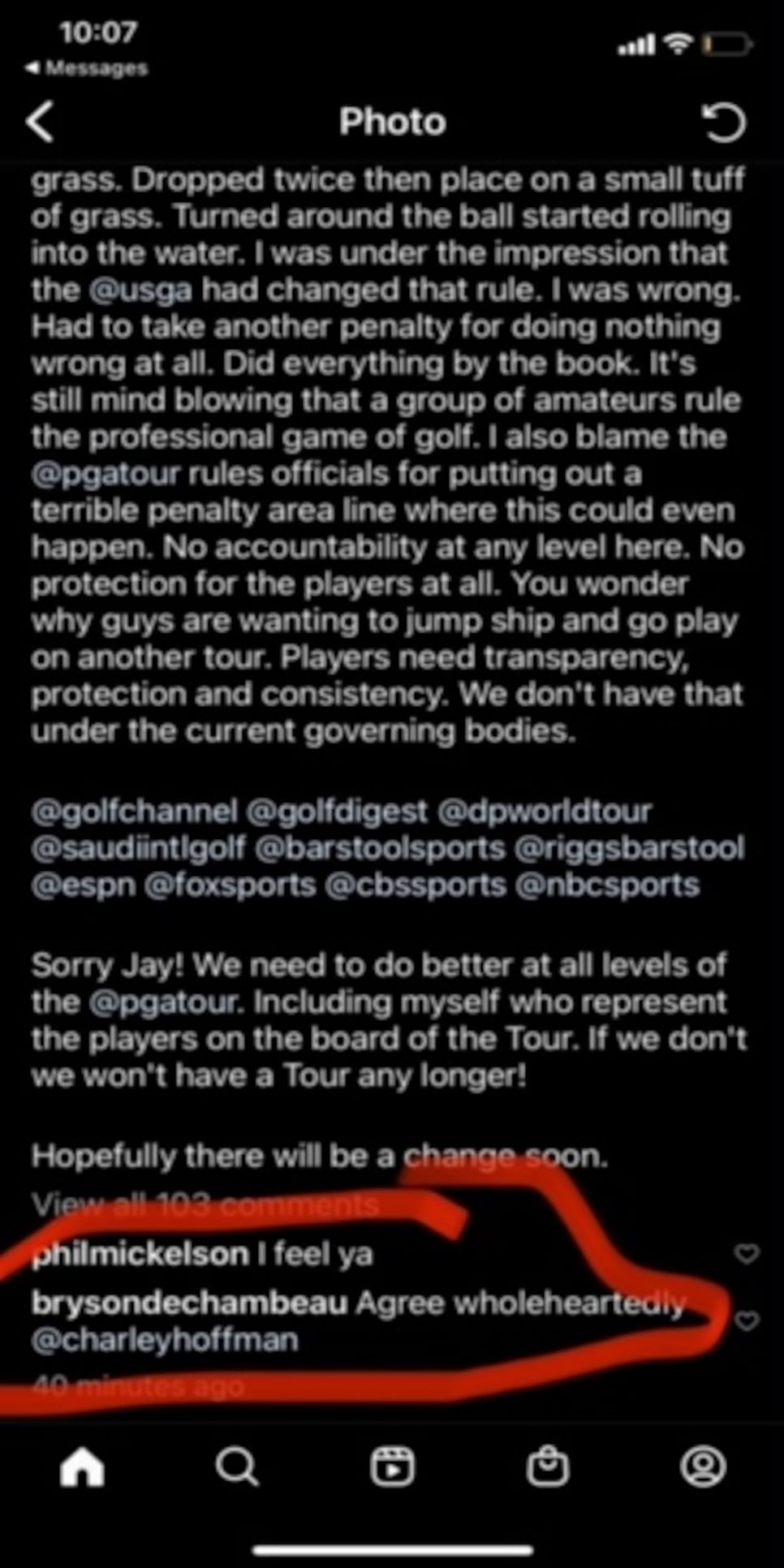 Also not surprising? Hoffman took the post down the following day.
"Shoeys": Congrats to Hannah Green for winning the Vic Open, but this Aussie tradition has to be the most disgusting way to celebrate a victory:
Drinking a beer out of your own shoe? Your own sweaty golf shoe? Yeah, no thanks!
The PGA Tour heads back (back) to Cali for the Genesis Invitational, AKA that one Tiger hosts, but never seems to play in. Obviously, that's the case once again this year, but Woods will be there as host, is scheduled for a Wednesday press conference, and we're guessing he makes his way into the CBS booth over the weekend.
Random tournament fact: Excluding the two-man team Zurich Classic, Scott Brown has two career runner-ups in his PGA Tour career and both have come at Riviera. That might be the most random tournament fact we've ever come across. And sadly for Scott, he's not in the field this year.
RANDOM PROP BETS OF THE WEEK
—There will be a beer delay at Riviera: 1 MILLION-to-1 odds
—There will be a "shoey" at Riviera: 1,000-to-1 odds
—Patrick Cantlay won't get penalized for his soft-shoe routine: LOCK
Just a couple of legends doing legendary things: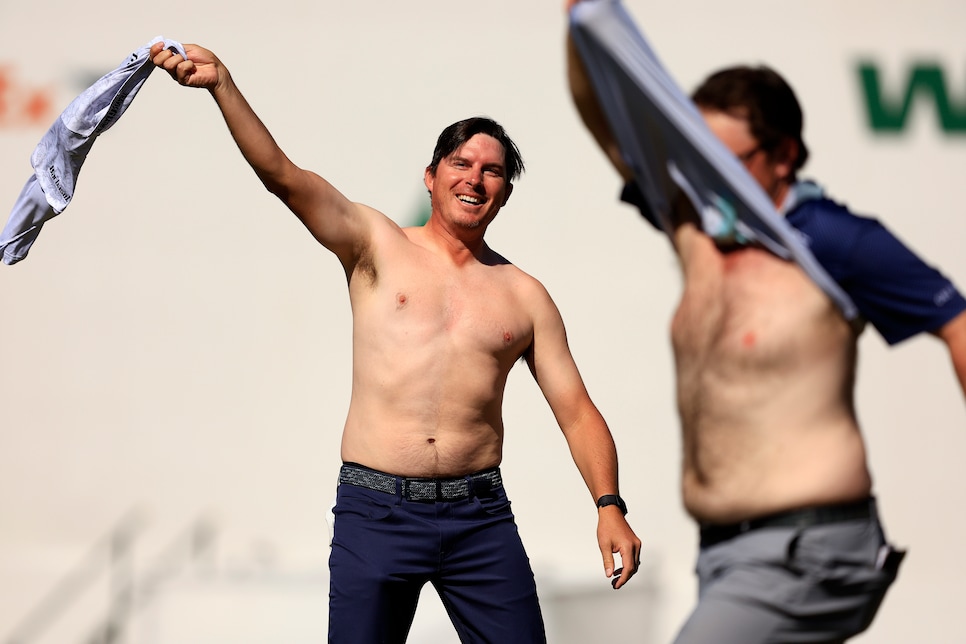 Take notes, kids. This is what peak athletic performance looks like. The WM Phoenix Open should turn that Higgs image into its official logo. Either that, or a drunken wobbler fan. What a tournament.
How about the Scottsdale Police Department coming up clutch with this different angle of the Sam Ryder ace?
Amazing timing. And great play-by-play! Get that dude in the booth!
THIS WEEK IN PUBLIC DISPLAYS OF AFFECTION
Paulina Gretzky was all in on the Rams: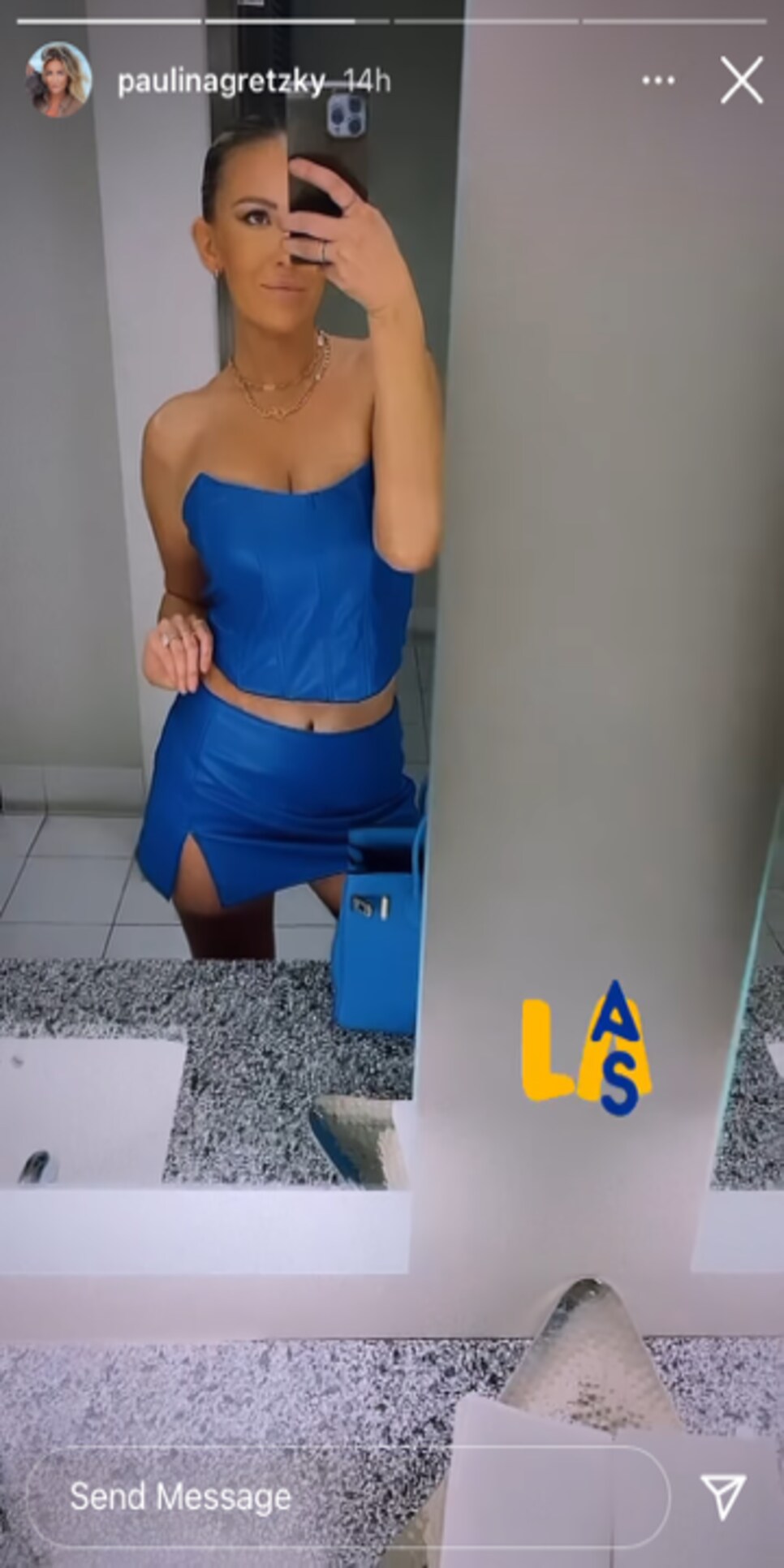 And it looks like she and DJ had fantastic seats for Big Game: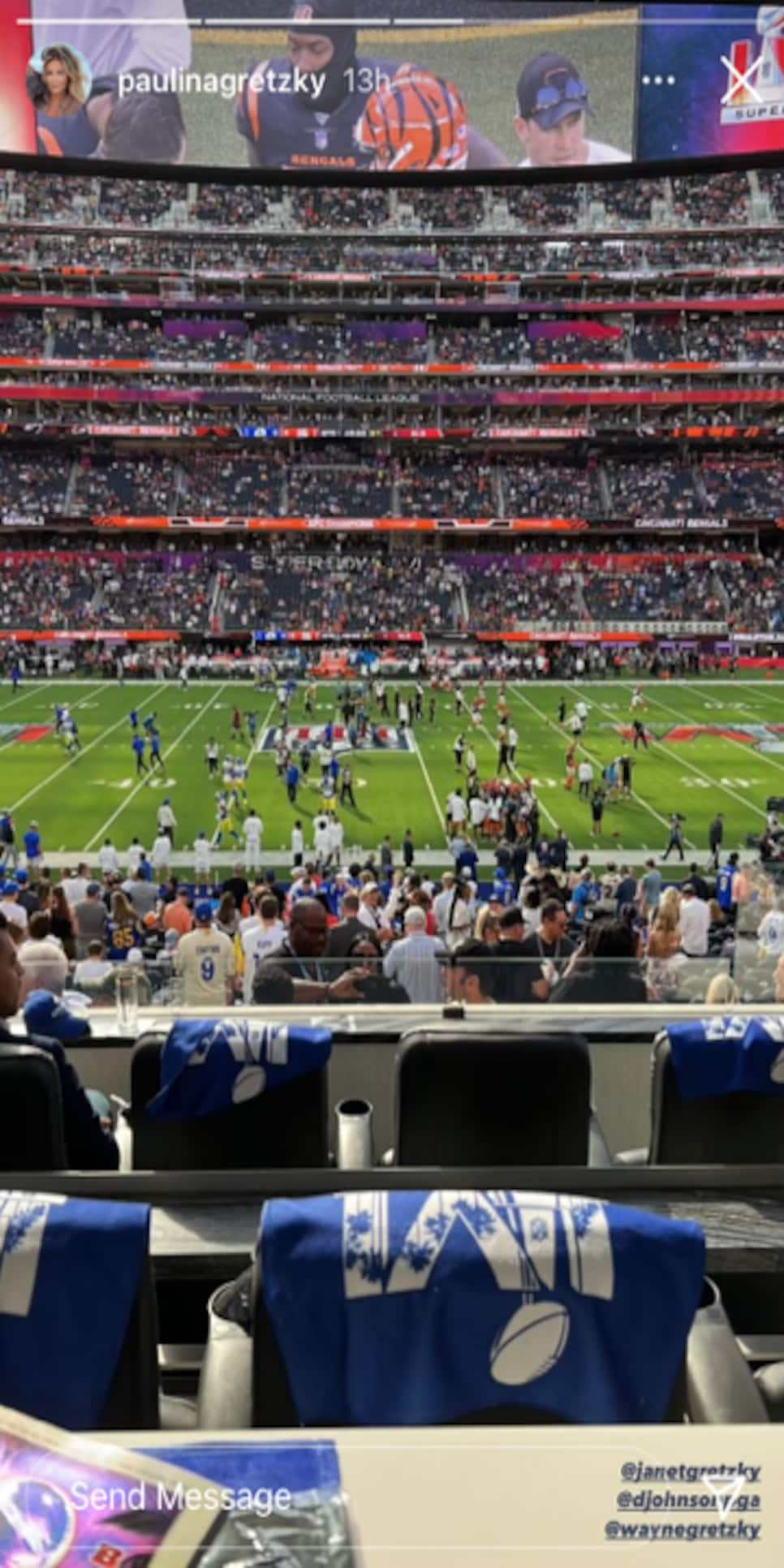 Very nice. Hopefully, their box served pigs in a blanket.
THIS WEEK IN PUBLIC DISPLAYS OF (NON) AFFECTION
Phil even blocked our guy Sam Harrop, after his latest brilliant parody song video that referenced Lefty's "obnoxious greed" line:
So good. Fortunately, Phil hasn't blocked me. Yet.
THIS WEEK IN CELEBRITIES PLAYING WATCHING GOLF
I was rooting for Joe Burrow and the Bengals, but I'm a big Matt Stafford fan after hearing his wife say that he skipped a Kylie Jenner-hosted party to watch golf on TV recently:
You love to see it. He was probably pissed about missing the end of the WM Phoenix Open.
"There was debris everywhere and, you know, it was such a fun exciting thing and I didn't want any kind of like negativity to kind of overshadow something that was really so much fun and happy and everything. But the crew did such a good job, the grounds crew, the Thunderbirds were out there picking up—I mean the, how quickly they got it all cleaned up was pretty incredible. So hat's off to them for being able to do that and hopefully it didn't create too much of a log jam with the pace of play, but all in all I think it was pretty positive thing." —Sam Ryder on his hole-in-one. Agree, Sam. Agree.
Congrats to Ted Scott for winding up on Scottie Scheffler's bag after parting ways with Bubba Watson last year. Talk about finding the perfect way to extend your career. … If you haven't yet, check out our Dan Rapaport's amazing story on Morgan Hoffmann. Funny enough, Dan's journey to Costa Rica (kinda/sorta) began with me giving him Morgan's phone number so in the words of Bubba, #UrWelcome. … A mystery gambler unsuccessfully bet $10,000(!) on Carlos Ortiz to win at 150-to-1 odds. Ouch. But hey, at least he didn't lose as much money as Mattress Mack did betting on the Super Bowl. … And, finally, my soon-to-be 4-year-old had her first Cool Ranch Doritos during the big game. This was her reaction: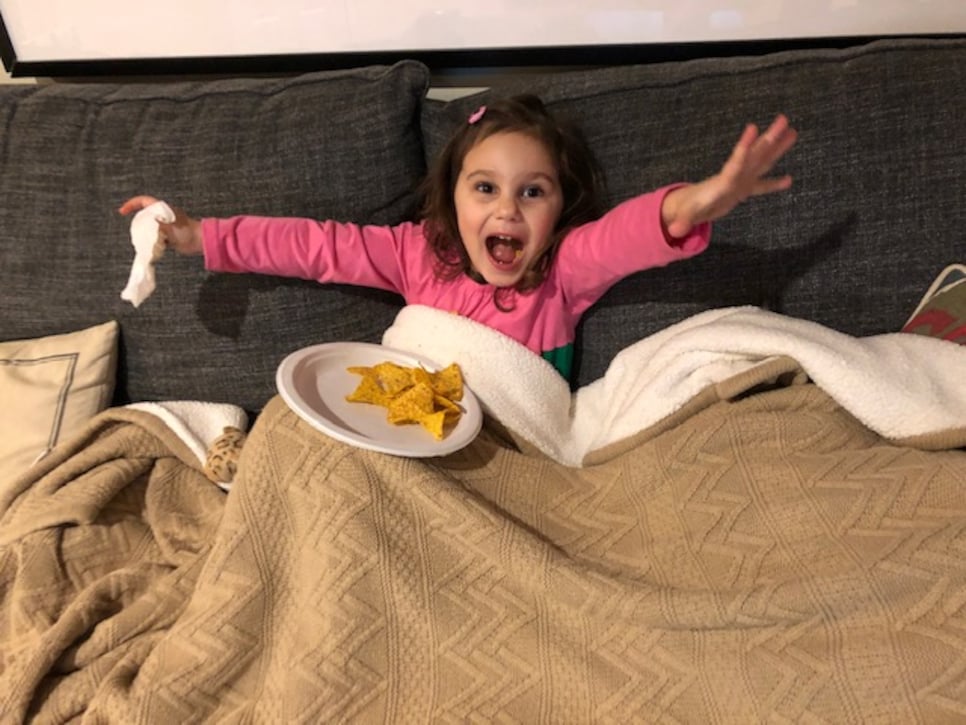 Yep, she's definitely my daughter.
RANDOM QUESTIONS TO PONDER
How many Doritos have I had in my life?
What's the best Super Bowl halftime show ever?
Does Mattress Mack ever bet on golf?