Open Championship
Open Championship 2022: A local club pro got tapped to play in the Open at St. Andrews, and it was excellent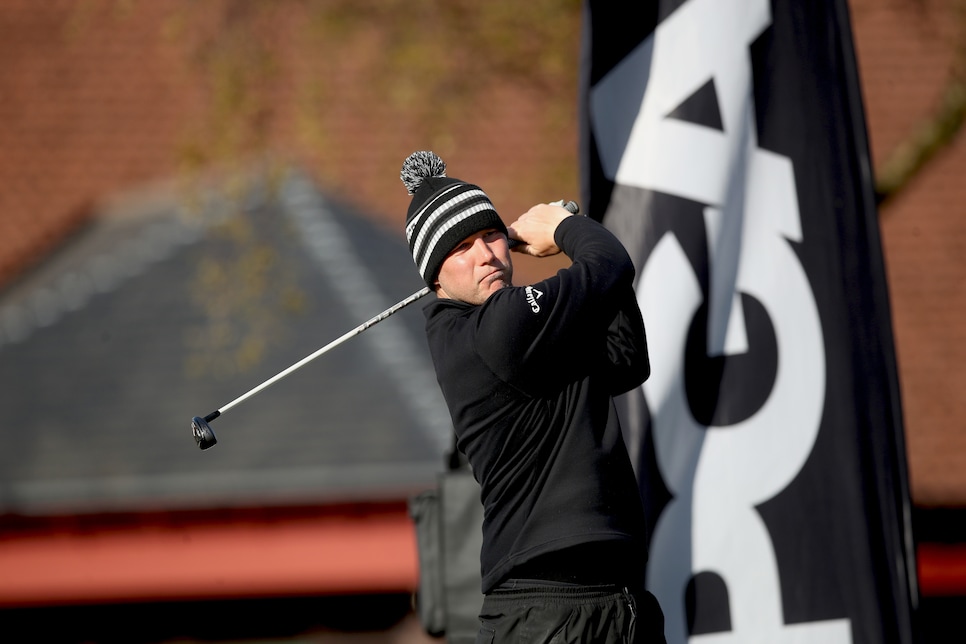 ST. ANDREWS, Scotland — As Scott Herald stood in his backyard garden in St. Andrews, he had to ask a reporter to confirm what happened had happened. You'll have to forgive him, he said, saying he didn't get much sleep, so he wanted to make sure the dream had become a reality.
"This is all ridiculous, isn't it?" Herald, 35, asked. "It hasn't set in."
What hasn't set in for Herald is what occurred just hours ago: On Saturday the club pro got to play in the Open Championship at the Old Course in St. Andrews, the course and the town that he calls home.
"How good … how good is this?" Herald said.
A native of Glasgow, Herald is an instructor at the St. Andrews Links, having started there in 2015. With his work space serving as the site of the championship's 150th celebration he attempted to qualify into the event. Herald had tour pros aspirations once and played in a handful of minor-league circuits in Europe. Given his background, a documentary crew followed Herald in the lead-up to this event, realizing should he make it through qualifying it would be one hell of a story to tell. Unfortunately for Herald, his attempt came up short in the Final Qualifying two weeks ago, and knowing that there would be no lessons to give on the range this week, he figured he'd have a relatively quiet few days.
Instead Herald received the heads-up from R&A officials that, should an odd number of players make the cut, he had been tapped to serve as the weekend marker.
While that possibility would fulfill one of his wildest fantasies, Herald decided to keep it there.
"Even knowing I had been tapped, I didn't want to count on it. Had to keep my guard up," Herald said.
But then Friday came, and as the final games went through, Herald realized the fantasy didn't seem so fantastical. Around 10 p.m. local time he got the word: 83 players had made the cut. Herald officially—albeit it unofficially—was in the Open field.
From there it was a whirlwind. He had to get proper accreditation from the R&A to get into the places that only players have access to. Knowing what awaited caused him to lie awake for most of the night. On Saturday morning he was able to get stretched out and get in a short warm-up before serving as marker for Richard Mansell and his 8:35 a.m. local tee time. Shortly before they went off, as he stood on the first tee and glanced at the grandstands to his right and to his left and what he was staring down, Herald had the briefest moments of clarity.
"I thought, 'Oh god, we're here,'" Herald said.
Herald was there to do a job—to keep Mansell's score and not hold him up—and he did it well. Yet while a marker is inherently inconspicuous (safe for Jeff Knox's ceremonial role at the Masters), news began to spread that the local boy was inside the ropes. By the 14th hole, the crowd began to grow bigger and bigger. They were there for Herald, and they let him know.
"I'll take that to my grave," Herald said about the closing holes. "From about [the 14th] until 18, the crowd was beginning to swell. As we were coming to the village, I heard more and more shouts. I had no idea where they were coming from. It's hard to pick out, just a mass of people. But I could feel it, I could."
Herald has had the good fortune to play the Old Course a number of times. It never gets old, he says; it's indescribable. Even on the slow days, or the evenings when he's the last man on the course. You would think it would eventually become normal, only a place like this stays special, regularity be damned.
And yet, that walk up the 18th, in the Open, in one of the greatest amphitheaters in sports as he was showered with cheers and nods, with shouts of his name and feelings of love … that is a different kind of special. Herald searches for the right words to describe it, but gives up, knowing he can't do it justice.
The best part? On Sunday, he got to do it again, paired with English amateur Sam Bairstow. As he made his way around a second time, the locals again were cheering him on. His parents are here this week, as are his wife Mari's parents (Mari, who also works at St. Andrews Links, is operating one of the retail tents on site). They also have friends staying at their place for the championship. At some point on Sunday, Herald figures they'll get the chance to sit back and enjoy his moment. How he'll celebrate?
"Probably popping a bottle or two of beer, I imagine," Herald says. "A toast is in order."

Sounds about right. Toasts are always in order when dreams come true.
MORE OPEN CHAMPIONSHIP 2022 STORIES FROM GOLF DIGEST