The Loop
Save a Tauntaun, wear Columbia's new line of 'Star Wars' winter jackets instead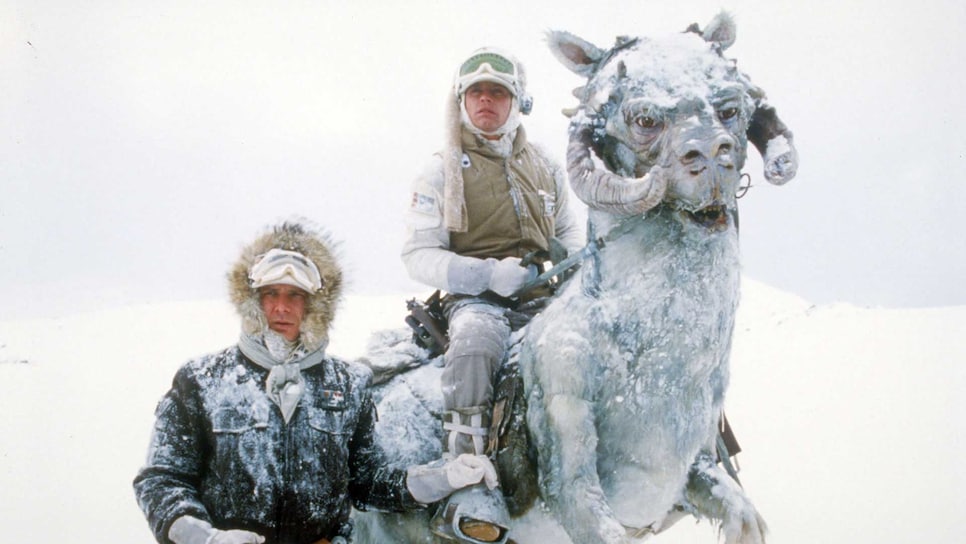 Remember in Star Wars: Episode V The Empire Strikes Back when Han gets trapped in a Hoth blizzard mid-Skywalker rescue mission and has to cut open his Tauntaun and burrow inside in order to survive the storm? Of course you do. It's a traumatic film experience for any kid who forms immediate attachments to expendable intergalactic pack animals and names them Jeff only to watch in horror as they're disemboweled by a lightsaber moments later. But take heart, emotionally scarred children of America, because while Columbia may not be able to save Jeff, their new line of Hoth-approved Star Wars winter jackets may be able to spare his descendants from a similarly gruesome fate. Bundle up:
Named after the Rebel's Hoth HQ, the Echo Base collection, while boasting sci-fi styling, is actually serious winter gear, featuring water resistant fabrics and Columbia's Omni-Heat technology—which reflects the wearer's body heat while retaining breathability—across the three-jacket range. Including the Luke Skywalker Echo Base Jacket, the Leia Organa Echo Base Jacket, and the Han Solo Echo Base Parka, the collection retails for $400 (per jacket) and will be available online and at select Columbia stores beginning December 8th.
If you're looking to get your mitts on one these Alliance-approved insulators, you're going to need a little help from the ol' hyperdrive, however. Columbia will only produce 1,980 Echo Base jackets—a nod to the film's original 1980 release date—and with the release of The Last Jedi a little over a week away, demand is sure to be, uhh, out of this world.