European Tour
Europe is at it again with its sneaky way of team bonding ahead of the Ryder Cup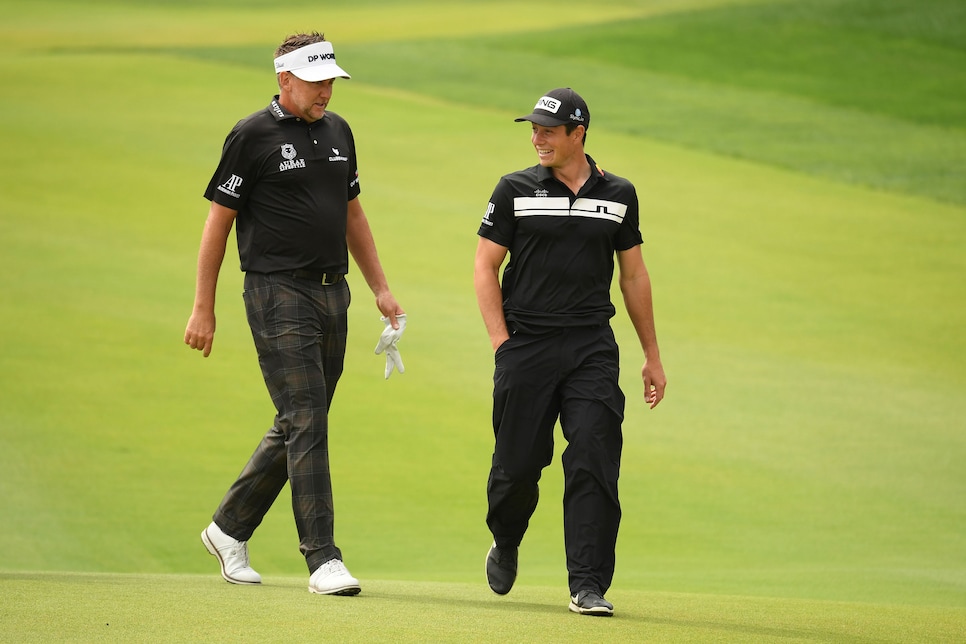 It hardly feels like a coincidence that in an early European Tour start in 2021, Viktor Hovland, eyeing his first Ryder Cup start later this year, would be paired with veterans Ian Poulter (shown) and Danny Willett.
Ross Kinnaird
It's all part of the plan that has seen Europe win nine of the last 12 Ryder Cups. In the weeks and months leading up to the biennial contest with the United States, the draws at European Tour events invariably provide insights into the thinking and planning of the Old World captain. Case in point: At the instigation of the European skipper Paul McGinley, Graeme McDowell more than once played in 2014 alongside the notorious loner that was (and is) Frenchman Victor Dubuisson. By the time the pair came together at Gleneagles later that year to form a partnership that produced two victories in foursomes play, their on-course relationship was firmly formed.
Nothing is ever certain, of course, but current European captain Padraig Harrington would clearly seem to be applying a similar strategy. Viktor Hovland, just 23 and already a two-time winner on the PGA Tour, isn't quite in Dubuisson's league when it comes to unfamiliarity with his fellow Europeans (few are), but informal introductions are still being made.
"I grew up mainly watching the European Tour when I was young," said Hovland, who was raised in the Norwegian capital of Oslo. "I don't necessarily know what the players look like but I remember watching them on television when I was young. So it's cool to be playing in these events myself."
And playing well. En route to the 68-66 start that has him six under par and in strong contention at the Saudi International, Hovland played with Danny Willett and Ian Poulter. Willett is currently among the automatic qualifiers for the side Harrington will lead at Whistling Straits and Poulter, should he not make the team as a player, is surely a strong contender to be one of the Irishman's assistant captains. This was another "getting to know you" operation, one that left Poulter more than impressed by what he saw from Hovland.
"Viktor, 100 percent, will be on the team," Poulter said. "He will be a great addition. He's a worldclass golfer. He's young. He's strong. He's going to be the backbone of the European team for many years."
It was no surprise then, to hear Hovland enthusing over the air of conviviality that permeated the trio's interactions over the two days they spent touring the 7,010-yard Royal Greens Golf & Country Club course.
"It's been fun," said Hovland, the former U.S. Amateur champion sporting his trademark smile. "We had good banter in the group. It was awesome to play with those guys. Ian is obviously a very passionate guy. It was cool to see that passion come out, even though it's not a Ryder Cup. I could picture him and Danny in that kind of environment. I'd love to be in the same setting someday. So it was a lot of fun to trade some birdies out there with them and just kind of have a very relaxed atmosphere."
Speaking of birdies, Hovland made four, and no bogeys, in a notable effort that made light of the unexpectedly rainy conditions out in the desert. As ever in just about any golf tournament, the draw has introduced an element of luck, both good and bad, into the proceedings.
Hovland, in common with his fellow "late/early" competitors, has gotten the worst of it. The numbers do not lie. In the flat calm conditions that prevailed Thursday morning, the field averaged 68.21; the afternoon players had it 2.5 shots harder. As many as 11 players finished bogey-free before lunch on Day 1, a feat no one could match in the afternoon.
Twenty-four hours later, the morning wave could only manage an average score of 71.55, a figure that puts Hovland's 66 in perspective.
"My game plan is always very aggressive," Hovland said. "So I don't see any reason not to do it this week. There are some bunkers where I can fire over. And short par 4s where I can't hit irons off the tee and leave myself a fuller shot. I like to hit driver when, even if I don't hit the fairway it's still an easy shot to hit the green. It depends on the pin placements and the conditions, but I like to hit the driver.
"Today the golf course played a lot longer and it wasn't necessarily easy to get close to the pin," Hovland continued. "A lot of times I hit it up to 20 feet, 15 feet, 25 feet and was just kind of two-putting the whole way. But I made a couple of nice saves and just played very solid."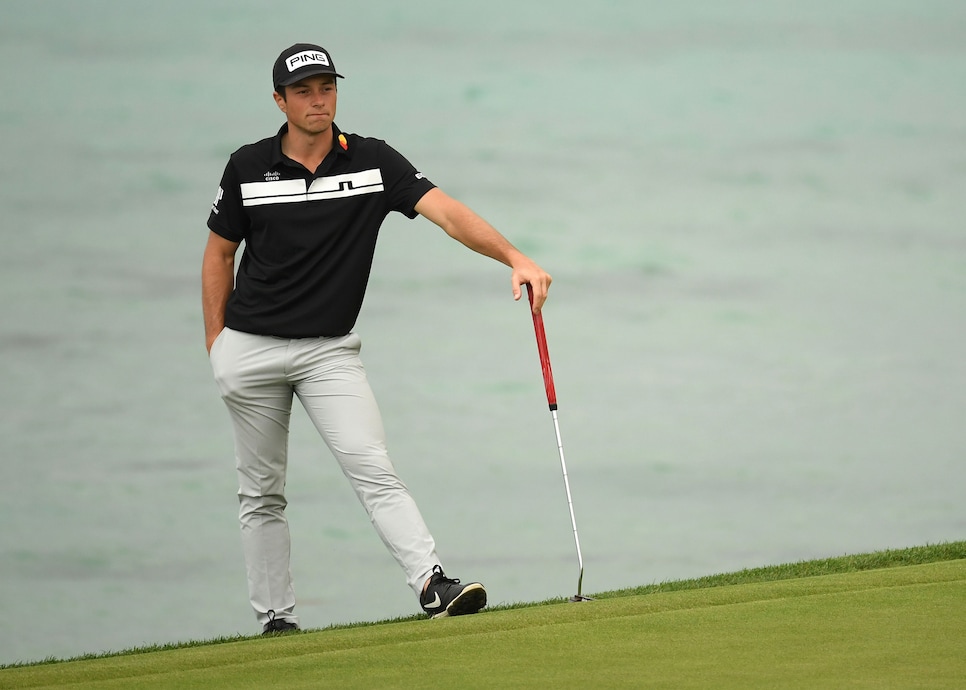 Viktor Hovland's Friday four-under 66 was particuarly impressive given that the rest of the morning wave averaged 71.55.
Ross Kinnaird
That aspect of his performance will have to continue if Hovland is to add a European Tour victory to his already burgeoning résumé. It is an omission he wants to put right sooner rather than later. "I feel that is one thing that's missing," he said.
Well, that and a Ryder Cup debut. But things are looking good on both fronts.