News
Closing out a year we're happy to see end with a win, Viktor Hovland has us looking forward to 2021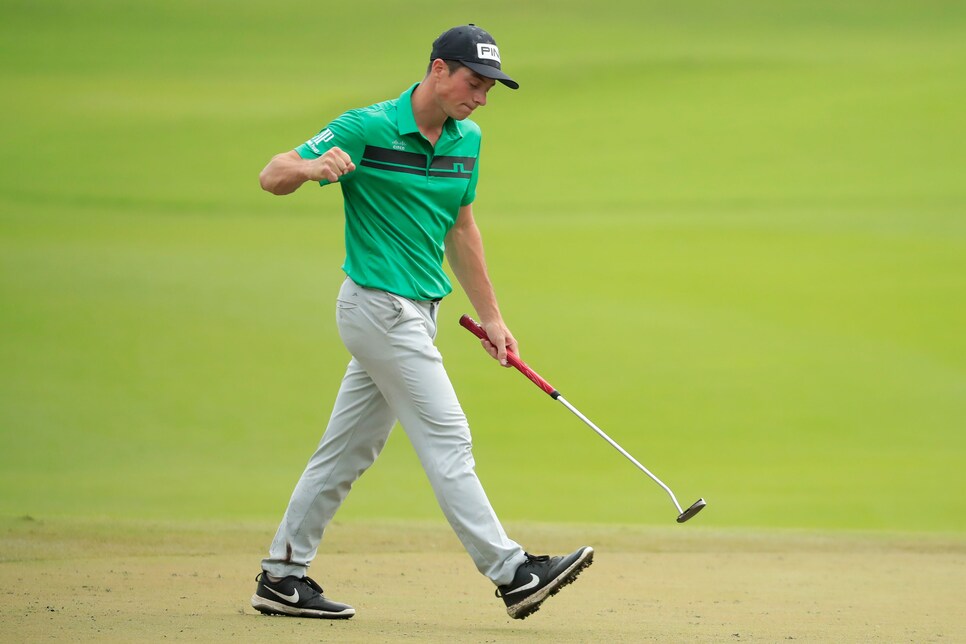 In what has been arguably one of the oddest years in golf, and a trying one in the everyday sense, immense kudos to Viktor Hovland for accomplishing the implausible. He changed the way we think of 2020.
He won his first in February at the Puerto Rico Open. He birdied the last to do it. He finished at 20 under par in that one, too.
And, lo and behold, there it is—2020 in a whole new light.
With rain hammering Playa del Carmen, Mexico, early Sunday, completion of the $7.2 million tournament was in doubt. Then when the leader board bunched up like a 2019 buffet line at Golden Corral, it appeared that extra holes might be required to determine the outcome. Then Hovland decided to drain a 12-footer—and all the suspense with it—to stuff his Christmas stocking with $1.296 million and break the dreaded "Puerto Rico Curse" that had kept all previous winners from capturing another tour event.
By coincidence, after closing with a six-under 65, Hovland also avenged a bit of personal frustration at El Camaleon, where he missed the cut by a stroke in his two previous appearances, the first in 2018 as an amateur. "Even though I missed the cut my first two times," Hovland said, "I had a blast being here. … It's really one of my favorite spots, and to play here for the first time as an amateur on the PGA Tour and to then win it later, I think that's pretty cool."
Hovland is pretty cool for being all of 23 years old. The 2018 U.S. Amateur champion rose to 15th in the world and became the seventh player with multiple victories in 2020, a group that includes Dustin Johnson, Jon Rahm, Justin Thomas, Bryson DeChambeau, Webb Simpson and Colin Morikawa.
And in just his 35th tour start, Hovland became the fifth European player since 1945 with multiple tour wins before turning 24. The others: Seve Ballesteros, Sergio Garcia, Rory McIlroy and Jon Rahm.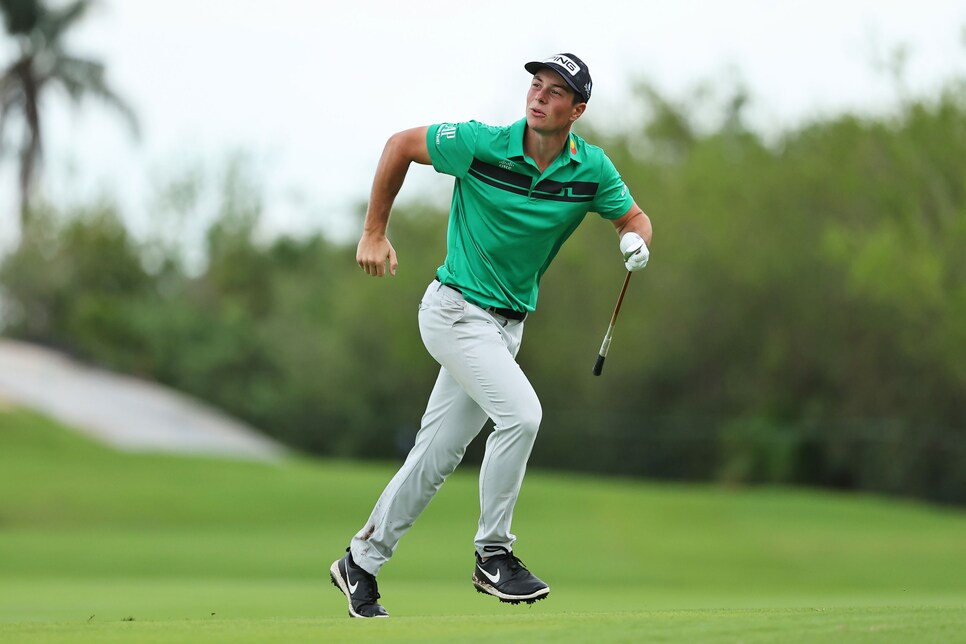 Hovland's most anxious moment on Sunday came after hitting this approach shot wayward on the 16th hole. But he got up and down for par, then finished par-birdie to win for the second time in nine months on the PGA Tour.
Hector Vivas
Hovland might be the most changed man in golf this side of the beefed-up DeChambeau since he drilled that 30-footer to win in Puerto Rico just a few weeks before golf's season was halted for three months due to the ongoing pandemic. Actually, he might be Bryson-light when he talks about abandoning fad diets, eating more protein and gaining speed with his driver by "just practicing swinging hard, dedicate 20 minutes to just hitting it as hard as I can." Hmmm. Sounds very familiar.
In addition, he altered his approach to pitching and chipping, going to a 10-finger grip for everything inside 40 yards, which he says helps him feel the release of the clubhead. Since The Northern Trust in Boston, Hovland has been working with Indiana-based swing coach Jeff Smith to make "refinements" in his swing. Finally, he recently incorporated the aim-point method into his putting routine.
The one thing he didn't change was his approach to the game. He works at it. And he likes to work at it. During the shutdown, he hung out at Karsten Creek Golf Course in Stillwater, Okla., home course for Oklahoma State's golf team, where he and another tour hotshot, Matthew Wolff, led the Cowboys to the NCAA title in 2018.
"I've always kind of been a grinder, I really like to play golf," he said. "Luckily, in Oklahoma we didn't close down any golf courses, I was able to practice at Karsten and my roommates and the guys on the Oklahoma State golf team were able to play almost every day. So it was like, you know, COVID wasn't really affecting us that much. I felt like I was able to make some good gains in my golf game during that period."
Good gains, no pain. Hovland has finished in the top 25 in 12 of the 16 events he's entered since the restart at the Charles Schwab Challenge.
One of the few tournaments he missed was the Masters for which he was not eligible after finishing low amateur in the 2019 edition. "Yeah, I didn't think it was going to bother me that much, but it did just watching a little bit," he said. "Knowing that I'm in there next year and I had a nice off week, kind of relaxed a little bit, I think it just motivated me a little bit more to just keep working harder and hopefully I have a good chance when I get back there in April next year."
Hovland was likely to get back to Augusta, Ga., without a win, coming into the week 25th in the world. Wise needed the victory more at 236th in the world. Also seeking his second tour title, Wise, 24, shot a closing bogey-free 63, but he missed 12-foot birdie tries on his final two holes to come up short at 19-under 265.
Hoping for a playoff, Wise had to watch as Hovland, after a "soft" 9-iron from 142 meters, converted from that same exact distance. Hovland admitted he was "shaking there at the end." But then he gathered himself.
"Yeah, when I was standing on the 18th tee I knew I had to make a birdie to win, and I told myself, 'OK, I was able to do it in Puerto Rico, hopefully I can do it today.' "
It's always good to draw on experience.
And, well, you know what they say about hindsight. It's, well, THAT number.