News
Viktor Hovland putting pedal to metal as PGA Tour's Road Warrior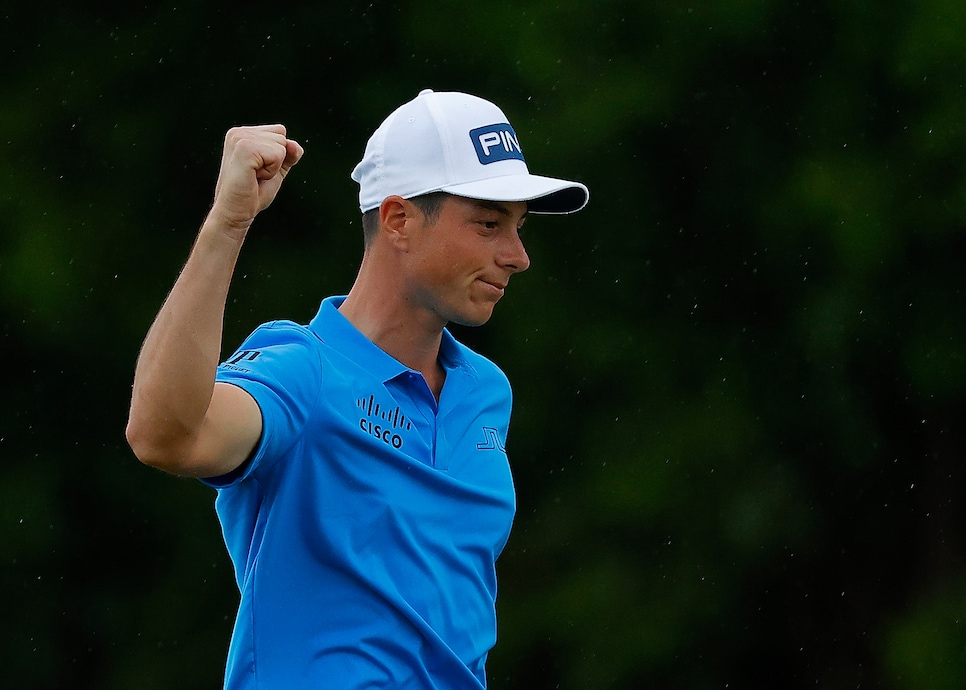 Viktor Hovland celebrates after making final putt in his victory in the Puerto Rico Open in February 2020.
Kevin C. Cox
Bryson DeChambeau drinks six protein shakes a day. Viktor Hovland prefers a half-dozen Red Bulls, or at least he did on his overnight drive from Colonial Country Club and the Charles Schwab Challenge in Fort Worth to Hilton Head Island, S.C., for the RBC Heritage three weeks ago.
The trip spanned 16 hours and covered more than 1,100 miles. Most of it was in the dark.
"I didn't see a whole lot and I didn't feel very good," Hovland said. "So that wasn't very smart."
Not that it has deterred him.
With the PGA Tour a month into the resumption of its season after hitting pause because of the ongoing COVID-19 pandemic, the 23-year-old Norwegian, who won his first tour event in February in the Puerto Rico Open, has kept on driving, from one tour stop to the next. From Oklahoma, where he lives, to Texas, to South Carolina, to Connecticut, to Michigan, where he is playing in this week's Rocket Mortgage Classic in Detroit and beyond.
"I was thinking I just want to drive because I like to drive," Hovland said.
To date, Hovland has covered a little more than 3,000 miles and done almost all of the roughly 45 hours of driving himself. The only time he didn't was when he and his caddie, Shay Knight, who has a house in Charleston, S.C., shared wheel duties on the way from Hilton Head Island to Cromwell, Conn., for last week's Travelers Championship.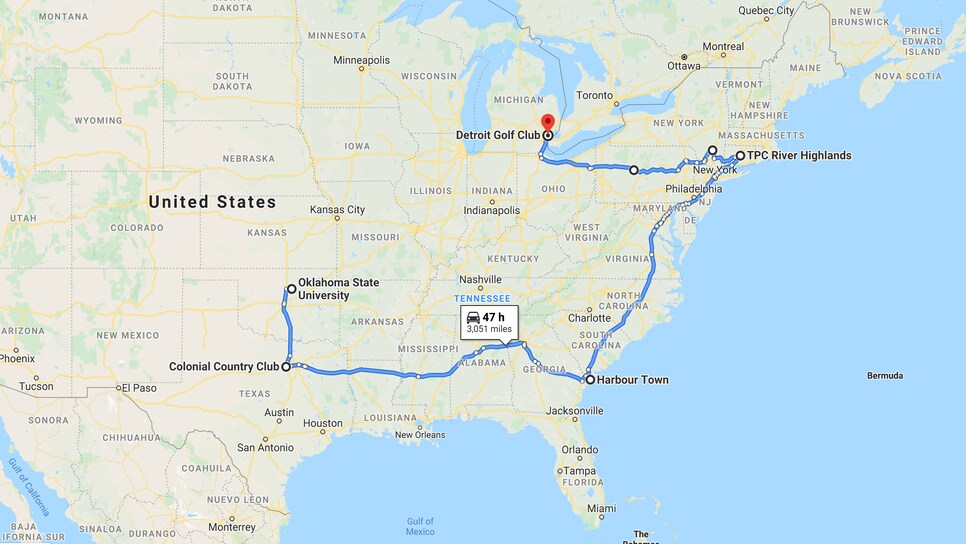 While the pandemic wasn't the reason behind Hovland's decision to drive, it certainly made it easier, given the flexibility to be on his own schedule, rather than that of the tour's charter flights from one city to the next. (He's also not the only player doing it; C.T. Pan is as well after buying an RV.)
"Even though I have to get in the car and drive 15 hours, it's still a lot more convenient because I can go whenever I want to go and I can also pack more stuff in the car," Hovland said. "It's just a little bit more freedom in that way."
How does one pass all that time with nothing but open road and an endless stream of thoughts?
Podcasts help, specifically Joe Rogan's as well as Making Sense with Sam Harris. So does some heavy metal when a little more energy is needed.
All that driving also doesn't seem to have affected Hovland's play much if at all.
In his first three starts back, he has finished T-23, T-21 and T-11. It hasn't hurt, either, that he has a sweet ride—a Lexus RC F, a plush, luxury sports coupe that boasts 472 horsepower and does 0-60 in 3.96 seconds—to make the ride a little more comfortable and go by a tad faster.
Hovland says he'll continue to drive, too, to next week's Workday Charity Open and the following week's Memorial tournament, both at Muirfield Village Golf Club in Ohio. Why wouldn't he? It's a measly 200 miles and three hours south of the Motor City.
After that, however, he'll head home to Oklahoma—another 881 miles and 13 1/2 hours, for those keeping score—and he said that he's likely to fly the remaining few weeks of the season. With the PGA Championship being played at TPC Harding Park in San Francisco, that's probably a wise move.
But perhaps the most amazing part of the journey? That he hasn't gotten a single speeding ticket.