European Tour
Paul Casey explains what changed his mind about playing in the Saudi International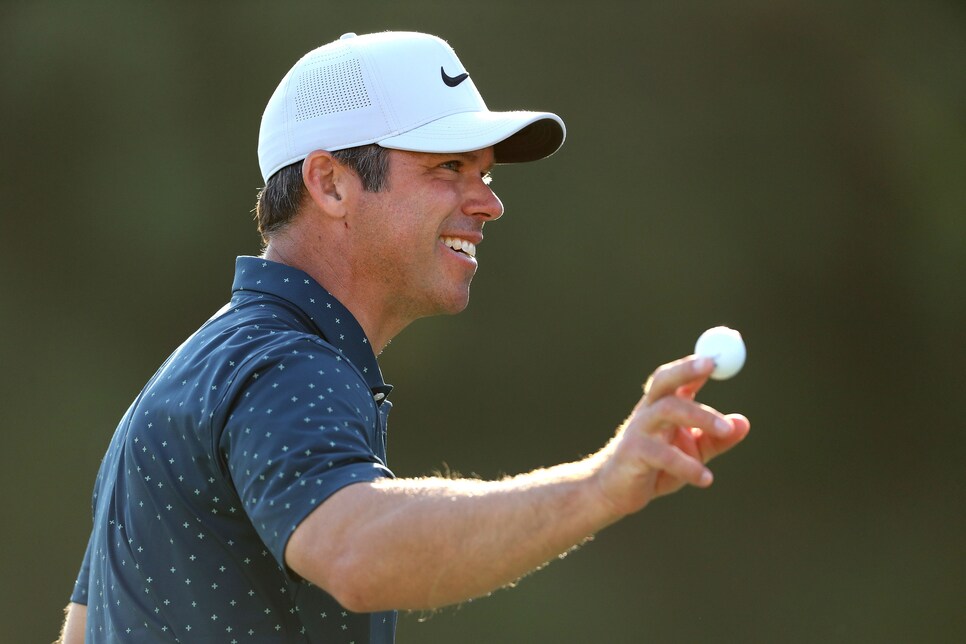 Paul Casey comes into the Saudi Arabia International on a roll after winning his 15th career European Tour title over the weekend at the Omega Dubai Desert Classic.
Warren Little
Almost two years ago, Paul Casey famously made his feelings known. Speaking to the United Kingdom's Independent newspaper, the four-time European Ryder Cup player was clear as to why he was not going to play in the European Tour's Saudi International. Declaring his charitable links to UNICEF, Casey cited concern over Saudi Arabia's record on human rights.
"It just didn't sit well with me," said Casey in March 2019. "I've not talked too much about it and I'm not sure I want to, but certainly signing a deal and being paid to be down there … I would be a hypocrite if I did that. Anybody who says sport isn't political, that's rubbish. Sport is very political. I'm glad I took a stance, more so if it highlights the issues within the region, especially next door in Yemen. I've seen the numbers. In Yemen, 22 million people are facing starvation, 11.5 million of them kids. I didn't want anything I do to get in the way of a great organization like UNICEF."
By November 2020, however, Casey's view had changed, at least when it came to playing golf for money in Saudi Arabia, the 43-year-old Englishman who lives in Arizona now prepared to tee it up.
"This is not a decision I've taken lightly," he said when committing to compete in the 2021 tournament. "I wasn't comfortable going in the past, but I have always been open-minded and willing to learn. I believe sport has the power to affect change. I've listened to the Saudi's commitment to this and their vision for the future. They have successfully hosted two professional ladies tournaments, which shows that Golf Saudi have big plans not only for professional golf, but more so for grassroots and the next generation."
Speaking from the media center at the Royal Greens Golf & Country Club, where this week he will take on a stacked field containing the likes of Dustin Johnson, Bryson DeChambeau, Phil Mickelson, Tony Finau, Sergio Garcia, Kevin Na, Shane Lowry, Lee Westwood, Tommy Fleetwood, Justin Rose, Danny Willett, Tyrrell Hatton, Ian Poulter, Patrick Reed, Henrik Stenson and defending champion Graeme McDowell, Casey doubled-down on his change in reasoning.
"A couple of years ago, was that I think I was a little bit torn," he said on Tuesday, two days removed from winning the Omega Dubai Desert Classic. "I'm a father. I've got two kids. Because of my charitable ties with UNICEF, I felt that it was not right for me to play. But I've spent the last two years thinking about that a lot. I've learned an awful lot. I've read an awful lot. And one of the things that I was flat-out wrong on was that UNICEF is not a political organization. Their focus is purely on the vulnerability of children around the world. That's my focus with my charitable views and endeavors.
"And so I was reminded that if you stay away, if you don't engage, if you don't talk, if you don't visit, then you're merely hardening positions," Casey continued. "Engagement and inclusion is really what it's all about. Things are not black and white. It's very much a grey area. There's not a country on the planet that meets every single rights of a child, not a single country on the planet. And so all you can hope for is that a country is on a path towards meeting as many of those as possible. This country is making progress. That's all I can hope for. I felt that if my participation this year can assist in that process and if that can make a difference, then that's something important. So I will hold my hand up and say that the position I had two years ago was probably not the right position to have. And so that is why I am here."
Back on safer ground, Casey remained energized by what was his 15th European Tour victory last weekend in Dubai, not the first time he has started a season with something of a bang.
"Winning tees me up really beautifully for the season," said the newly minted World No. 16. "I feel really excited about the year ahead. I'm thankful we're playing golf, and while I've got that opportunity to play golf, I want to maximize it. I just want to crack on from here. I'm enjoying my golf. I've got nothing to lose and everything to gain. I'll be trying to make 2021 a fantastic year."