News & Tours
Masters breakout amateur Sam Bennett sees first sign of Augusta bump with new NIL deal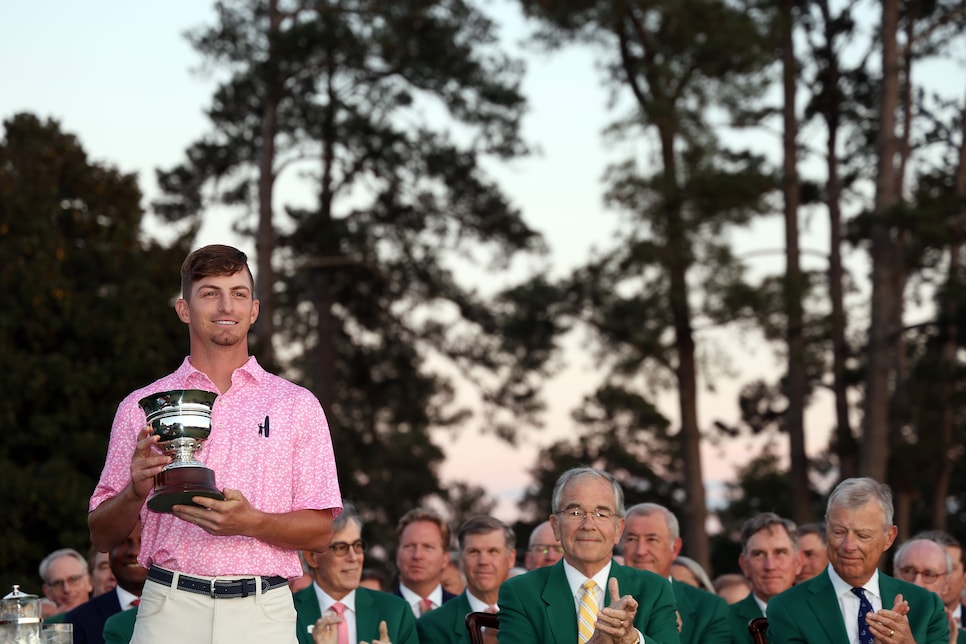 Sam Bennett poses with the Silver Cup after winning low amateur honors at the 2023 Masters.
Christian Petersen
It seemed safe to assume amateur Sam Bennett's impressive performance at the Masters might bring about some new sponsorship opportunities as he finished out his remaining few weeks of college golf at Texas A&M. That assumption became official on Monday when T-Mobile announced a partnership with the fifth-year senior from Madisonville, Texas.
Bennett won't be sporting a T-Mobile logo during this week's SEC Championship, his first college start since his T-16 at the Masters, or the upcoming NCAA postseason. Instead, the arrangement calls for him to promote the brand through social posts and event appearances.
According to a T-Mobile spokesperson: "Bennett will help amplify T-Mobile's efforts in the college athletics and NIL spaces, sharing how the Un-carrier helps him stay connected to friends and family while away competing through branded social posts, event appearances, and more."
No details were given on how much money Bennett is receiving. Luke Feldlam, whose Advance NIL advisory company works with college athletes, estimated to Golf Digest during the Masters that future deals for Bennett could fall in the six- and even seven-figure range based on the attention he received at Augusta National.
Bennett is the fourth collegiate athlete that the company has signed, joining softball players Jaiden Fields (Georgia) and Montana Fouts (Alabama) and basketball player Jalen Hood-Schifino (Indiana). T-Mobile is also a sponsor of the SEC and Texas A&M.
The arrangement all falls in line with the NCAA's updated rules on student-athletes being able to benefit off their name, image and likeness, as well as changes to the USGA/R&A's rules of amateur status.
The reigning U.S. Amateur champion, Bennett was a breakout star at Augusta National two weeks ago, opening with a pair of 68s to play his way into the final threesome of the third round. He eventually finished tied for 16th to earn low amateur honors in lieu of the $261,000 that professionals who finished in the same spot earned.
After the SEC Championship, the Aggies are in line to qualify for the NCAA Regionals with the hope of advancing to the NCAA Championship. Bennett, meanwhile, is ranked No. 4 in the PGA Tour University Velocity Global Ranking for outgoing seniors. If he remains in the top five after the conclusion of the NCAA Championship, he will earn a Korn Ferry Tour card for the remainder of the 2023 season.