Ryder Cup 2023
Ryder Cup 2023: Europe has reason to fear the beast it created—'Brian the Butcher'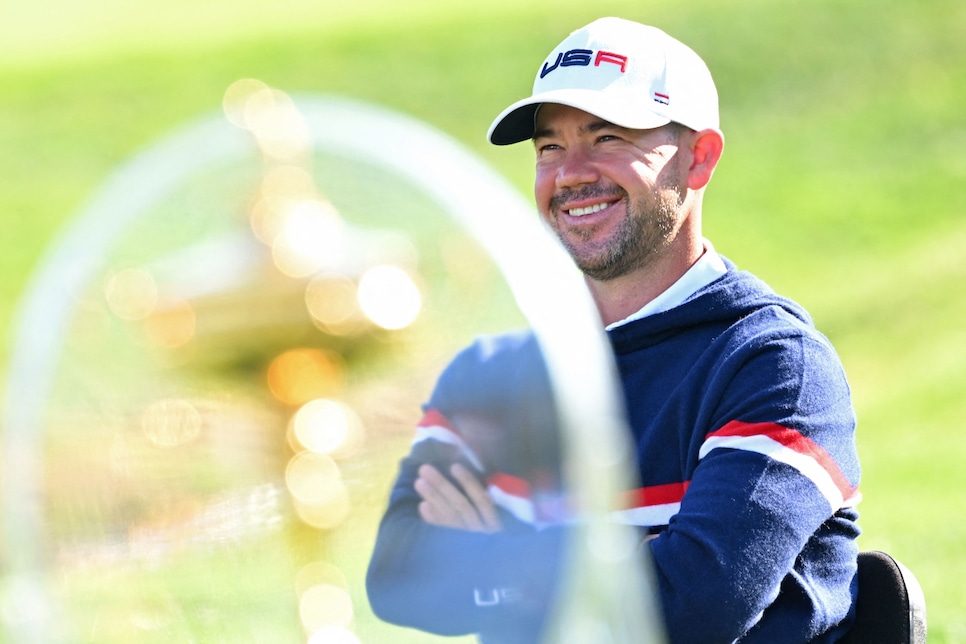 Brian Harman is playing in his first Ryder Cup after winning the Open Championship.
ANDREAS SOLARO
ROME — The British tabloids called him "Brian the Butcher," and they may come to regret that. He also was referred to as "the Butcher of Hoylake," and, naturally, "the Big Game Hunter," given his affinity for the sport, especially the bow-hunting variety. Of course, the big game Brian Harman bagged in July at Royal Liverpool was the claret jug, and he did so with astonishing brutality. He carved up a world-class field by six shots, and he did it in front of a fair number of antagonists vehemently rooting against him.
Now, the last thing you want to see in sport, and particularly in a competition as emotionally volatile as the Ryder Cup, is to have your opponent christened with a cool, sinewy, memorable nickname. And "Brian the Butcher" is the kind of nickname that people print on T-shirts and that internet sites (like this one) enjoy recycling for their headlines. It denotes a cold-blooded barbarity.
Does anyone really want to face THAT guy?
Who knows how much Harman will play this weekend in the 44th Ryder Cup at Marco Simone Golf & Country Club. It is, after all, his debut in the biennial competition. But chances are that his experience in emphatically closing out his victory in the 151st Open has left him better prepared than most rookies who begin their Ryder Cup careers abroad.
"I think he'll be able to draw on it more than he may realize until he has to," said Tom Lehman, who won the 1996 Open at Royal Lytham and St. Annes. "It was pretty obvious that the crowd was not in his corner at Hoylake, and he just stuck to what he was doing. He handled it all so well, and even though the Ryder Cup is different than the Open, he's had a bit of a baptism."
"I just I feel like he's cut and made for these kind of teams," said U.S. captain Zach Johnson, who also owns a claret jug after winning at St. Andrews in 2015. "I think anybody's win in a stage of that magnitude can be extremely beneficial. I didn't watch every shot inside the ropes or even outside the ropes that he hit during the Open, but it's pretty documented that there were some things kind of jeered and whatnot, and that's to be expected, given where it was and who he is and who he's not, right? Knowing Brian, that's probably more fuel to the fire, if you will. He has that ability and that talent, that mentality, to kind of make that be a positive."
It's bad news for Europe that Harman has embraced the "Brian the Butcher" moniker. His wife Kelly threw him a "Brian the Butcher"-themed party. She had T-shirts and golf balls made up with her own "Brian the Butcher" logo—see, what did we tell you?—and guests could take selfies with a "Brian the Butcher" photo. The only thing that wasn't butchered was the entrée. The assembled media couldn't help but ask if the renowned hunter killed anything for the occasion and butchered it himself, a skill of which he is proud.
Nope. He brought in a food truck and served hot dogs and hamburgers.
Harman took all these questions in stride during his unimpeded march to the Open title, his first major and only his third win on the PGA Tour. On Wednesday at Marco Simone, he was engaging and generally un-butcher-like, talking about his love of trees and his latest vanity purchase, a new tractor.
But don't worry, folks. He can turn on the harm.
Though he is appearing in his first Ryder Cup, the 36-year-old Georgia native isn't without team match play experience. A former U.S. Junior Amateur champion—which also is contested at match play—twice competed in the Walker Cup, going a combined 4-1-2 in U.S. victories in 2005 and 2009. He likes match play. And he likes bringing an attitude to match play.
"You have to sometimes, especially if things aren't going your way," he said when he was asked if he takes head-to-head competition personally. "I've always enjoyed match play because it really is, there's such a different dynamic. Stroke play is basically you versus you, you versus the golf course. In match play it's you versus the golf course, you versus you, you versus the other guy."
Harman, a 5-foot-7 vessel of intensity that he hides behind his general aw-shucks demeanor, admitted to fabricating reasons to make it personal. "Just made-up stuff," he said. Then he invoked the name Michael Jordan, the basketball legend who established himself as one of the most ruthless competitors in the pantheon of sports.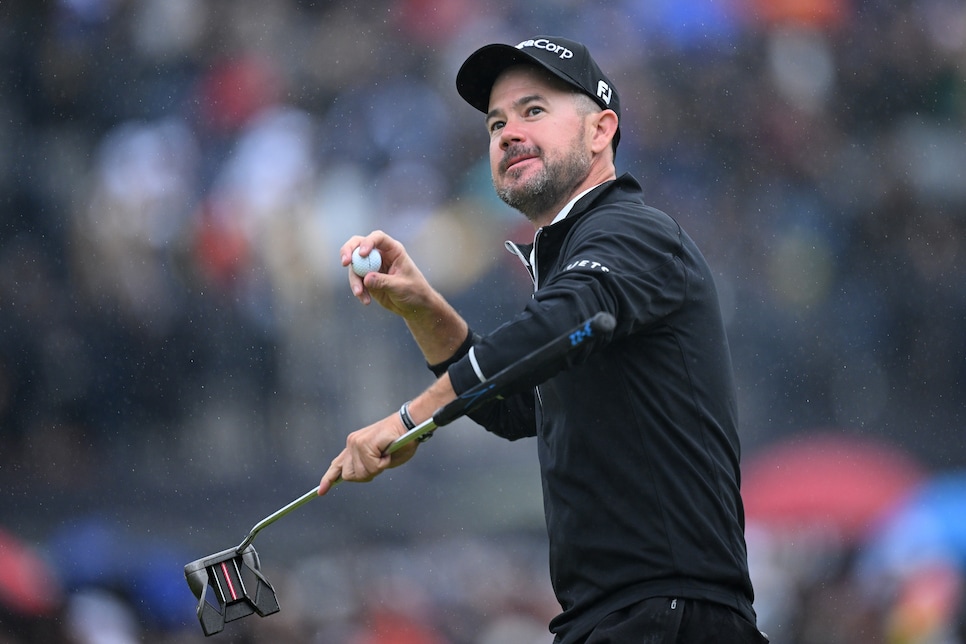 Brian Harman throws his golf ball on the 18th green after winning the 151st Open at Royal Liverpool.
Stuart Franklin/R&A
"I love the story Michael Jordan told about the guy talked trash to him and he goes out and scores 40 and the guy never said a word to him," the affable left-hander said. "Just totally made up. I love that story."
Harman might well be built for this occasion. He's been aching to prove it. But no one ever really knows for sure. It's probably wise that he harbors a healthy amount of trepidation about the approaching three-day sausage grinder. He's been made aware that whatever acidic remarks Royal Liverpool fans sent in his direction was only an appetizer to what awaits him and his U.S. teammates at Marco Simone
"Yeah, I don't think there's any way to prepare for it," he said. "I expect them to be as fervent and I expect to be at times overwhelmed by it, just like I was at the Open Championship. It was overwhelming at times. The best you can do is just acknowledge it and just move forward and try not to let it affect you as best you can. But it will affect you. You'd be silly not to think that.
"Obviously the home teams in the Ryder Cups have been extremely successful, and a lot of that has to do with the fans. They can affect outcomes of matches. It's just our job to try to stay as present as possible and execute more than the other guys and see what happens."
The American team is hunting for its first victory in Europe in 30 years, and it has in its corner a player eager to prove to a hostile crowd that his victory at Hoylake was no fluke. It was the opposing side that gave him his new nickname, and they'll rue that day if "Brian the Butcher" once again proves to be a cut above.
MORE FROM GOLF DIGEST @ THE RYDER CUP