finally
Ryder Cup 2023: Max Homa walk-off chip in lone bright spot for Americans, who finally win first full point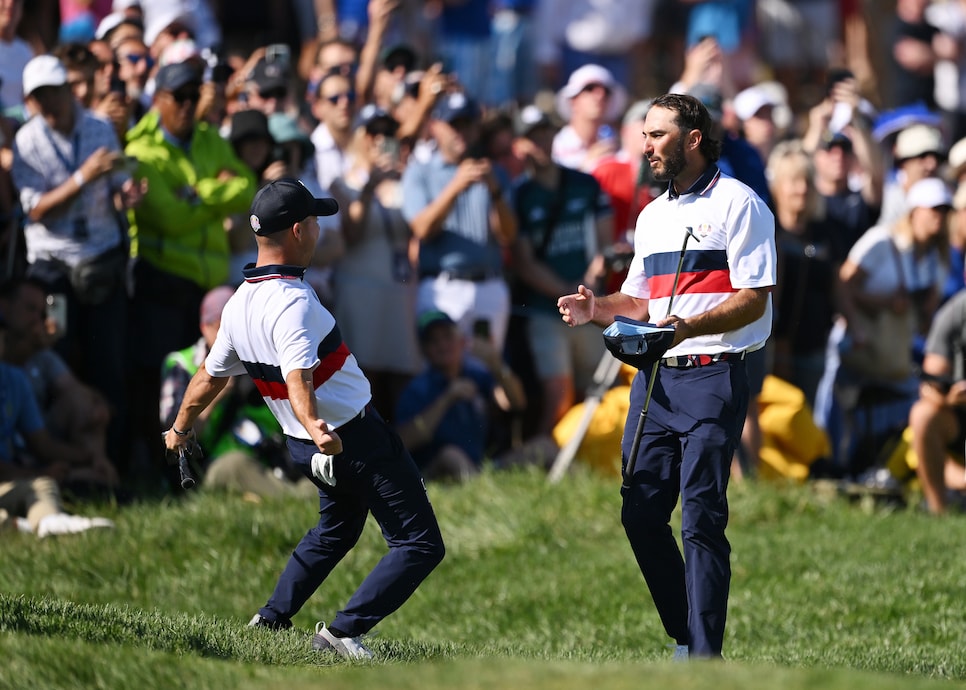 ROME — Swagger has no kinship with self-awareness. It only lives in the moment.
In the 11th match of the 44th Ryder Cup, the U.S. team finally put a win on the board when rookies Max Homa and Brian Harman defeated Shane Lowry and Sepp Straka, 4 and 2, in Saturday's third foursomes match. The pair celebrated with a deep embrace, Homa lifting his diminutive partner off the ground as they bro hugged.
But it was in the seconds before that when Homa did a little bit of showing off. Why not? The Americans have had so few moments to savor as they fell even farther behind, losing the session 3-1 and trailing Europe 9½-2½.
Facing a tricky chip shot above the hole at the par-4 16th hole, Homa clipped the ball perfectly and on line. As it rolled to within a foot or two of the cup, Homa began walking toward Harman and took off his cap. The ball dropped neatly into the hole for a winning eagle and America's first full point
"We needed something to go our way," said Homa, who improved to 1-1-1 for the week. "I felt like we were ready this morning. We were ready to come out and play some great golf, which we did. Somebody had to start a spark, so I'm just glad it was us."
As for his rather cocky gesture to get the only U.S. victory thus far, the California native wasn't asked about it. But it spoke volumes about his confidence.
MORE FROM GOLF DIGEST @ THE RYDER CUP