Got your back
Ryder Cup 2023: Why they work—America's two best chemistry duos explain their magic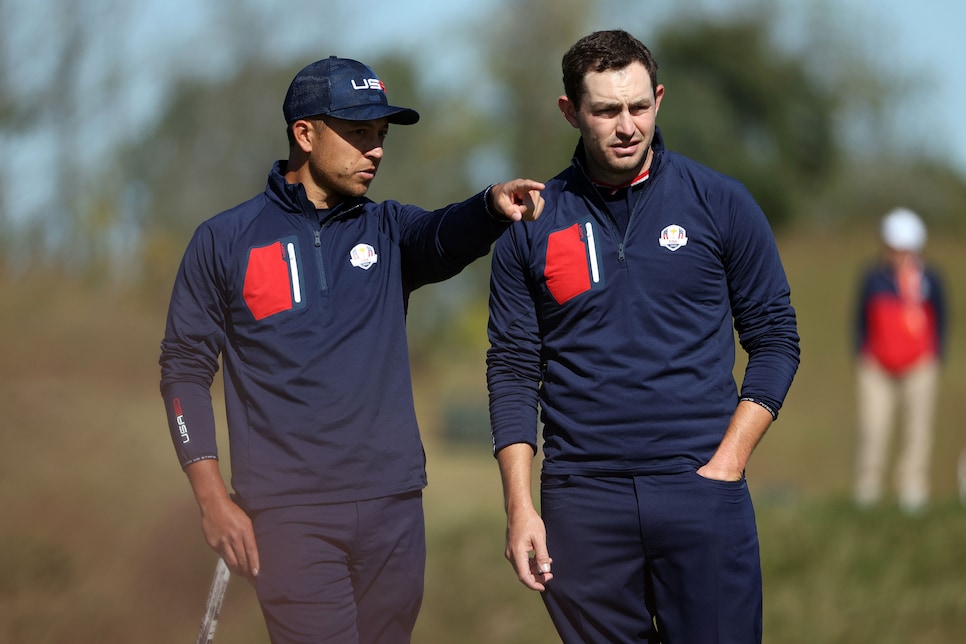 ROME — Ask Patrick Cantlay to name a quality that his friend and Ryder Cup teammate Xander Schauffele has that he doesn't, and you won't wait long for his answer:
The unspoken part—and the reason people in the media center laughed at the response on Tuesday afternoon—is that Cantlay himself is well known for not being the sunniest customer in the room. ("The nice way to say it is that I'm a realist," he said later.) So, does this contrast in personalities play out when they're paired together as teammates on the course?
"All day," Cantlay confirmed. "He's just great to be out there with. Any situation that we're in, he seems like he feels comfortable, so I'm not worried about him or feel like I could ever do anything wrong. … He's like Tony Robbins out there. He is impressively positive."
Ask Schauffele the same question about Cantlay, and after a joke—"positivity!"—he'll complete the yin and yang equation.
"He's really measured," Schauffele said Tuesday. "He's super measured, and I appreciate it. A lot of my friends growing up are more measured now than they used to be. But for how young he is, he's extremely measured, and I appreciate a lot of his takes on several things. We both have a pretty dry sense of humor, so we do mesh when it comes to that stuff."
But despite Cantlay's own self-evaluation, Schauffele did insist there was an element of positivity within his friend.
"We do talk while we're walking," Schauffele said. "Words of reinforcement, not that he ever needs it, but he knows how I like to sort of dig in. And no matter where we are on a hole, fortunately he usually puts me in the fairway, where if he's chipping, he chips me to tap-in and things like that. He's an easy person to lean on to stay positive."
Chemistry is a difficult thing to define in any human relationship, and we probably won't arrive at the complete answer anytime soon, but in cases like Schauffele and Cantlay, it can be measured fairly easily in results. The two have now played together in two Presidents Cups and a Ryder Cup, and their record when paired as partners is 6-3—including an astounding 5-0 in foursomes matches. On Tuesday, Cantlay all but gave away an open secret that apparently does not need to be guarded, which is that they'll play together Friday morning in foursomes (and if you're curious, Cantlay will tee off on the odd holes). We don't know what spot in the order they'll occupy—the pair were the anchor match in the first session at Whistling Straits, while they led off at the Presidents Cup in Charlotte—but we know they'll be there somewhere, and we know they'll be an intimidating pair to whichever European team they meet at Marco Simone.
And if their record sounds impressive, wait until you hear about the other American duo whose partnership is written in stone: Jordan Spieth and Justin Thomas. They've played as partners in the same number of events—two Ryder Cups and one Presidents Cup—and their record is 8-2, with a perfect 4-0 mark in four-ball and a 4-2 record in alternate shot. Like Schauffele and Cantlay, there is absolutely no mystery about whether or not they'll play together. The only mystery is why they work so well.
"I think we are eerily and scary similar in a lot of ways," Thomas said of his longtime best friend, and anyone who has tracked their lives and careers would have trouble disagreeing. But when it came to finding a difference, he struggled.
"What makes us different? It's a good question. I just think we view some things differently. I feel like you ask us the same question, it's one of those things, hey, how do you get here, we could tell you how to get there, but we are going to tell you how to get there different ways. That could be it."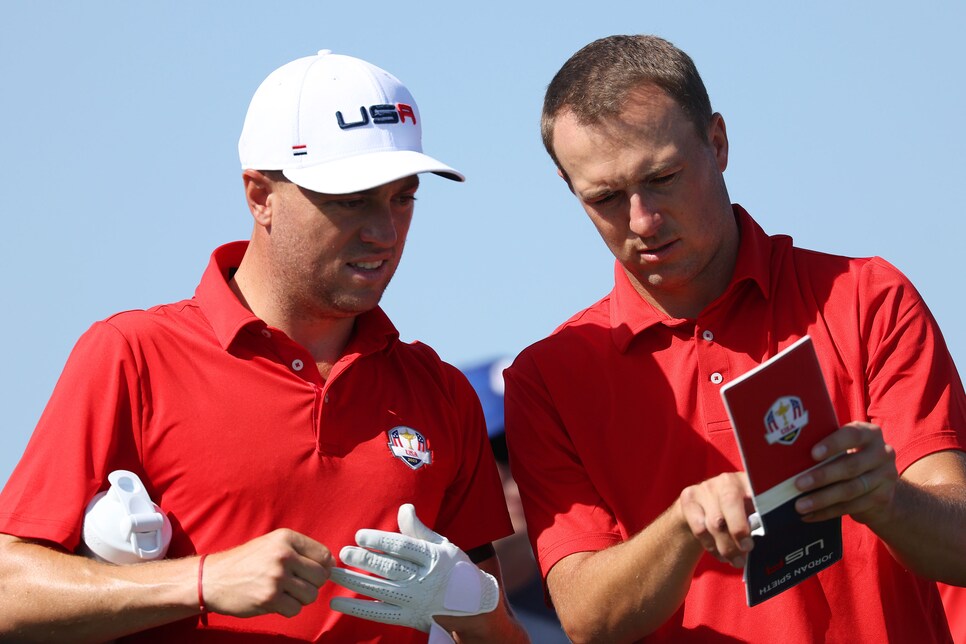 In turn, Spieth described his friend as someone who has turned into a "backbone" for the American team.
"To answer your question on why he's successful," Spieth said, "the elevated pressure and honestly the away games, and kind of the opportunity to … raise the crowd up, the home crowd, but also to quiet down and upset them here. He loves doing that, and it creates maybe just a little extra level of focus for him."
On one hand, with Schauffele and Cantlay, you see to some extent a study of opposites. Same sense of humor, sure, but one with more positive energy, and one more realistic. In this case, the opposites fuse and form something greater than the sum of the parts.
"We just have a really good time, and when we get things going, it sort of feels like we kind of kick into cruise control," is how Schauffele explained it.
But with Spieth and Thomas, the similarities far outweigh the contrasts, and clearly familiarity with each other, through each other, has not bred contempt.
Of course, we can talk about chemistry all day, but match-play golf remains a sport measured by objective results. When you take the measure of all the chemistry, it must translate to tangible results. which is why Spieth likely deserves the final word here, in a succinct summary of what makes his friend Justin Thomas so good.
"I've been beside him for these Ryder Cups," he said, "and he quite simply plays better golf than the guys across from him."
MORE FROM GOLF DIGEST @ THE RYDER CUP