Man with a plan
Ryder Cup 2021: Jordan Spieth says Steve Stricker is the most prepared captain he's seen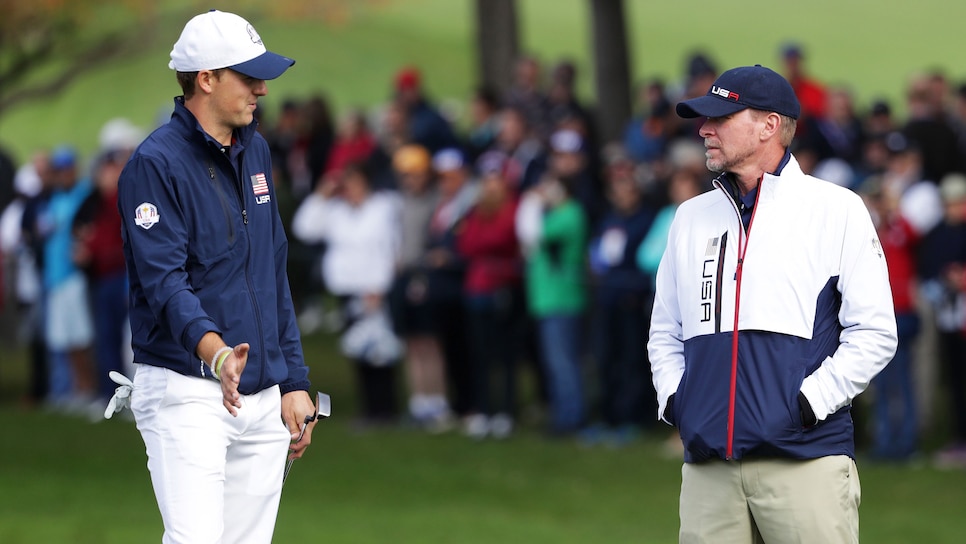 Jordan Spieth speaks to vice-captains Steve Stricker ahead of the 2016 Ryder Cup.
Streeter Lecka
HAVEN, Wis. — There's an interesting dichotomy between Team Europe and Team USA in terms of veteran experience this week at Whistling Straits. On the European side, there are four players older than 40, with 29 Ryder Cups between them. On the American side, there are just three players who have played more than a single Ryder Cup, and the second-most experienced player is 28-year-old Jordan Spieth. If you want a player's perspective on Ryder Cups past, he's where you turn for the American side of the story. And according to him, Steve Stricker has done a thorough job of preparing his team for the challenge facing them this week in Wisconsin.
"For every meeting that we've had and everything we've talked about," Speith said on Tuesday during his pre-tournament press conference, "it seems, wow, these guys, we didn't even need to have a practice round and they've got a lot of it figured out."
Spieth has played for three other captains: Tom Watson in 2014 at Gleneagles, Davis Love III in 2016 at Hazeltine National and Jim Furyk in 2018 at Le Golf National. He's got a win under his belt, along with two blowout losses in Europe, but he's been singularly impressed with Stricker's approach so far in 2021. He's also played for Stricker at the 2017 Presidents Cup, not to mention played with him at the 2013 Presidents Cup, going 2-1 in three matches as a two-man team.
"There's no ego with Strick," Spieth said. "He'll listen to anybody about anything. If you're comfortable in a setting, if you're not. I think he's made the rest of the team feel that way ahead of time. Certainly, I think things can adjust, but as far as how prepared you can be on Tuesday for a Friday start, I would say it's probably the most that I've seen in the four cups."
That's a ringing endorsement, and it aligns with Stricker's own stated approach. In his past few interviews with the press, the American captain has emphasized preparation, and he returned to that theme on Monday.
"I think my message from Day 1 is to try to out-prepare," Stricker said, sitting beside European captain Padraig Harrington. He had mentioned his plan to inform his players early about when they would play, and with whom. "Give them enough lead time, give them some notice when we are going to play so they can prepare and prepare well to go out and play."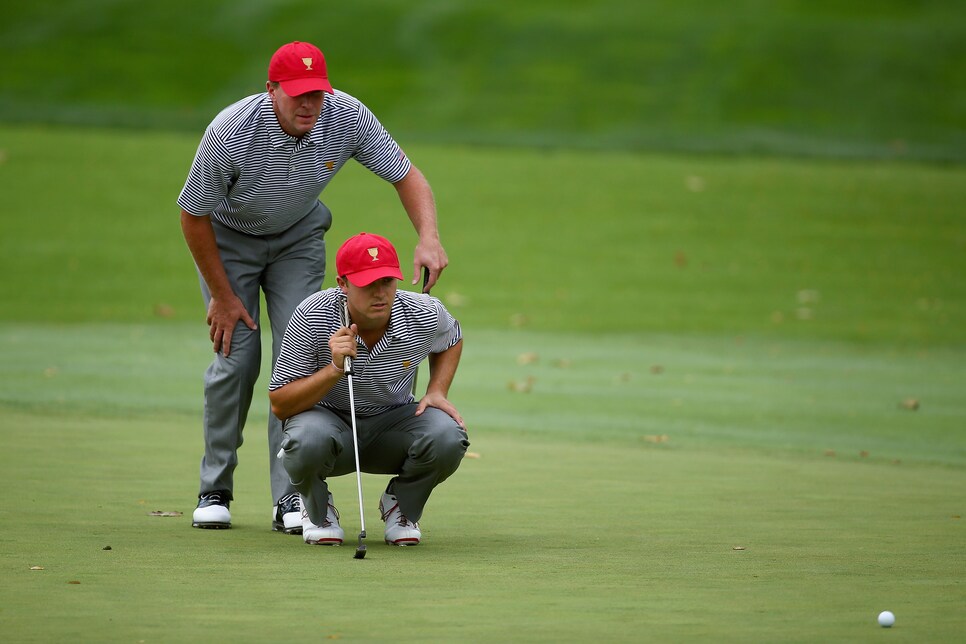 Spieth and Stricker went 2-1 when paired together at the 2013 Presidents Cup at Muirfield Village.
Andy Lyons
As a potential contrast, on Tuesday Viktor Hovland said that pairings for Team Europe were still pending.
"It's still to be determined," he said. "As we all do, we say who we want to play with, and then we just kind of use these days to figure out, 'OK, is this a good fit or not, do we work together?' And then we kind of go from there. Other than that, I don't really know."
Ryder Cup week is full of small stories and bits of incomplete information, and they are inevitably analyzed to death, but it's still interesting to note the difference between the two approaches, and the difference between the approach Harrington is taking compared with how Paul McGinley established pairings well in advance at Gleneagles. It may prove irrelevant in the long run, but it may also be the first sign of the developing preparation gap between the two teams.