Ryder Cup
Ryder Cup 2021: Worry not, American fans—Collin Morikawa is looking like Collin Morikawa again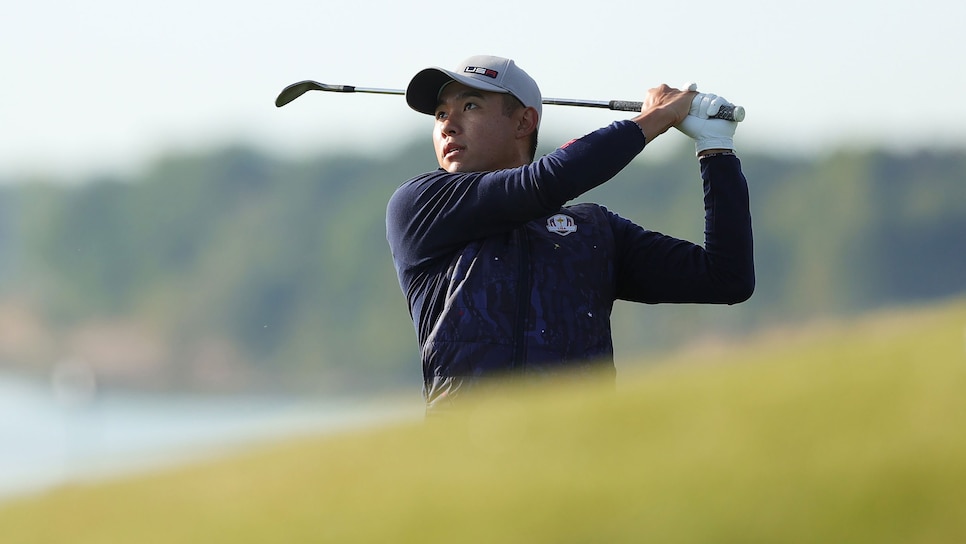 Collin Morikawa played well in his first Ryder Cup appearance, pairing with Dustin Johnson and winning their foursomes match, 3 and 2.
Stacy Revere
HAVEN, Wis. — On Wednesday at his press conference, two-time major champion and U.S. Ryder Cup rookie Collin Morikawa had a simple message about his form prior to the start of competition.
"I was talking with Xander yesterday," Morikawa said, "and he looked at me, and he's like, 'You're back.' And I was like, 'Yeah, I'm back.'"
Judging by his foursomes match on Friday morning, a 3-and-2 victory with Dustin Johnson over Europe's Paul Casey and Viktor Hovland, he's as good as his word.
It started inauspiciously with his opening drive yanked hard to the left on the first, but bounced back to bury a nine-foot birdie putt to win the hole, and from there it was off to the races.
On the third hole, a 190-yard par 3, he backed up his reputation as the PGA Tour's best iron player with a dart to seven feet, and though they lost that hole and the next, a wedge to 11 feet on the sixth and a 214-yard drive to 22 feet on the par-3 seventh turned a 1-down margin to 1 up, and validated the American decision to have Morikawa tee off on the par-3s. When Dustin Johnson pulled his drive on eight far to the left, a 217-yard recovery shot from Morikawa led to an important half, and a flop shot to three feet, which may have been the shot of the match, preserved the narrow lead through 10.
The hits kept coming—a 340-yard drive on 11, leading to another win, a strong approach on 14, and another 322-yard cannon from the tee on 15. Then came the killer blow, after Johnson's drive on the par-5 16, when Morikawa sent a 3-wood 231 yards and about a mile high to the par-5 green. As the Europeans failed to make birdie, it was left to Morikawa to finish the match with a short putt—and secure the first point for America.
Following the match, Morikawa credited his teammate (Johnson will be playing in the afternoon four-ball session with Xander Schauffele, while Morikawa will sit out).
"Dustin has been one of the best players in the world for a long time," he said, "and to have someone like that, to have my first match in the Ryder Cup, I trust him a lot and it felt very comfortable. Thankfully I've been able to build a friendship with him and it's very easygoing. We are out there playing like another day trying to win and make as many points and birdies out there, and we just found a little groove."
"Even though it's his first Ryder Cup, obviously he doesn't play like [a rookie]," Johnson said.
When you're "back," it means you've come through a period of struggle, and that was too true for Morikawa, whose brilliant mid-summer—including the Open Championship victory—faded in late August with season-worst performances in all three FedEx Cup Playoff events. The problem, according to Morikawa, was a lower-back muscle issue, and his ill-fated decision to play through it.
"The biggest thing I learned from those three weeks was to never play injured," he said Wednesday. "I think I've learned that. I'm never going to do that again, no matter what it is. It built bad habits into my golf swing."
Between the end of the playoffs and the Ryder Cup, Morikawa re-discovered his trademark cut and exorcised those bad habits, and now his run of incredible early career success continues with the first Ryder Cup point of his career.
MORE RYDER CUP STORIES FROM GOLF DIGEST