News
Ryder Cup 2018: Europe clinches Ryder Cup with fabulous Sunday performance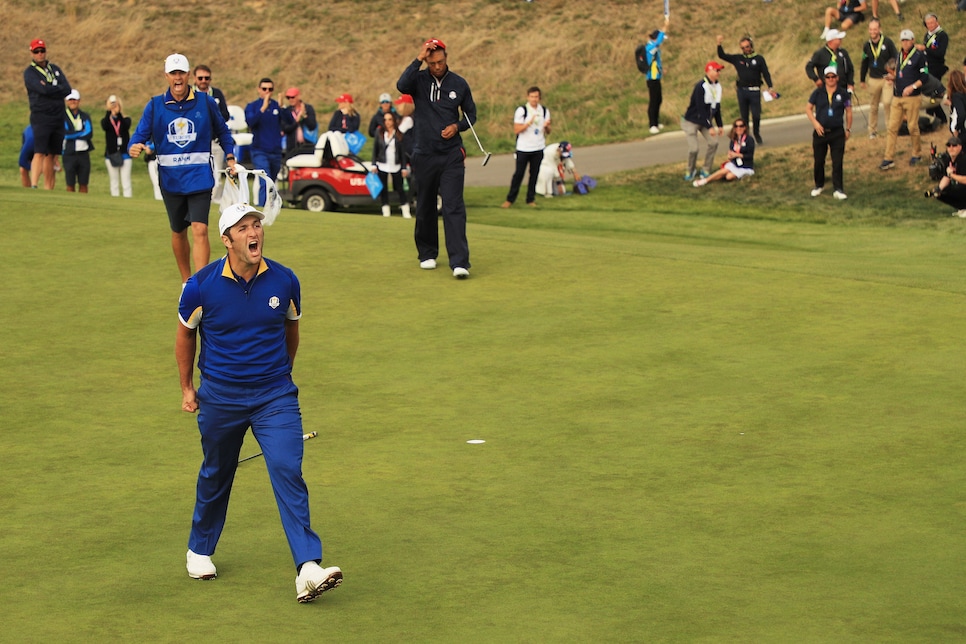 After dominating the Saturday morning fourballs session at Le Golf National, it looked Europe was on their way to a victory lap in Sunday singles. But the U.S. team, led by Justin Thomas and Jordan Spieth, was able to salvage an afternoon split to stay within striking distance. Being down 10-6 is nothing new for either team in the Ryder Cup, as they've each mounted a memorable charge in the past, Europe in 2012 at Medinah and the United States in 1999 at Brookline. Will Le Golf National be the latest site of a historic Ryder Cup comeback?
For the U.S. to make it happen, it's essential to put up as many red flags on the board early, something captain Jim Furyk had in mind when sending out the red-hot Thomas, Brooks Koepka, Webb Simpson and Tiger Woods in the first four matches. This is the group tasked with grabbing the early momentum, but even if they can, European captain Thomas Bjorn has his big guns waiting in the middle of the pack. Tommy Fleetwood and Francesco Molinari, who went 4-0 as a team, will go off in the fifth and ninth matches respectively, with Fleetwood taking on Tony Finau and Molinari taking on Phil Mickelson. If "Moliwood" can pick up two points on their own, Europe will only need 2.5 points from the other 10 guys to win the cup.
It seems to be a tall task, especially for an American team that's looked lifeless and just plain bad at times, but crazier things have happened in Sunday singles. The U.S. needs eight points to retain the cup, while Europe needs only 4.5 to win it. We'll have you covered right here with all the important updates.
11:05 a.m.: That does it. Mickelson dumps his tee shot in the water on 16 and concedes on the tee box. Sums up the week. The Europeans have won the 42nd Ryder Cup.
A few matches remain on the course, but the only thing in doubt is how bad the beating will be. Thanks for reading this weekend!
11:00 a.m.: Poulter seals the deal with an approach to 10 feet or so, while Stenson goes dormie. DJ misses his putt, conceding the win. Mickelson and Fowler are both dormie, meaning the Europeans have won it.
10: 50 a.m.: Because this blog will be done by the time the match is, Henrik Stenson is 5 up on Bubba with six to go. Thought that was worth mentioning.
10:40 a.m.: Poutler misses out on the death blow, and now the match moves to the 18th. Just delaying the inevitable.
10:35 a.m.: The countdown is on to see who might secure the clinching point for Europe. Fittingly it could be Sergio Garcia, who was a questionable captain's pick but is closing in on a win against Rickie Fowler.
10:30 a.m.: Rahm unleashes a primal scream as he defeats Woods 2&1. DJ manages to get one back from Poulter at the 16th, but is still 1 down. The Europeans need just two more points, and they are leading four matches on the course.
10:20 a.m.: Olesen puts Spieth out of his misery, 5&4. Poulter is about to close out DJ. Tiger, down 1 to Rahm, is in trouble on 17. That dream is about to die.
10:10 a.m.: Uh-oh. Ian Poulter is doing Ian Poulter things, wins the last two holes to go 1 up and Dustin Johnson.
10:00 a.m.: Koepka manages a tie, while Finau finishes off Fleetwood 6&4 and Webb defeats Justin Rose 3&2. It's now 10.5 to 9.5, but the Europeans lead five matches on the course, and they need just four more points to win the cup.
9:45 a.m.: Casey puts his approach on the 18th to 20 feet, while Koepka finds the greenside bunker. If he didn't manage a tie, it is essentially over for the U.S.
9:35 a.m.: McIlroy finds himself in a fried egg, can't advance it out of the bunker, and puts his third in the drink. Thomas puts his approach to 10 feet, and the match is conceded. US gets first point on the board.
9:24 a.m.: DJ drops a 60-foot bomb to go 1 Up on Ian Poulter. On the 18th, Thomas finds the fairway while Rory is way back in the deep rough. It's starting to happen, folks.
9:17 a.m.: Finay makes a putt that travels 360 degrees around the cup, and Fleetwood can't answer. Finau is 5 up thru 11.
Also of note: Jordan Spieth is getting smoked, 5 down thru nine holes. He's winless in five previous US competitions.
9:05 a.m.: See below. Rorry misses his third easy putt in the last three holes, this one to get a 1 up lead on JT.
8:55 a.m.: Rory misses another putt, and the JT-McIlroy match is tied again. And thanks to a flurry of putts from Koepka, BDC and others, only two matches are in total European control. There is a glimmer of hope.
8:45 a.m.: Tiger Woods welcome to the the Ryder Cup! Woods has a marvelous approach from 240 yards to set up an eagle attempt, and buries that putt with energy. Still down 1 to Rahm, but first signs of life we've seen from Big Cat all week.
8:40 a.m.: Rory McIlroy missed a four foot birdie—remember when he yelled "I can't putt?" this week?—but Thomas answers with a three-jack. Only two red flags on the board at the moment.
8:30 a.m.: After a chunked chip shot, Thomas is looking at a 1 down deficit...until he chips his fourth in. What at match.
8:20 a.m.: Mickelson is 2 down after three, as Molinari can't be stopped. Paul Casey goes up 1on Kopeka, while Thunderbear is now 2 up on Jordan Spieth. Still early, but not the start the U.S. wanted.
8:14 a.m.: Thomas squares the match at the 10th with a long birdie putt, then halves the 11th after McIlroy misses a short birdie putt. JT is trying to get the American team going, and it may be working. Webb Simpson just took a commanding 3 up through eight lead on Justin Rose, while Tony Finau is 2 up through six on Tommy Fleetwood, who just missed another short putt.
Dustin also just cut into Ian Poulter's lead with a birdie at the fifth, and Rickie Fowler is now just 1 down to Sergio Garcia after a birdie at three. All of a sudden things are maybe going the Americans' way, although Tiger Woods just went 2 down to Rahm. This could end up being a all-time bad week from the 14-time major champion if he can't turn that one around.
8:01 a.m.: Poulter makes birdie at four to go 2 up on Dustin Johnson. There may be 14 holes left, but would anyone bet on DJ to come back in that one?
7:58 a.m.: Big moment just now at the par-4 fifth, as Tommy Fleetwood misses what looked liked a fairly straightforward par putt to lose the hole to Tony Finau. U.S. now leads in three matches.
7:54 a.m.: Thomas and McIlroy have made the turn and Rory leads 1 up after a sporty up and down from a greenside bunker at the par-5 ninth. JT can't really afford to halve this match. The U.S. needs that first point to make this interesting.
Meanwhile, both Rickie Fowler and Phil Mickelson just lost a hole, putting Fowler in a 2 down hole to Sergio and Phil 1 down to Molinari. Europe now leads five of the 10 matches on the course, and it was six before Jordan Spieth won his first hole at the third to square the match with Thorbjorn Olesen.
7:49 a.m.: Every time a European player looks like he may give a hole away, they somehow halve it, like Rahm just did to Tiger at the fifth hole, rolling in a testy par putt to keep a 1 up lead.
7:40 a.m.: Huge birdie at the par-3 eighth from Justin Thomas, who lets out a loud "COME ON!!" as it drops. He now trails McIlroy just 1 down as they head to the ninth hole.
Behind JT, Koepka and Simpson each lead their matches 1 up, and Tiger had a chance to square his match with Rahm but badly missed a short par putt to stay 1 down.
After going 2 down to Tony Finau, Tommy Fleetwood answers right back with two wins of his own and squares the match. Ian Poulter, Thorbjorn Olesen and Sergio Garcia lead the next three matches on the course 1 up. It's getting early late for the U.S. team.
7:32 a.m.: Dustin Johnson vs. Ian Poulter is a match captain Jim Furyk had to feel good about, but the world No. 1 is down early after putting one in the drink at the par-3 second. Very early, but this is one the U.S. will need.
7:17 a.m.: The once unstoppable Tommy Fleetwood is suddenly human, as he drops the opening to holes to go 2 down to Tony Finau, who owns a much more modest record of 1-1 as a Ryder Cup rookie. Seven matches are on the course, with three red flags on the board, two European and two matches all square.
7:09 a.m.: Another win for Webb at the third, giving him a 2 up lead on Rose. Maybe this guy should have played all four previous sessions?
In the first match off, JT made par and looked like he was going to cut into McIlroy's two up lead, but the Northern Irishman holed a hard left-to-right breaking putt to halve the hole. All of a sudden, he can putt.
7:04 a.m.: If you're just tuning in, or if you've been watching, it's an all-too-familiar scene in France, with more blue flags on the board than red. The good news for the U.S. is that it's just two blue flags out of the first five matches, with Rory McIlroy 2 up on Justin Thomas through four and Jon Rahm 1 up on Tiger Woods through two. Paul Casey and Brooks Koepka are all square through four, and Webb Simpson leads Justin Rose 1 up through two.