News
Ryder Cup 2018: Jordan Spieth and Justin Thomas keep hope alive for U.S.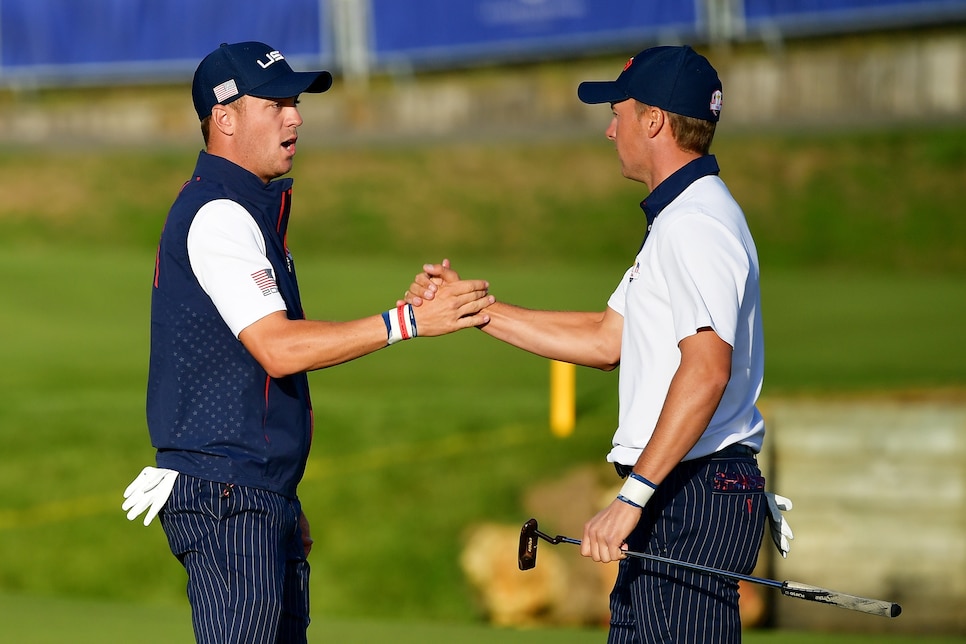 SAINT-QUENTIN-EN-YVELINES, France – If the United States Ryder Cup team can somehow manage to pull off a Medinah reversal Sunday at Le Golf National, it can thank Jordan Spieth and Justin Thomas.
With their squad staring at annihilation at the hands of an inspired European team, Spieth and Thomas delivered two clutch points on Saturday with wins in four-ball and foursomes, respectively. The first halted the Europeans' record eight-match winning streak that had started with Friday's final four-ball match. The latter, on the heels of USA's first foursomes win by Webb Simpson and Bubba Watson, drew the Yanks within 10-6, a score that both teams know well can be overcome.
USA did it first with its rally at The Country Club in Brookline, Mass., in the 1999 Ryder Cup. Europe pulled it off under more unlikely circumstances, shocking the Americans at Medinah Country Club near Chicago in 2012. On each occasion, the winning team captured 8 ½ of an available 12 points, though Europe needed 8 points to retain the cup in 2012.
That's the scenario facing the Americans on Sunday. As winners in 2016 at Hazeltine, they can escort the cup back to the USA with a 14-14 tie. It would be only the third tie in Ryder Cup history, following 1969 and 1989. Eight points would do it.
Spieth and Thomas, with a 3-1 record together, already have contributed half of their team's scoring output. And, of course, the 25-year-olds will play a crucial role in America's bid to conjure a miracle.
Thomas will be charged with getting the USA comeback started, leading off against Rory McIlroy in one of the two most potentially explosive matches – the other being Tiger Woods vs. Jon Rahm. Spieth is solidifying the middle of the lineup, going out seventh against Thorbjorn Olesen.
"If we can get two or three points out of those first few matches, it could start to get pretty quiet around here," said Spieth, playing in his third Ryder Cup. "That, obviously, will be the goal. They had a six-point lead, and now it's four, so we are carrying that as a little bit of momentum, I guess. Early wins tomorrow go a long way."
So do wins on late Saturday. Davis Love III, captain in 2012 and '16, has said that after the very first match on Friday, the second most important is the last on Saturday. And under withering pressure, Spieth and Thomas rallied from an early 2-down hole to beat Ian Poulter and Rory Mcilroy, 4 and 3.
"There's nothing better than going out and getting a point for your team – and with one of your best friends," said Thomas, a Kentucky native who lives in Jupiter, Fla. "We have each other's backs. We talked about this for so long, and to be out here and do it at the biggest stage, there's nothing better. Playing your golf is playing your golf, but getting a point for your team, for your country is huge.
"Every point is so big out there," Thomas added. "We definitely couldn't afford to lose the session this afternoon. We would have liked to have won it, but we gave ourselves a chance."
It was a slight gamble for U.S. captain Jim Furyk to split up the formidable pairing of Spieth and Patrick Reed; the duo was 4-1-2 together in Ryder Cup play and 8-1-3 in combined Ryder Cup and Presidents Cup competition.
But Spieth and Thomas, a rookie who teamed with Rickie Fowler and Daniel Berger in last year's Presidents Cup, are a better fit, playing with and against each other for more than a decade starting in junior golf. They were Junior Ryder Cup teammates in 2010.
Meanwhile, paired with Woods this week, Reed, the reigning Masters champion, struggled to live up to his Captain America persona. Maybe all this time he was Captain Sidekick to Spieth.
A three-time major winner, Spieth had two things going for him when he arrived in this town southwest of Paris. One was he was rested after missing the Tour Championship, the only member of the American squad who had a week off. That break also enabled him to sharpen his game – and he has been sharp. Secondly, having not won in 2018, the Dallas native was motivated to contribute.
"I had two weeks off, which was nice, but I had been trending in the right direction as the season has worn on," he said. "I had a couple weeks to rest, so I am able to go five matches, if need be, and to be able to have some of our best golf come out on the second day of playing 36 holes. Honestly, I love this feeling. It feels like being in contention in a major."
Furyk, a member of both the winning '99 team and the losing '12 team, couldn't say enough about his anchor duo.
"Those guys went out for four matches, won three of them. Had some really hard-fought, tough matches," Furyk said. "I've been in that position they were in this morning where you're the last match out on the golf course. The tide has turned. We lost 4-0 last night. They went out in the morning, and first three matches, you know, towards the end of that day, we're down and looked like they were going to lose and they were on an island a little bit. They gutted it out and got it done. So it was a nice spark for us and good for our team to see, and then they got one of the two points in the afternoon, as well.
"I love their feistiness," the captain added. "They play very, very well together. They understand each other's games. Sometimes I'm not exactly sure what they are talking about; the language is a little different that they have. It's like mental telepathy or something, but it's worked out really good. It's fun to listen to. I'm starting to pick up on some gibberish."
One thing is easy to decipher: the importance of that last match. When he sank a 10-foot birdie putt on the 15th green to close out Poulter and McIlroy, Spieth let out his emotions – and maybe delivered a message of sorts, when he pounded his chest with his fist, as Poulter likes to do.
Fuyrk understood the significance. He saw the symmetry. He grinned thinking about it.
"I guess the last time I saw that on a Saturday four points down it worked out pretty good for the other team, so hopefully it sparks us tomorrow," he said.
Indeed, it was Poulter, playing with McIlroy, who ignited Europe's Sunday rally at Medinah with an emotion-fueled run of birdies that delivered a crucial point in the final four-ball match Saturday evening. That clawed Europe's within four points, making its miracle rally possible.
This time Poulter had to watch Spieth make the final putt of the day to breathe life into USA.
Symmetry indeed. The script is set. It just needs an ending. And thanks to best friends Spieth and Thomas, that ending still is in doubt.