News
There is no such thing as momentum in the Ryder Cup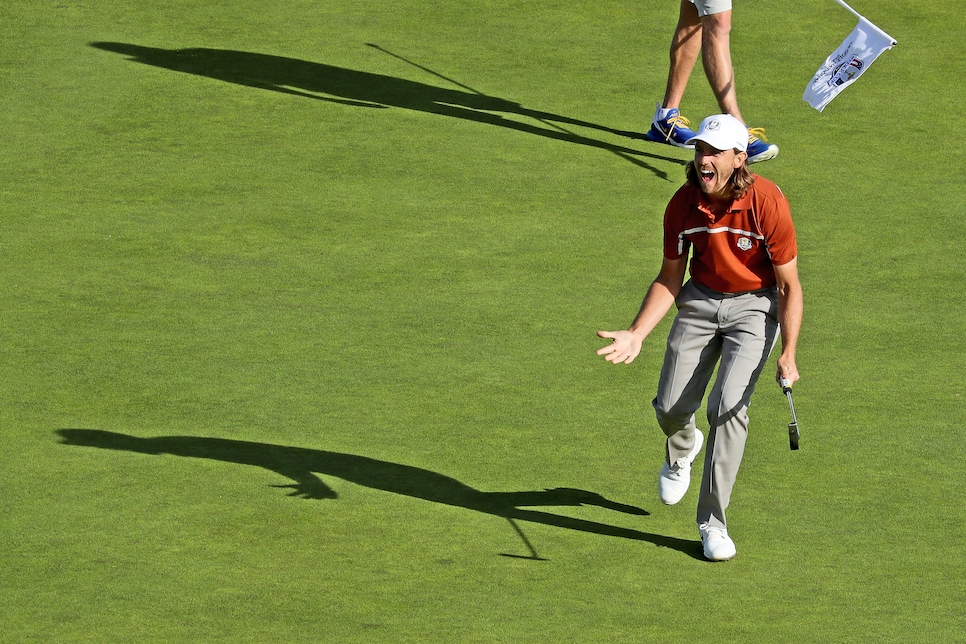 We often hear about momentum shifts in the Ryder Cup, a dynamic we can't quite see but often claim to sense. The U.S. jumped to an early lead on Friday on the hot putting of Jordan Spieth and others, but the Europeans seized back control in the afternoon and into Saturday — one blue flag on the scoreboard giving way to another.
The common narrative around momentum is that it's an energy pulsing through an event, positive flow begetting more positive flow, and sometimes just the opposite. If you subscribe to the teachings of the author and social psychologist Amy Cuddy, whose popular book Presence describes the power of body language, a positive momentum shift helps infuse confidence, which puts the participant in a better position to execute. In Cuddy's view, even a golfer's posture between shots can help feed momentum. "When you feel powerful, all of a sudden you see challenges not as threats but as opportunities," Cuddy told Golf Digest in 2016. "You're much more likely to want to compete. Your executive function is better, so you can think more clearly."
In the context of the Ryder Cup, you can see how this might work. Team Europe sees putts go into the hole, which fuels the belief that more putts will go into the hole, which leads to positive body language . . . which leads to more putts going into the hole. Conversely, the greater the sense of panic permeating through the Americans when they start faring poorly, the greater the chance their poor play will only continue.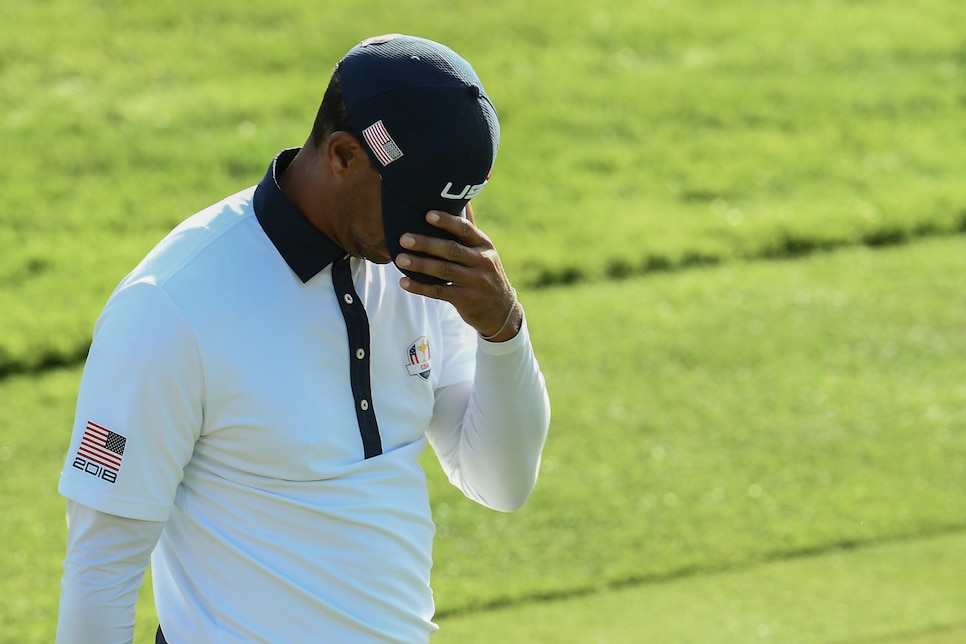 Faced with a four-point deficit heading into Saturday afternoon, U.S. captain Jim Furyk was asked on TV how to turn his team's fortunes around.
Furyk's response: "We've got to get some momentum."
The problem with this argument, according to the sports psychologist Fran Pirozzolo, is that it draws a connection between belief and execution that doesn't exist.
A mental skills coach who has worked with professional golfers, Major League Baseball players and soldiers, Pirozzolo has railed against the misplaced role of confidence in sports psychology, often saying it does more harm than good. Focusing on momentum, he says, is flawed for the same reason.
"It's just another narrative fallacy in sports," Pirozzolo says. "The 'momentum' thing is not a valid performance enhancement factor. It is a subjective emotional factor caused by the brain's habit of being satisfied by an explanation that has no obvious contradictions."
As Pirozzolo puts it, an emphasis on momentum, whether positive or negative, shifts attention away from the concrete factors that play into success or failure. He doesn't disagree that positive energy can make someone feel good standing over a ball. "But that doesn't have anything to do with what comes next," he says.
If anything, Pirozzolo says, buying into something as nebulous as momentum clouds perception. He compares it to being asked to dinner with a friend and originally saying you don't want to go for a variety of reasons. If the friend continues to sell you on the merits of the restaurant, it might make you feel better about going, but it doesn't necessarily eliminate the elements you were concerned about in the first place.
Similarly if a golfer is staring at a tee shot at a tucked pin over water, positive momentum might encourage him to go right at the flagstick. But there's still just as good a chance he plunks his approach into the pond.
"You stop sampling the reasons that you may not succeed," he says.
"We're still dealing with a small sample size," Pirozzolo says. "He only had xx putts from inside 10 feet and he made all of them. It's a better predictor over a longer term."