News
Ryder Cup 2018: U.S. in need of miraculous Sunday as they face 10-6 deficit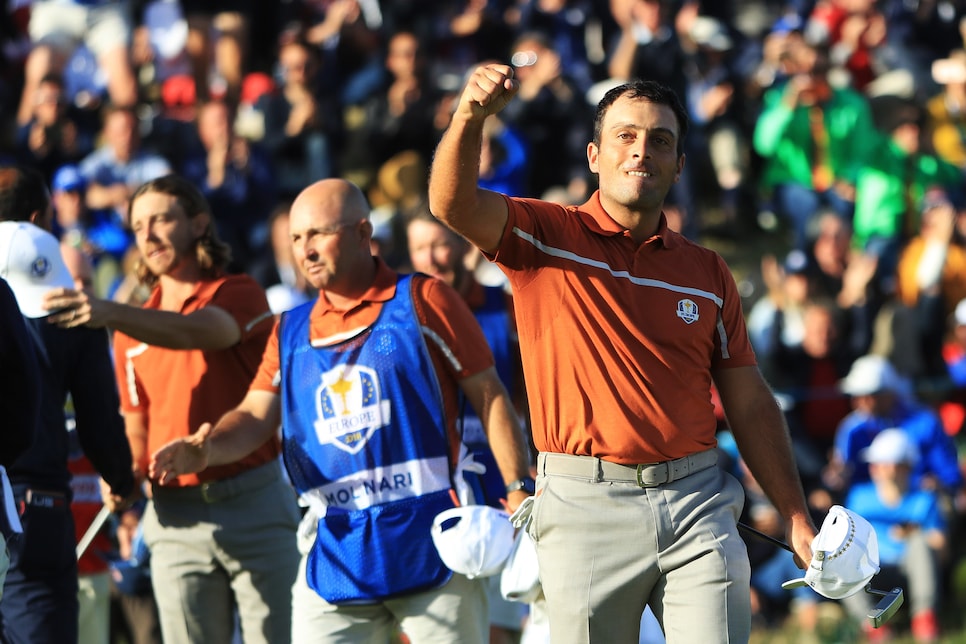 The United States team was in need of an early spark on Saturday at Le Golf National following an ugly Friday afternoon that saw them lose the last five matches of the day. What they got was anything but, as blue flags covered the board early and often. They were able to salvage two points in the afternoon, but for the second straight day, Europe took five of eight matches, putting the U.S. in a 10-6 hole heading into Sunday singles.
Rory McIlroy and Sergio Garcia sent an early message, taking a 4 up lead through eight holes on Tony Finau and Brooks Koepka, an underrated duo from Friday fourballs that golf fans were clamoring for the return of Saturday morning. Even though they mounted a late charge, they would ultimately disappoint, as McIlroy and Garcia closed them out on the 17th to win 2 and 1.
Behind them, the all-English pairing of Paul Casey and Tyrell Hatton quickly disposed of world No. 1 Dustin Johnson and partner Rickie Fowler, beating them 3 and 2 to secure their first points of the week. Francesco Molinari and Tommy Fleetwood tacked on another point in the third match off, crushing Tiger Woods and Patrick Reed, 4 and 3.
In a blink, Europe led 8-3, a cushion that could have been made insurmountable if not for some late clutch putting from Justin Thomas. He and Jordan Spieth hung on to defeat Jon Rahm and Ian Poulter 2 and 1, securing the U.S. team's only point of the morning session and cutting the deficit to 8-4.
Not even a Johnson-Koepka pairing could ignite the U.S. in the early afternoon, as they fell 2 and 1 to a pair of European stalwarts, Henrik Stenson and Justin Rose. Rose opened the door for Koepka and Johnson to get back in the match with a crucial missed birdie putt at the 15th hole, but Stenson quickly shut it, holing two massive par putts at 16 and 17 to leave Johnson with a 1-3 record for the week, and Koepka 1-2.
Europe's 9-4 lead grew larger when the duo now known as "Moliwood" continued to roll, once again over Woods, who was this timed paired with Bryson DeChambeau. The match was never close, as Fleetwood and Molinari essentially one-upped each other with made putt after made putt. It was Molinari who holed the winner though, making it 10-4 Europe as the final two matches came down the stretch.
In those final two matches, the U.S. was able to end the day on a high note, winning both to make it 10-6. Bubba Watson and Webb Simpson, a team not expected to roll over anyone, did just that to Sergio Garcia and Alex Noren, winning 3 and 2. Spieth and Thomas finished off a 2-0 day as a team at the par-4 15th, defeating McIlroy and Poulter 4 and 3.
The deficit is not insurmountable, as both teams have harshly learned before. The most recent team to overcome it in Sunday singles was the European team in 2012 at Medinah, and before that the Americans at Brookline in 1999. The 2018 U.S. team is in need of a similar miracle tomorrow at Le Golf National, though they only need to tie to retain the cup. Eight of a possible 12 points will be enough to do it, a task that seems unlikely based off Friday afternoon and Saturday's performance.