News
Ryder Cup 2018: Sergio Garcia becomes all-time Ryder Cup points leader, gets extra emotional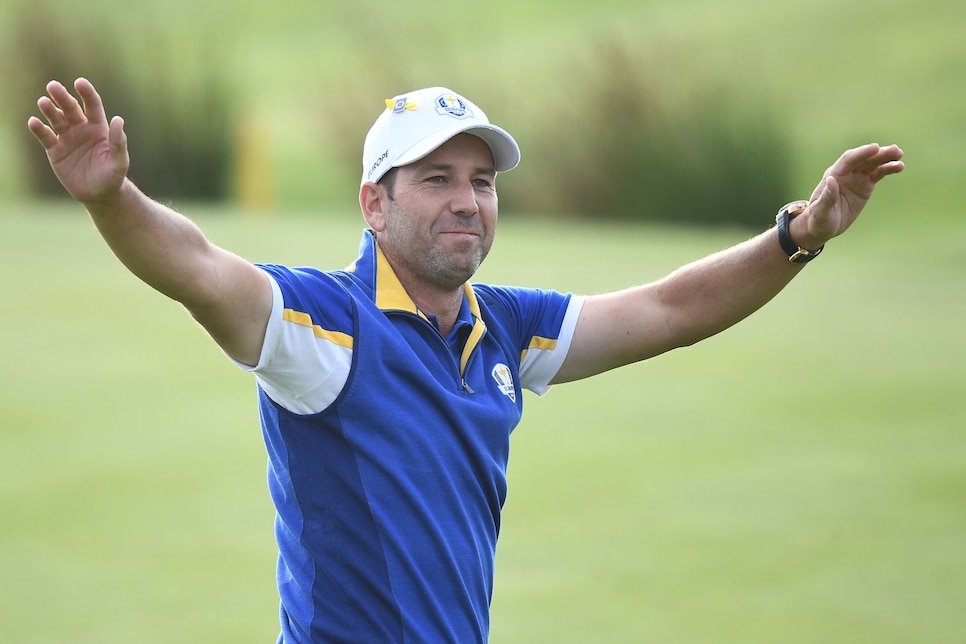 Sergio Garcia made for an interesting side plot as perhaps the most questionable participant entering the 2018 Ryder Cup. By week's end, he'd cemented his legacy as one of the greatest players in the history of the biennial event.
After a disappointing year — really, a disappointing year and a half following his 2017 Masters victory — the Spaniard was considered a risky captain's pick by Thomas Bjorn. But with a Sunday singles victory over Rickie Fowler, Garcia capped a 3-1 week in which he was a key cog to Europe's sixth consecutive victory on home soil. And in the process, he also became the all-time Ryder Cup points leader.
"Yeah, I don't usually cry, but I couldn't help it," Garcia said following his 2-and-1 win in Sunday's eighth match. "What a week. It's been a rough year, but you know, we fought hard. Obviously so thankful for Thomas to pick me and believe in me, and you know, so happy, so happy to get the Cup back here in Paris and in Europe and for everyone to enjoy it as much as they did."
Watch the emotional moment that included a long embrace with both Fowler and Garcia's wife, Angela Akins:
With the win, Garcia pushed his career Ryder Cup record to a sparkling 22-12-7 in nine appearances. The 25.5 total points passed the previous record long held by Nick Faldo, who was 23-19-4 in 11 Ryder Cups for Europe.
In the meantime, here's what Garcia said about establishing the new mark.
"Yeah, it means a lot but at the end of the day, I've always said it. It's about the team and I'm happy that I was able to help," said Garcia, who at 38, likely isn't done adding to his Ryder Cup record. "I'm happy that I was able to help with some of the points. It's a bonus. It's something that I never thought I would have the possibility of doing it, and now that it's happened, you know, I'm just so happy. I mean, these guys are unbelievable."