The Champ Up Close
17 Things You Need To Know About Sergio Garcia
How familiar are you with the 2017 Masters champion? Here are a few things you should know about Sergio Garcia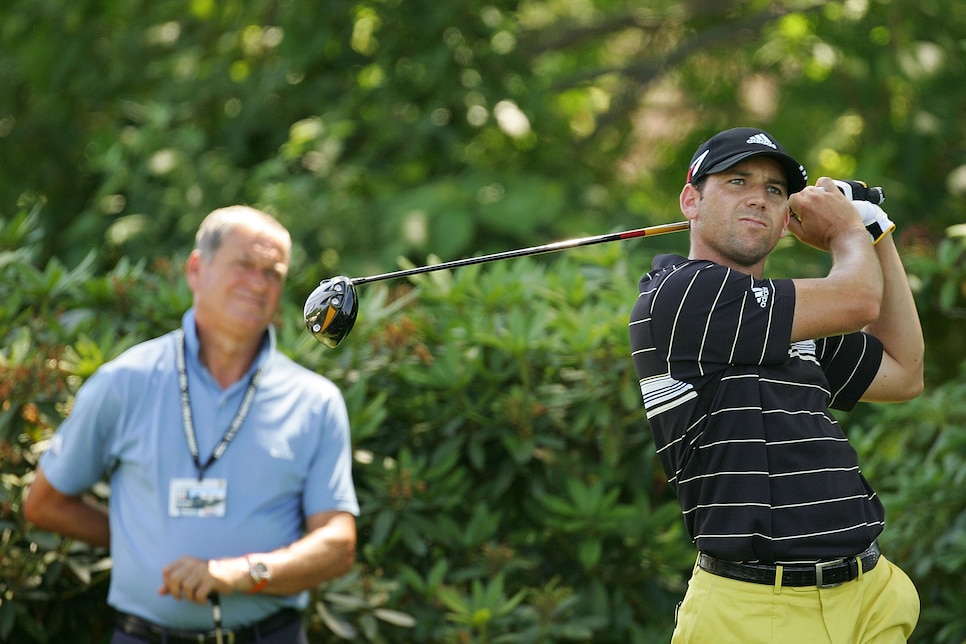 Photo By: Andrew Redington
Photo By: Andy Lyons/Getty Images
Photo By: Andrew Redington
Photo By: Stuart Franklin
Photo By: Charlotte Observer
Sergio's dad is his coach
His father, Victor, a former tour pro and teacher, first introduced Sergio to the game at age 3 and has coached him ever since. Back in the early 2000s, the two retooled Sergio's swing to be less reliant on timing in pressure situations.
Photo By: Ross Kinnaird
His laid-off move at the top is as distinct as they come
Garcia's swing is considered unusual. One of Europe's top instructors, Pete Cowen, explains: "Sergio lays the shaft down on the downswing far more than anyone, myself included, would recommend. But the way he delivers the club into the ball through the movement of his shoulders is fantastic."
Photo By: Andrew Redington
The major breakthrough was a long-time coming for Sergio
Sergio's Masters triumph was his first win in 74 major starts, having not missed a major since his debut at the 1999 Open Championship. Past close calls with victory include four runner-up finishes, 13 top-five showings and 22 top-10s.
Photo By: Ben Walton
Before the 2017 Masters, he had major heartbreak after major heartbreak . . .
Sergio once suggested, in a non-joking manner after losing the 2007 Open Championship in a playoff to Padraig Harrington, that perhaps a Higher Power intervened: "It's funny how some guys hit the pin … and go to a foot. Mine hits the pin and goes 20 feet away. … I'm playing against a lot of guys out there, more than the field."
Photo By: Andy Lyons/Getty Images
Sergio once declared he wasn't "good enough" to win at Augusta National
Then after the 2012 Masters, he told the media: "I'm not good enough. ... I don't have the thing I need to have." Asked what he was missing, he said "everything," adding that "I need to play for second or third place." Did he mean merely at the Masters? His reply was chilling: "In any major."
Photo By: GLYN KIRK
Sergio's one of the best-ever in the Ryder Cup
Before his Masters triumph, Sergio's best golf has been at the Ryder Cup. He's played on six European Ryder Cup teams and owns a 16-8-4 record. His 18 points is seventh-most all-time for Europe.
Sergio once played the role of assistant captain . . .
Frustrated with his game after the 2010 PGA Championship, Garcia took a competitive break from golf. He did, however, serve as an assistant captain under Colin Montgomerie in the Ryder Cup at Celtic Manor. "I just love the Ryder Cup. I couldn't live without it," he said then.
Photo By: Scott Halleran
Sergio's relationship with Tiger has always been complicated
While Tiger Woods tweeted a congratulatory note after Sergio's win, the two have a contentious past. Some look back at Sergio's showy celebration after beating Tiger in a made-for-TV "Battle at Bighorn" event in 2000 as the original cause. But Tiger's late father, Earl, once told Golf Digest contributor Tom Callahan it goes deeper: "In a clubhouse once, he saw Sergio looking up at a television monitor and rooting someone's ball out of the hole. That's why Tiger has no use for Sergio."
Photo By: Craig Jones
And there's layers to their bad blood
Accentuating the fact there's no love lost between Sergio and Tiger was the comment Sergio made at a European Tour function after the 2013 Players, in which Sergio and Tiger had a verbal spat. Sergio, according to multiple media reports, was quoted as saying "We'll have [Tiger] around every night. We will serve fried chicken."
Photo By: Sam Greenwood
Sergio credits his fiancée for a renewed mind-set
Garcia's fiancée, Angela Akins, is a former Golf Channel reporter and played college golf at the University of Texas. Akins' father, Marty, was an All-American quarterback for the Longhorns. Sergio and Angela are set to get married in July.
Sergio has an impressive list of past girlfriends
The list of Sergio's former girlfriends before Akins includes tennis star Martina Hingis, actress Jennifer Alba and Greg Norman's daughter, Morgan-Leigh Norman (shown).
Photo By: Andrew Redington
Sergio owns a soccer team
A huge soccer fan, Sergio owns his hometown club, CF Borriol, and even played for the team in 2010. Garcia is also a big Real Madrid fan.
Photo By: Stuart Franklin
He's been known to throw a tantrum or two
Prone to the temper tantrum or two in his career, Sergio once ripped off his right shoe and threw it at a billboard after hitting an errant shot at the 1999 World Match Play.
He's been known to lash out at his equipment
And a number of clubs have felt the wrath of Sergio.
His craziest shot came ... from a tree?!?
At the 2013 Arnold Palmer Invitational, after his ball got stuck in a tree, Garcia climbed up and hit it one-handed.
The Bethpage Crowd
At the 2002 U.S. Open at Bethpage Black, Sergio was repeatedly mocked by fans as he seemed to waggle and regrip his club repeatedly on the tee.
Photo By: Donald Miralle
All-time winningest Spaniard
With the Masters win, Garcia now has 10 career PGA Tour titles, breaking Seve Ballesteros' record for the most by a Spanish golfer.
Photo By: Charlotte Observer