SPONSORED
5 things to know about the new Stewart Golf electric pushcarts
*In partnership with Stewart Golf. All products featured on Golf Digest are independently selected by our editors. However, when you buy something through our retail links, we may earn an affiliate commission.*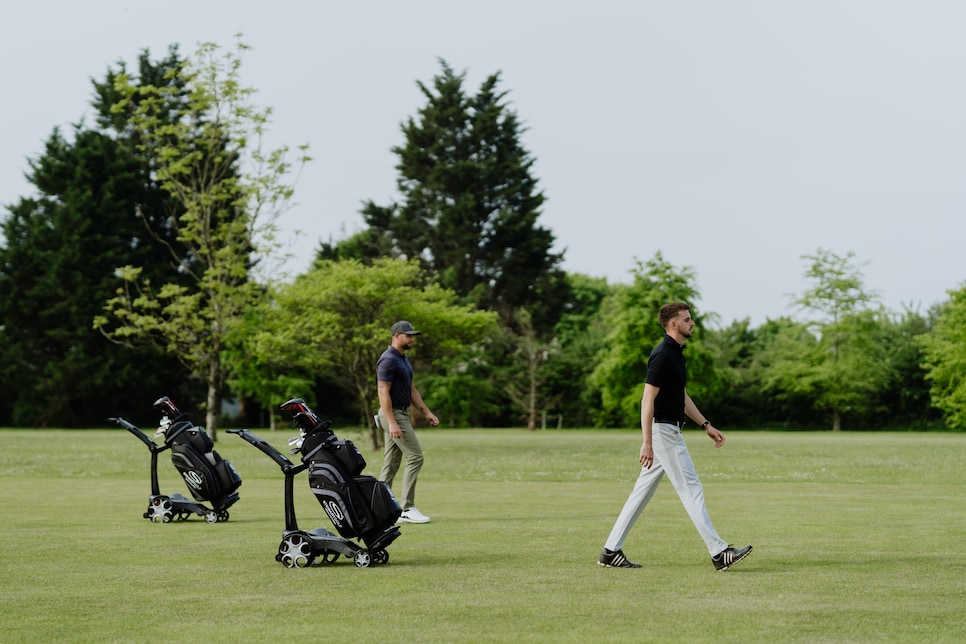 Electric pushcarts are a relatively new technology to the U.S. golf market, but have been popular in Europe for years. No doubt you've seen a golfer or two at your local course zipping their golf bag around the course on the battery-powered carriers, and it's at least piqued your interest. Many golfers have moved to the new pushcart technology because of the freedom it provides for those who want to walk but not have to worry about their golf bag. We caught up with Stewart Golf, a British brand that's been making electric pushcarts since 2003 to learn some of the basics of their newest collection—The Q Series.
RELATED: 2021 Father's Day Gift Guide: The Best Golf Gifts for Dad


1. Stewart Golf's Q Series includes two models: the Q Follow and the Q Remote. Both are powered by a "smart" lithium battery. It connects to an app that lets you monitor the battery's charge. The battery lasts up to 36 holes and weights around just 6-7 pounds. Many have compared using an electric cart to having a caddie with them on the course because of the freedom it gives you to walk down the fairway or fetch your bag from across the green without any effort.


2. The Q Follow is designed for a virtually hands-free use on the course. When in follow mode, the cart will travel behind you and is engineered to react to your distance and speed at a safe proximity a few paces back. The cart follows its remote that you can clip to your belt or pocket. Connected by Bluetooth, the remote has a 50-yard range, which comes in handy if you find your bag on the far side of the green after a chip in and are ready to head to the tee in the opposite direction. Both the Q Follow and Q Remote can be steered manually or by remote in any direction. You'll want to steer manually in the parking lot or around hazards on the course.


3. Retractable stabilizers and an extremely low center of gravity keep the cart upright even on the toughest hills and lies. The carts are designed to naturally balance itself with two dual-bearing, free rolling wheels. The Q Follow will automatically brake while in follow mode to prevent it from running away on hills. It'll also independently alter speed and direction as it follows you for a smooth and hassle-free roll wherever you lead it.



4. For easy transport, the Q Follow and Q Remote fold down to about a quarter of its size to fit even in the smallest of trunk spaces. It's also got remote storage and a carrying handle that makes the cart ultra-portable. If you are planning on storing your cart at your club, it'll store easily—but be sure to check the course's guidelines on storing products with lithium batteries. Some courses will require you to take the battery home between rounds.


5. Affixed with a top and bottom bag strap, each with three closure options, the Q will fit most bags. The carts have silicone pads and straps to prevent movement or twisting on bumpy terrain—so you can take it with you on tough ball searches, but it is easiest to use the remote to have it meet you in the fairway after the recovery shot. The ability to have the battery-powered pushcart nearby no matter where your ball takes you will save a ton of time and energy each round that can be used to focus on your game instead.
The Stewart Golf Q Series carts are available now at stewartgolfusa.com