The Loop
Nick Faldo provides Europeans unintended rallying point, calls Sergio Garcia "useless"
GLENEAGLES, Scotland -- Usually at the Ryder Cup, the bad blood flows between the U.S. and Europe. But Friday at Gleneagles, it was an internal squabble dating back six years that created the most acrimony.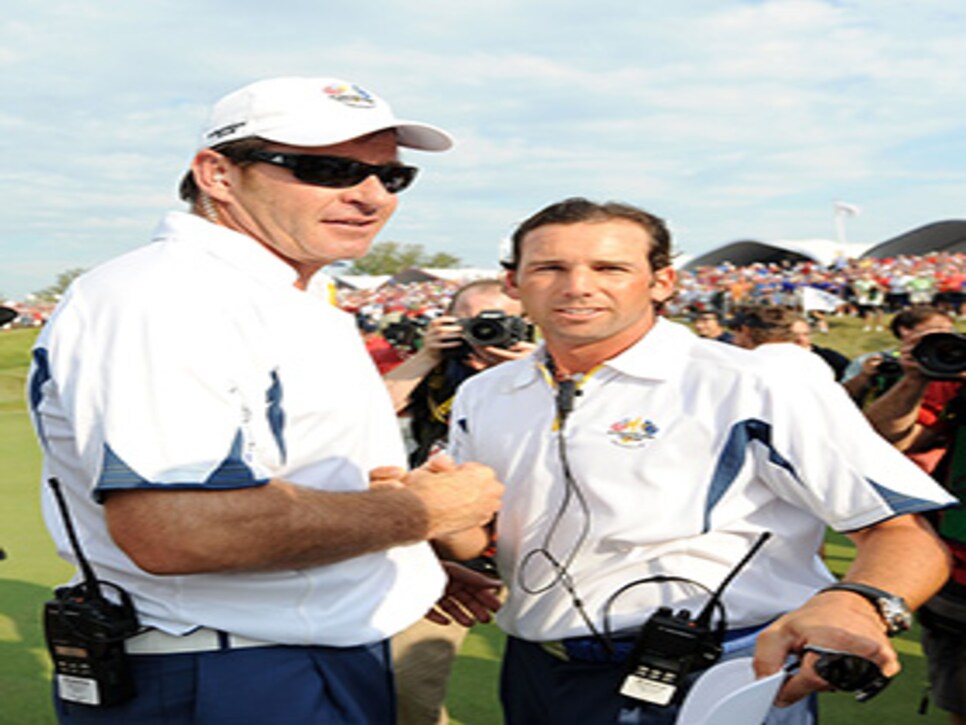 The comments came after Garcia and Rory McIlroy had lost their morning four-ball match to Keegan Bradley and Phil Mickleson at Gleneagles.
Faldo's message was conveyed to Garcia during a press conference after the Spaniard and McIlroy had birdied the final two holes to rally and halve their afternoon foursomes match with Rickie Fowler and Jimmy Walker.
"That's unfortunate," Garcia said in response. "I guess he doesn't feel European. That's the only thing I can think of."
Garcia continued with a slightly more pointed retort: "You know, there's a lot of things I could say about Nick Faldo, but I'm not going to put myself down to his level."
Garcia was on stage with five of his current European teammates, one of whom quickly came to his defense.
"I'll make a comment on that," said Graeme McDowell, who was a Ryder Cup rookie for Europe in 2008. McDowell recalled that Garcia was surprisingly sat down by Faldo during a critical Saturday morning match. "Yeah, you've got one of the best Ryder Cup players of all time being sat down on a Saturday afternoon of a Ryder Cup that we go on to lose. I'd say Sergio was fairly useless that afternoon, yeah, because he wasn't able to play."
McIlroy, sitting next to Garcia on the podium, attempted to lighten the suddenly icy mood.
"Don't worry," he said turning to Garcia. "You're not useless."