News
Ryder Cup 2018: Phil Mickelson asks for a stroke a side from Tiger Woods, Patrick Reed tells him it's not enough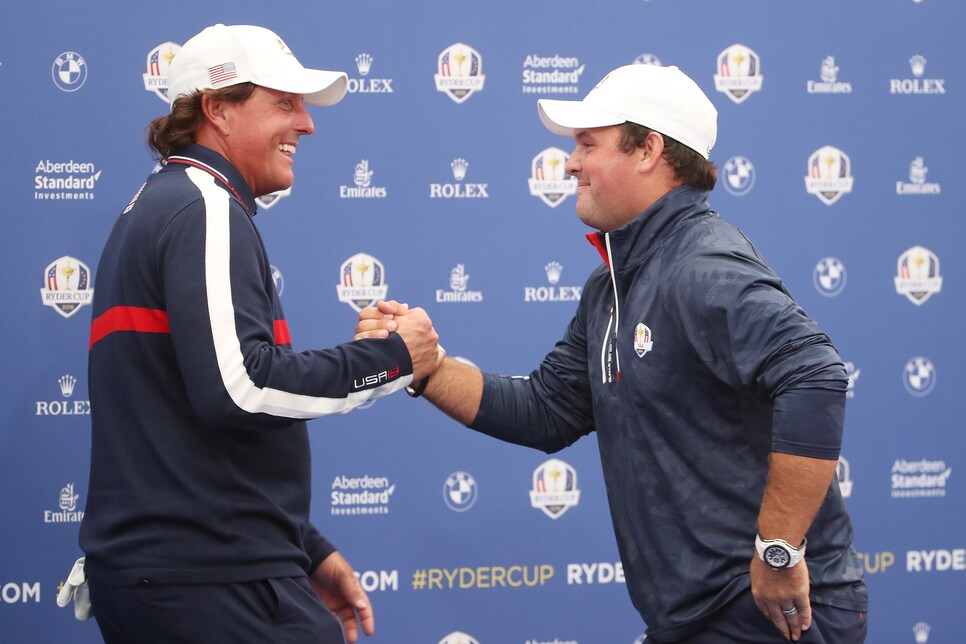 Phil Mickelson said on Tuesday he'd "welcome" being partnered with Tiger Woods at this week's Ryder Cup. But he's clearly also got his mind on playing against his longtime rival in November's The Match. And suddenly, he's not feeling so good about his chances.
Following Tiger Woods' win at the Tour Championship—a tournament in which Mickelson happened to finish dead last out of 30 players—and after playing alongside Woods in a practice round at Le Golf National, the loquacious lefty tweeted he was asking for a handicap when they face off in their PPV match.
But Ryder Cup teammate Patrick Reed still didn't think it would be enough to takedown Tiger, who has suddenly climbed to No. 13 in the Official World Golf Ranking.
Last month, Mickelson, was made an underdog for The Match against Woods in Vegas, but claimed he would change that with his play. However, thanks to Tiger's play—and apparently, Phil's talking—the line has gone the other way. Here was Westgate Las Vegas Superbook golf oddsmaker Jeff Sherman's response:
Maybe, possibly Phil purposely inflating his odds to try to make a little more cash on the side? That would be the ultimate veteran gambling move.
Regardless, it's Ryder Cup week, and somehow Mickelson has managed to get people talking about a two-man exhibition in two months. Amazing. This guy is the best sports promoter since Don King in his prime.