The Loop
Tiger Woods WINS(!), Golf Digest gets a man out of jail, and Paulina Gretzky shows up for the Ryder Cup
Welcome to another edition of The Grind, where we have never been so excited to get dressed for work on a Monday. I proudly pulled my victory red Tiger Woods Nike golf shirt from my closet, literally dusted it off, and floated through my morning transit. Did I draw weird looks from fellow commuters in their suits? Only when I gave a smiling nod to anyone wearing even a hint of red. Sadly, none of them seemed to be doing it for Tiger. Wake up, people! Tiger Woods WON a golf tournament! In 2018! Show some freaking support and spirit! The good people of Atlanta certainly did!
Wow, what a scene. And what a day. Anyway, let's get to everything else that happened this week talk some more about Tiger Woods!
Tiger Woods: I'm not ashamed to admit that the crying like a baby in my house, for once, didn't come from the baby. When Woods raised his arms after capping his Tour Championship triumph, I wept.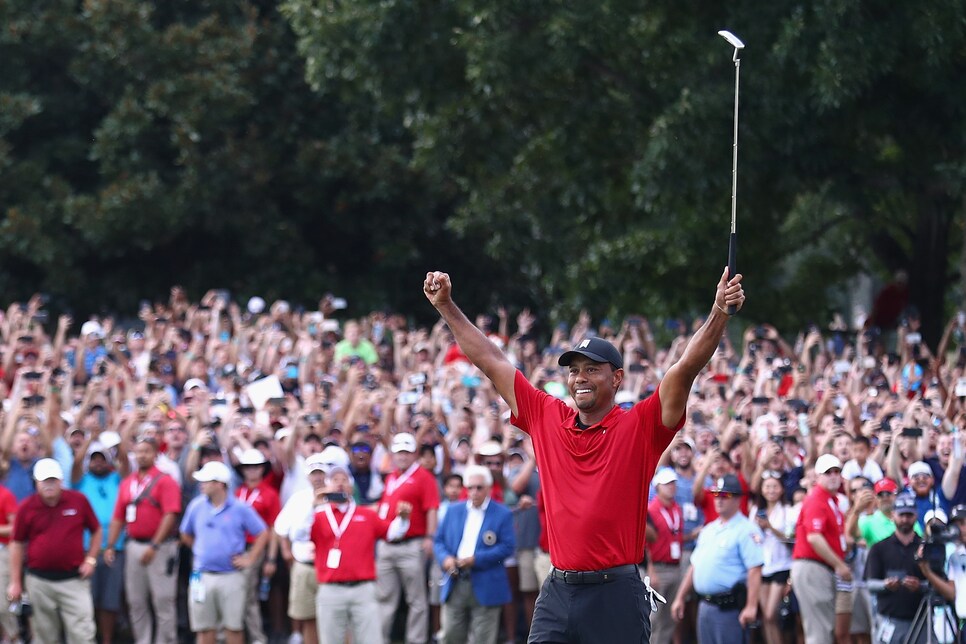 When he hugged caddie Joe LaCava, I wept some more.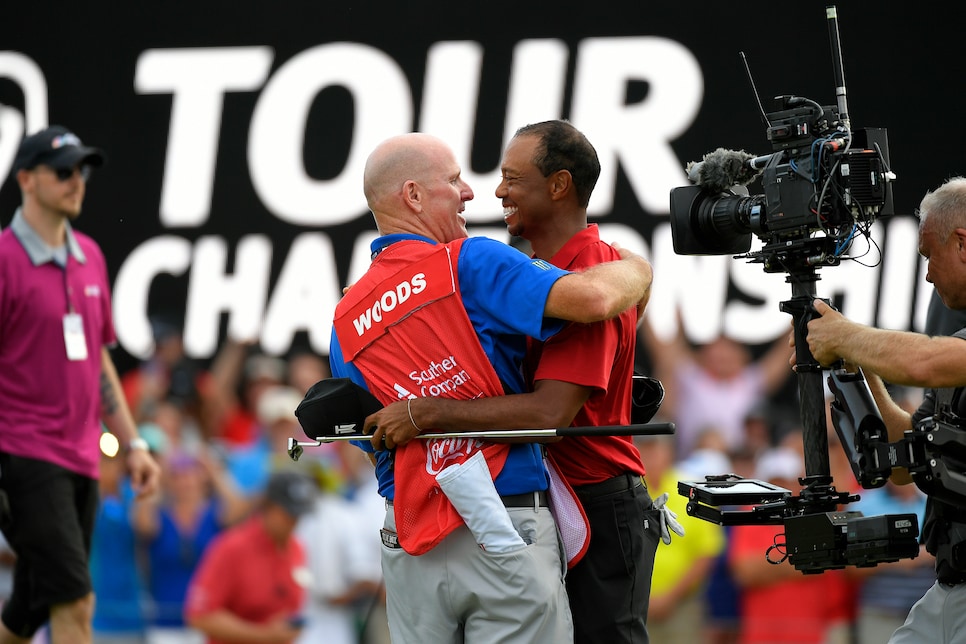 And when he fist-bumped Roger Maltbie, it was full-on waterworks.
Flush knuckle contact like that on the move with chaos all around? That might be the GOAT fist-bump. Anyway, after five years, four back surgeries, and countless other hurdles, Tiger Woods is a winner again. As Tommy Fleetwood perfectly put, "What a time to be alive!" Let's watch that historic walk up the 18th fairway again with comments from those watching (and crying, admit it) as it all unfolded:
Chills. I also won my season-long bet with Brian Wacker that Tiger would win this season. And that $100 is going to go a long way at the Costco food court.
Tiger Woods' entrances: He's getting good at these, huh? First it was this look at the PGA Championship:
And now this at the Tour Championship:
Good lord, I hope he has a permit for those guns. It was game over once he came strutting in like that.
Justin Rose: Oh yeah, there were other golfers playing at East Lake. Seriously, never has $10 million been more irrelevant, but Rose certainly won't complain when it gets deposited into his account. And a two-putt birdie to finish T-4 to wrap up the FedEx Cup wasn't exactly thrilling theater. Rose deserved the big payout for his body of work this season, and we're guessing the $10 million will help ease the sting of losing his No. 1 world ranking to Dustin Johnson.
Max Adler: Tiger Woods' win wasn't the only thing last week that tugged at my tear ducts. The biggest golf story before Tiger's Tour Championship triumph was Golf Digest's Max Adler helping to get an innocent man set free from prison with an article he wrote six years ago. Absolutely remarkable. I hope Netflix is getting ready to film Making a Murderer Part II. I couldn't be happier for Valentino and his family. And I couldn't be prouder to be Max's colleague.
Tiger knockers: I get that some people don't feel all warm and fuzzy about Woods' win. But please, don't knock the guy because the Tour Championship has a small field and isn't a major. You're embarrassing yourself.
Team USA: Jim Furyk has to be ecstatic with the way Tiger Woods is playing heading into this week's Ryder Cup, but everyone else? Not so much. The bottom four players on the leader board at East Lake were Phil Mickelson, Brooks Koepka, Bubba Watson, and Patrick Reed. Suddenly, Tiger isn't just a captain's pick, but he might be the team's best player.
Ryder Cup urns: Look, these are very nice. I just prefer gifts that I can actually, you know, enjoy while I'm still alive. . .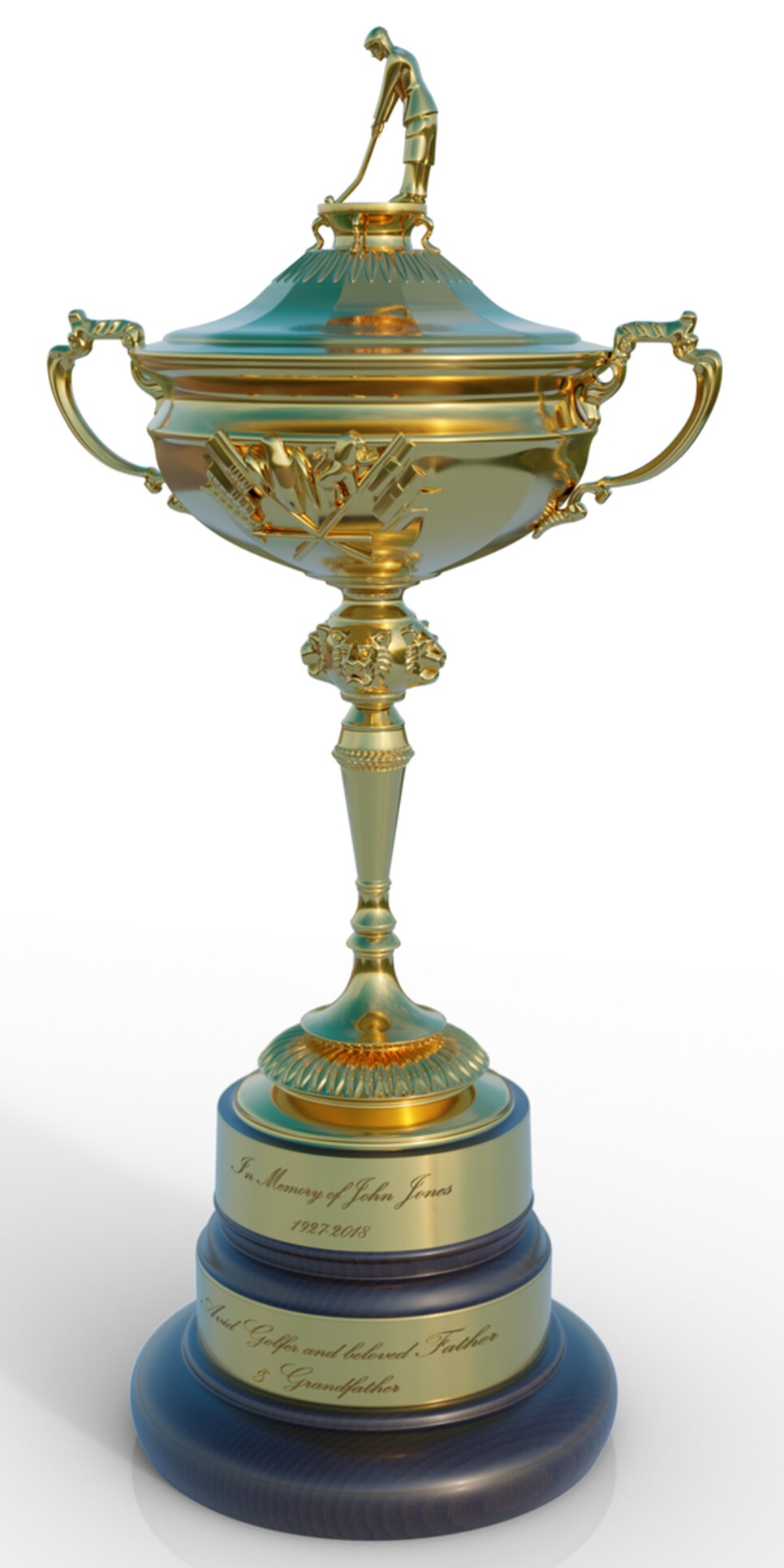 ON TAP After a thrilling Tour Championship, golf fans are in for another treat with the Ryder Cup at Le Golf National outside of Paris. The uniforms, the WAGs, the butt-slaps (Not with the WAGs). Can't wait.
RANDOM PROP BETS OF THE WEEK
— Brian Wacker will make the same bet against Tiger next year: 100-to-1 odds
— Next week is going to be a big letdown: LOCK
Again, what an unreal scene at East Lake.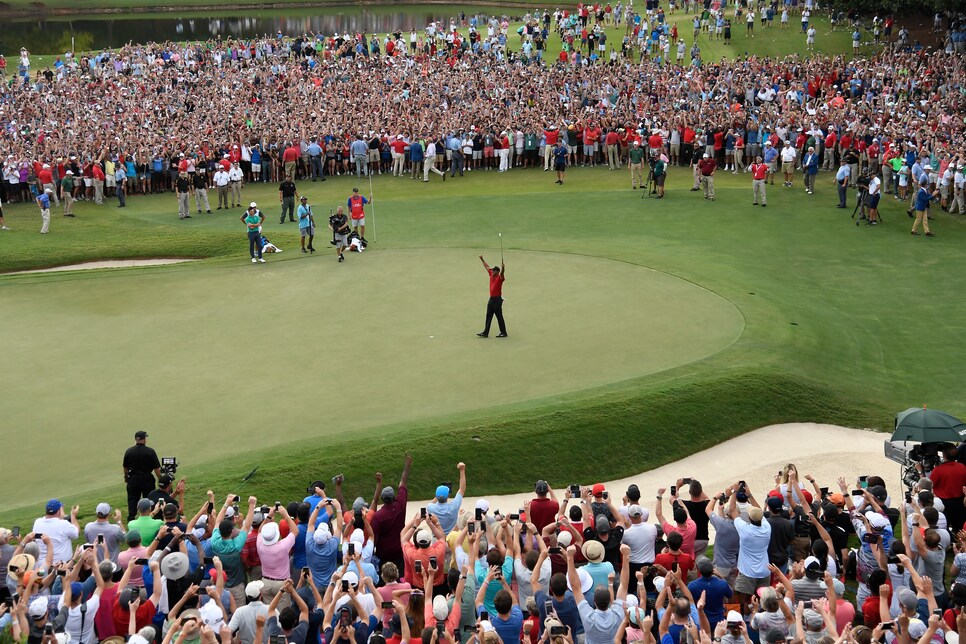 Those poor marshals never had a chance.
Larry Fitzgerald may have been more excited than I was when Tiger dropped that eagle to close his opening round. Kidding. I was WAY more excited. But Larry was still pretty darn excited.
VIRAL VIDEO OF THE WEEK (NON-TIGER DIVISION)
PGA Tour pro Kyle Thompson caught someone taking his old golf bags that he'd put out with the trash:
Hey, you know what they say about one man's trash. I don't blame the dude for seeing some staff bags in the dark and snagging them. However, Thompson caught him posting a phony Craigslist ad the next day, and that's not cool.
THIS WEEK IN DUSTIN JOHNSON-PAULINA GRETZKY PUBLIC DISPLAYS OF AFFECTION
Jena Sims just broke some serious WAGs news: Paulina is in Paris!
Previously, one sports book had her showing up at the Ryder Cup as a 3-to-1 underdog, so this is great news — Especially for Dustin Johnson.
THIS WEEK IN TIGER WOODS-ERICA HERMAN PUBLIC DISPLAYS OF AFFECTION
Could this be golf's new marquee couple? The duo made their winning PDA debut: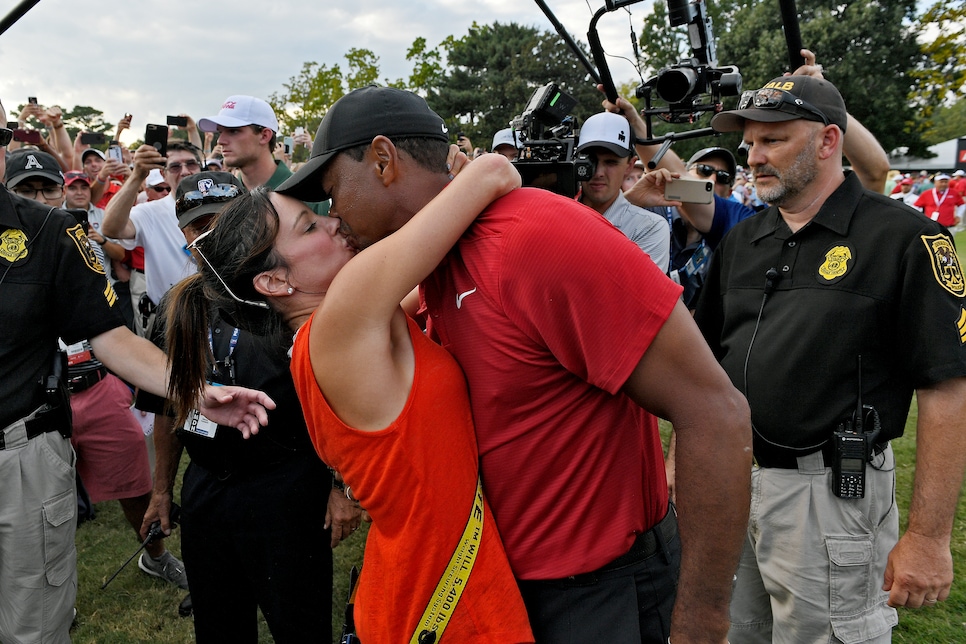 And they also posed for a photo in public for the first time: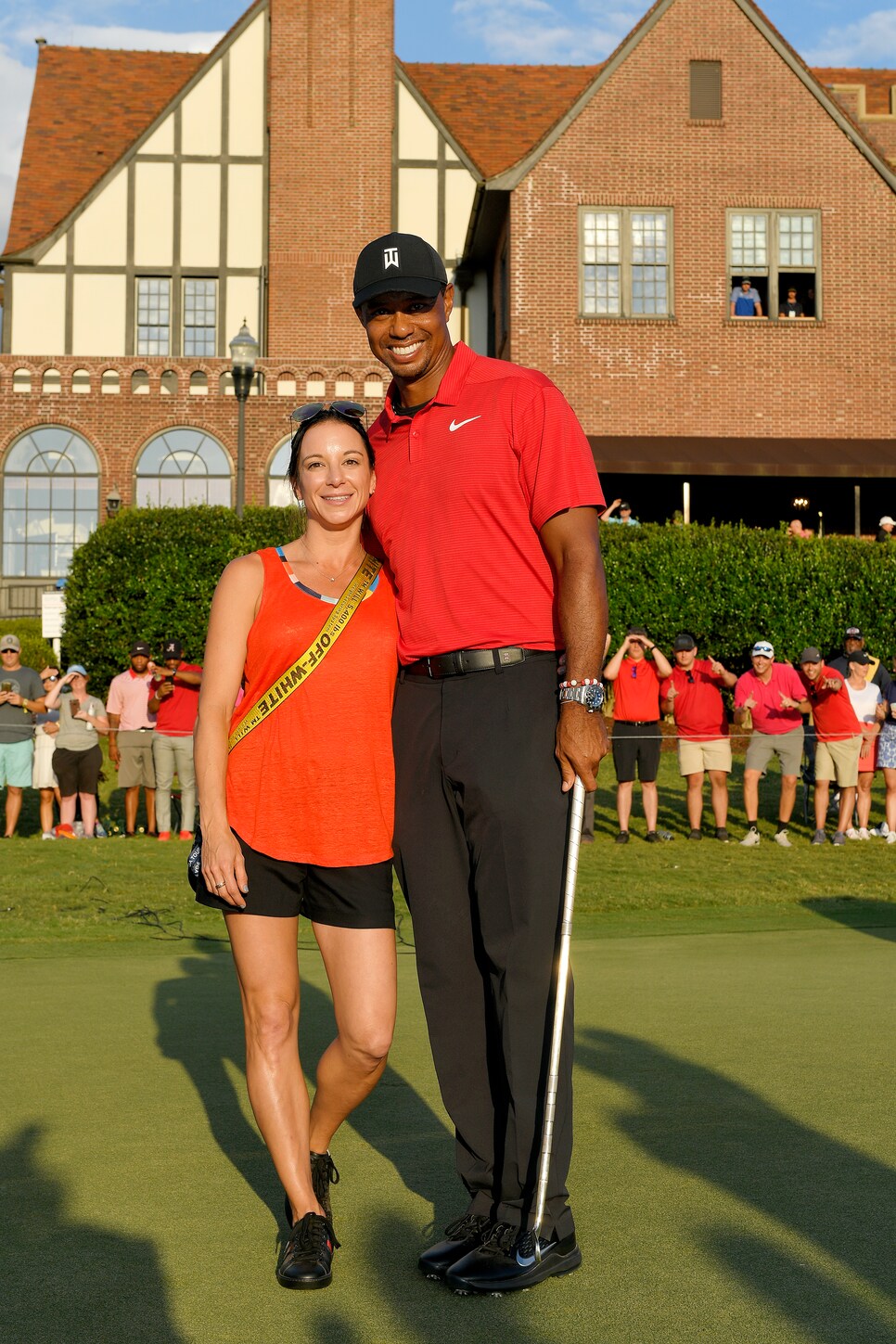 "I was pretty emotional when Rory [McIlroy] was tapping out, he was finishing out. I looked around, and the tournament was over because I'd already put the bunker shot on the green, and I'd won 80. 80 is a big number. I've been sitting on 79 for about five years now, and to get 80 is a pretty damned good feeling." — Tiger Woods. It feel pretty damned good for the fans who have been waiting for this all that time as well.
Tour Championship TV ratings spiked 206(!) percent thanks to Tiger's presence. For the non-math majors out there, that's more than three times the ratings last year's tournament pulled. . . . Congressional Country Club was awarded the 2031 PGA Championship and the 2036(!) Ryder Cup. Tiger Woods and Phil Mickelson will both be in their 60s. And finally, a big thanks to my wife, A) for putting up with me while I watch Tiger Woods, and B) not showing me this piece of mail until late on Sunday night when absolutely nothing could bring me down:

They finally found me. Sigh.
RANDOM QUESTIONS TO PONDER
Will Tiger still be playing golf in 2036?
Will I still be writing about golf in 2036?
What's the policy on crying in the Augusta National press box?