News
Ryder Cup 2018: Phil Mickelson looking, *longing*, to experience a U.S. Ryder Cup victory overseas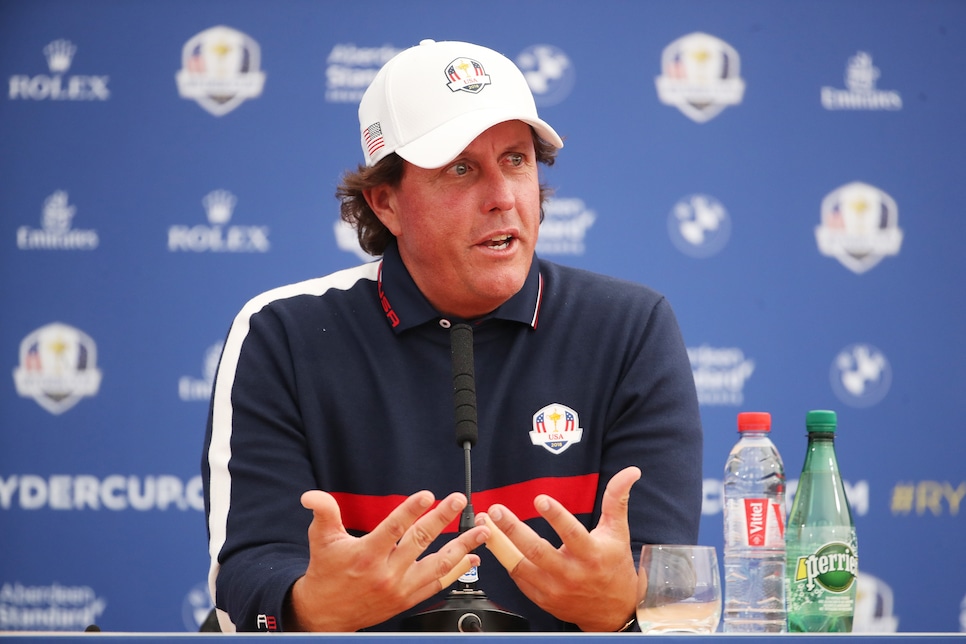 SAINT-QUENTIN-EN-YVELINES, France—It's almost unfathomable to think that Phil Mickelson will make his record 12th appearance in the Ryder Cup this week and there are still worlds left to conquer. At least the world outside the United States.
Mickelson made his Ryder Cup debut in 1995 at Oak Hill. Two years earlier, America, captained by Tom Watson (when Watson was thought to be an effective leader), retained the Ryder Cup at The Belfry in Sutton Coldfield, England, with a 15-13 victory.
The U.S. has not won on foreign soil since, and its last visit abroad was nothing short of a disaster. Europe swept to a five-point win while the U.S. team became embroiled in controversy with Mickelson's not so subtle criticism of Watson's autocratic approach to leadership. Of course, out of that smoldering wreckage emerged the Ryder Cup Task Force and a new approach to how the team was managed. America's 17-11 dismantling of Europe was redemptive for many on the U.S. side, but perhaps no more so than for the outspoken left-hander.
But that victory came at Hazeltine National in Chaska, Minn. Will the formula be as effective this week at Le Golf National, southwest of Paris? Mickelson sure would like to find out—and before it's too late.
This very well could be Mickelson's final Ryder Cup appearance abroad as a competitor.
"I am aware this is most likely the last one on European soil and my last opportunity to be part of a team that would be victorious here, and that would mean a lot to me personally," he said Tuesday after a practice round with Tiger Woods, Patrick Reed and rookie Bryson DeChambeau. "I think it would mean a lot to our team and to the United States Ryder Cup to have a victory on foreign soil."
Later, Mickelson did not discount his chances of making another Ryder Cup appearance abroad. "But I just can't look that far ahead. I have to be realistic," he said. "I have no idea what my motivation is going to be in two years or five years or seven years. But I'd like to think I will play in more of these."
And should this be his last start as a player, he's not going anywhere. He'll almost certainly be an assistant captain leading up to a targeted 2024 captaincy at Bethpage Black in New York.
But first things first. Mickelson, 48, the oldest player for either side, is working assiduously to contribute to this youthful American squad, especially after requiring a wild-card pick for the first time in his career. That will require form that has escaped him in recent months. After winning the WGC-Mexico Championship in March, his first win in five years, Mickelson was a non-factor in the majors, and at last week's Tour Championship he finished last at 13-over par and 24 strokes behind Woods, who ended his own five-year drought.
"The last two weeks have been the two worst putting weeks of the year for me, so I'm going to spend more time with the putter," said Mickelson, who, even with his recent struggles, finished the season 10th on the PGA Tour in strokes gained/putting. "It's Tuesday. We have two more practice rounds. I don't want to put too much time into it. I'm not trying to get fine-tuned. I'm just trying to get posture, alignment, basic fundamentals matched up for the swing, so I still have a little bit of work to do. I didn't strike it the way I wanted to, but the last two weeks were the worst putting weeks of the year, and hopefully I can turn that around."
"I know he's working really hard on his long game," DeChambeau said, "and I think come Friday, he'll have it. He'll have it be ready to go."
Mickelson's career mark in the Ryder Cup is 18-20-7, but he has posted a winning record in his last three appearances, including a 2-1-1 mark at Hazeltine. The halve came in singles when he converted 10 birdies but couldn't shake Sergio Garcia, who made nine himself in one of the most epic donnybrooks in Ryder Cup history. As an aside, he hasn't lost a match in the Presidents Cup since 2013 at Muirfield Village Golf Club in Dublin, Ohio.
He has found a way to rise to the occasion. Now he and his teammates have to find a way to raise their game on the road. Nothing would be sweeter in Mickelson's mind, but he figures it will take a supreme effort.
"It's a very difficult task," he said, assessing the challenge of breaking the jinx abroad. "We've got a European team that's extremely talented with some great young players and great experience and great leadership, and although I love our team and I love our players and I love our leadership, it's going to be a very difficult match for both sides.
"I think it's going to be close, and something that if we were able to come out on top, it would be something I would cherish the rest of my life."