The Brodie
Russell Westbrook is on a run of historic absurdity that we all need to stop and appreciate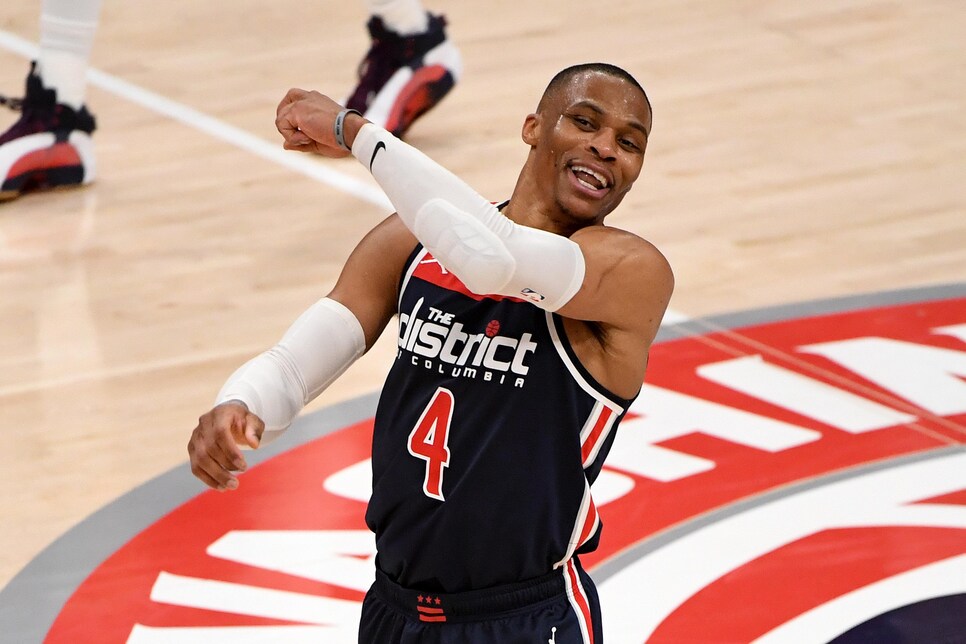 Russell Westbrook has had a rocky couple of years. After being the face of the franchise in Oklahoma City for nearly a decade, Westbrook's move to the Houston Hardens was ill-fated from the start. James Harden and Westbrook clashed on the court and off it, and the experiment lasted just a single season before the Rockets jettisoned the point guard to the Wizards, one of the few teams interested in him due to "attitude concerns" (before everyone realized Harden's "attitude concerns" were the actual problem).
At first the Wizards, who sent longtime lynchpin (and fellow attitude concern) John Wall in the other direction for Westbrook, struggled to find balance, and it began to look, after two-and-a-half lost and/or irrelevant seasons, that Brodie's best days were behind him. Monday night, and the three months preceeding it, however, proved that we were very, very wrong. Look upon his majesty and give thanks.
As you can probably guess, recording more than 20 rebounds and 20 assists in a single game is exceedingly rare. In fact, it has only happened three times in NBA history. Once by Wilt Chamberlain and twice by, yup, Russell Westbrook. It was also the first time in NBA history that a 20-rebound, 20-assist game has been recorded by a player who scored less than 20 points. This could be read as anecdotal, or as proof that Westbrook has shaken the ball-hog tag that has plagued him throughout his career, using his Monstars-level athletic abilities not for self-indulgence, but to facilitate and create.
But wait! That's not all. With the performance on Monday night, Westbrook also guaranteed that he would average a triple-double for the season. Like the Wilt Chamberlain benchmark above, only one other player had ever averaged a triple-double for an entire season even once, and that player was Oscar Robertson. This is Westbrook's FOURTH TIME.
Westbrook himself summed it up perfectly.
Then finally, as the icing on the cake, Westbrook revealed that he had been carrying a tiny little nick earlier in the season, which perhaps helps to explain his slow start in Washington. JUST KIDDINGGGG, it was a torn quad, which he played through.
The knock on Westbrook has always been that his individual stats have not translated to team success. And while that may ultimately continue to be the case—this is the Washington Wizards we're talking about—the Wiz have won 12 of their last 15 and now sit in the Eastern Conference's final play-in tournament position. A couple more nights like Monday from Westbrook and who knows what could happen . . .